By 2005, the New York City rock scene was in flux. The rumble of gentrification that kickstarted in the wake of 9/11 was simmering to a rapid boil during the first term of Bloombito, and the rising rents were forcing such beloved venues as Sin-E, Brownies, CBGB, Tonic and The Bottom Line to shutter. North Six became The Music Hall of Williamsburg, taking the great neighborhood haunt Galopagos along with it. Some of the best record shops in the five boroughs were starting to disappear.
The space known as Death by Audio in South Williamsburg went through a couple of iterations before it became a concert venue. It was a guitar workshop specializing in the innovation of effects pedals (which the company still makes). It was an artist commune and boarding house for traveling musicians. In fact, DBA began hosting live performances in order to pay for renovations to accommodate the demand for such hospitality. In two years, DBA the performance space was hosting shows almost on a nightly basis before being evicted in September 2014, with upwards of 1,800 concerts during its nine-year run.
Out of that huge volume of shows emerged something quite special—a veritable melting pot of sounds, styles and cultures within the "indie" idiom that became a sort of home for wayward bands rendered rudderless by the rampant homogenization of the New York streets. Reading off the different acts who played DBA through the years is like rattling off a list of Pitchfork's Best New Music recipients between 2005 and 2014. Talk to a person who had frequented the club while it was in business and you'll hear the same sense of reverence as those who once haunted such fabled spots as Hurrah, L'Amour and Coney Island High.
For the last month DBA was in operation as a club, the venue recorded the majority of its shows that were booked before Vice Media bought them out, purchasing the block of property where it stood alongside other venerable DIY concert venues like Glasslands and 285 Kent to build swanky new offices.
Twenty-six of those performances have been compiled in the form of Live at DBA: Start Your Own Fucking Show Space, a three-LP set featuring exclusive live cuts from acts as Parquet Courts, Deerhoof, Shellshag, Ted Leo & The Pharmacists, Screaming Females, Dan Deacon, Thee Oh Sees, Ty Segall and Jeff The Brotherhood among many, many others. Start Your Own Fucking Show Space, however, does not so much play out like your garden variety multi-artist compilation as the bands are actually enhancement players on hand to tell the story of the actual club itself, the energy of which is palpable through the course of this collection.
Upon the release of Start Your Own Fucking Space on the great Famous Class Records label over the summer, the Observer had the chance to speak with one of DBA's co-owners, Matt Conboy. In addition to keeping the DBA name alive as an effects pedal company, Conboy also spent the last couple of years putting together a documentary chronicling the last month the venue operated, filming nearly 150 hours of footage before he cut it down to an 88-minute feature which made its premiere at this year's South By Southwest Film Festival with a wider release scheduled for later this year.
As someone who never personally saw a concert at Death by Audio, Start Your Own Fucking Show Space and Conboy's movie, entitled Goodnight Brooklyn: The Story of Death by Audio, both do an amazing job in providing a taste what it was like. Simultaneously, it helped make for an eye-opening conversation that pays homage to the space itself as opposed to the controversy surrounding its shuttering. Thankfully, the combination of this live anthology and its insightful and at times touching visual counterpart helps bring this club back to life in a way that puts you right in the room.
[bandcamp width=100% height=120 album=140165251 size=large bgcol=ffffff linkcol=0687f5 tracklist=false artwork=small]
So Death by Audio had a couple of previous lives before it became a venue, huh?
Yeah, there's an effects pedal company that we took the name from and was started by Oliver Ackerman, and it was in the space that the venue ended up being. It was kind like this live/work musician's loft where we had a practice space, recording studio and the effects pedal factory, as well as a couple of art studios and some bedrooms. And it was in 2007 when Jason, who I ran DBA with, and myself took over the remaining empty parts of the floor this warehouse and turned that into the venue.
Did you guys do all the construction yourselves, like building the stage?
Before we took it over, it was used as this weird municipal storage thing. The building was originally built for the Domino Sugar factory. I think it might have been their corporate office, and maybe where our venue was used to be the typing pool or something. We did everything, but really it was just a couple of shitty rooms with a dropped ceiling and some trash [laughs].
That ceiling definitely saw better days.
It was pretty nasty when we moved in. [Laughs] I'm not sure how much of that was us or the passage of time.
I love the checkerboard tiles as well. Was that the original flooring?
Yeah, that was one of the few things we didn't want to change out.
The record set captures all of this imagery. I love how when you stand the gatefold vinyl up it feels like a diorama of the space itself. Who were the artists responsible for those murals on the walls?
The mural on the right with the tigers, that was the first one we put in and it was done by members of the band Reading Rainbow out of Philadelphia. And then the mural on the left is by an artist named Morgan Blair. She does really cool, crazy, colorful stuff all over the place. She's super talented. And what we would try to do was to change the mural from behind the stage about once a year. Sometimes we got lazy and would leave one up for like 18 months or something. But the one featured in the jacket is by Taylor McKinnen, who does really, crazy line psychedelic drawing. They were all really awesome.
[vimeo 154213390 w=640 h=360]
Death by Audio was around at a time when the city was very much in flux with its club scene. Storied places like Tonic and CBGB's were shutting down while this new circuit with Cake Shop, Glasslands and Shea Stadium was popping up. Was it weird to open up a space during that time, especially with the rise of rents in the Bloomberg era?
It was on some level a little difficult to start a music venue at the time, but I think the cycle of change that brought a lot of musicians to the particular part of New York City where we were was already well underway.
On one level, it was almost like we were kinda late to the party. There had been a lot of art spaces and performance spaces in Williamsburg since the '90s if not earlier, so I felt like we were joining in this thing that was already happening. It also helped a lot that I knew this promoter Todd Patrick, or Todd P., who put on really interesting and eclectic shows and who was really, really helpful in bringing attention to us and bringing crowds to shows.
And also, our space, the original incarnation of Death by Audio already had a couple of bands in its ranks like Dirty On Purpose and A Place to Bury Strangers who were both very much involved in the Brooklyn music world. It also helped that we were kind of a little bit in the middle of nowhere when we first opened. It was a good 15-minute walk to the nearest subway through which, at the time, was a pretty bombed out neighborhood. We were on South 2nd Street between Wythe and Kent.
Yeah, that was no man's land for a while there in South Williamsburg.
Exactly. But now there's a couple of fancy restaurants on that block and there's bars and all this other stuff. That's the way of the world, and that's cool. But I felt a little bit that we had our own little community for a time there. I know I was inspired by places like Fort Thunder in Providence, R.I., and Yeoman's in Berkley, Cali., the kind of spaces that were not being run by, like, a dude who smokes cigars and is like, "Well, let's try to make some money, I guess we'll have bands play!" [Laughs] We weren't really like a small business trying to make it happen, we were a nonprofit art organization, you know?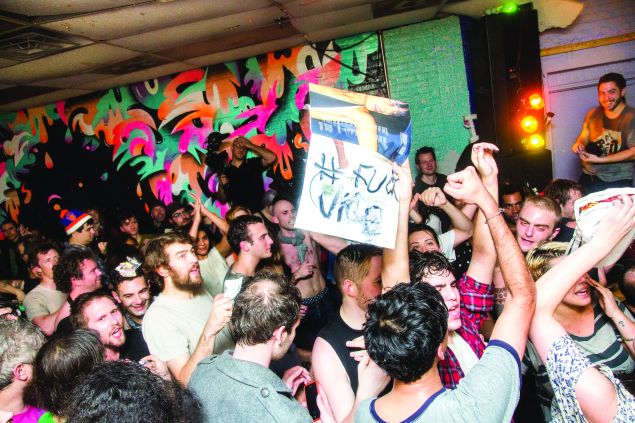 How much of the existence of DBA was a reaction to the state of the New York City rock clubs during the Bloomberg era and all the rampant gentrification that was going on during that time?
I think the Bloomberg rezoning of North Brooklyn had a huge impact on the way all the development happened over there, for sure. But this was a story that's happened many times, especially in this city. There are so many examples of it. I don't know if you can chart any one mayor to it. It's almost impossible.
I do think it's difficult to have existed in a time when the priority is put on the people with the most money and the most power. It's just the nature of capitalism and this kind of city. In 2009, the empty lot that was full of garbage for years and years, some developers came in and built condominiums there. And we were all worried then that it was going to be over. But they were fine with it.
The one real compliant we ever got from them was that our front door was noisy, and when we fixed it they were like, "Oh, thank you so much for fixing your front door!" That was like the closest thing to a conflict we ever had [laughs]. I think it helped that where the bands were playing used to be an old air raid shelter.
Did the cops ever give you guys a hard time at all?
No, fortunately. Knock on wood. I mean, we got raided a couple of times and my partner and one of our staff members wound up getting arrested for the night, and that was pretty shitty and stupid. But in general, for whatever reason, maybe because of the neighborhood and the way the neighborhood was changing, we were able to skirt attention from police. We also made a very concerted effort to be good neighbors. We tried not to be loud or have drunk people hanging out outside the venue or standing on the sidewalk all the time.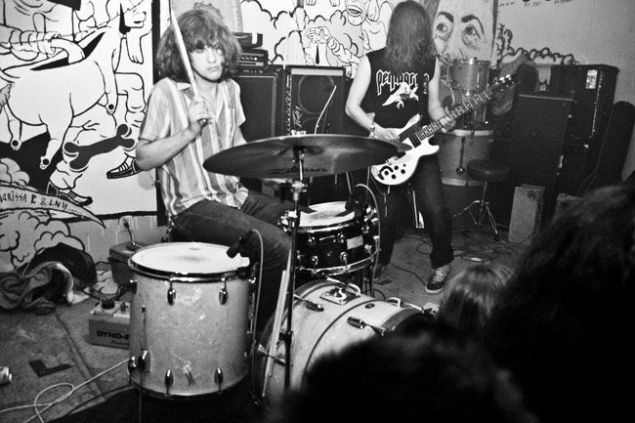 Looking at the inside sleeves and seeing the lists and lists of names featured on all three slipcases of the acts who played there is quite something to behold. You guys must have had shows every day, huh?
The great thing that our booker Edan [Wilber] brought to the table was that he was really tireless in finding new music that he loves. And he also really put a priority on DBA being a supportive place for touring bands. The combination of those two things and then having good taste on top of it was crucial in developing relationships with these amazing bands, because a lot of people didn't really know who they were and weren't interested in booking them. It was just something that developed over time.
And I'd say probably every band that appears on the compilation does so coming out of that relationship with Edan. I do think we also started to develop somewhat of a reputation, and people have mentioned that to us. They'd say, "Oh yeah, I heard about you in our town in wherever." But the curatorial vibe of the place came from Edan, 100 percent.
It almost feels like the same kind of ethos Hilly Kristal abided by with CBGB's, in a way. They had shows pretty much every day when the club was open.
Well, some people are very much of the attitude that they needed to have bands playing there constantly. And I think you start to see the quality suffer, because then it turns into some kind of meat market or whatever. We were all kind of conscious of the fact we didn't want to be another Arlene's Grocery or something like that and just blow it out every night.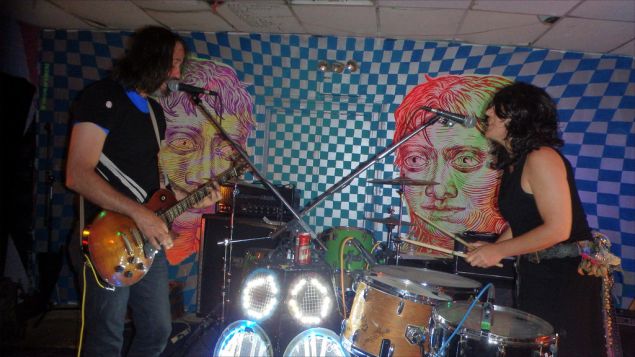 But with that said, in the case of DBA, looking at those lists it really serves as a great testament to the last 12 years or so of underground rock quite honestly. Was there any group or act who played the space more than anyone else?
It's probably like Shellshag, who played well over 25 times.
What's happening with the documentary?
Working on the film has been somewhere between a part-time and full-time job, but we literally just finished the film today. We played a rough cut of the film earlier this year at South By Southwest, and it will be open to the public towards the end of this year.
What kind of a feel were you trying to capture in the film?
I was hoping to make something that kind of had the feel of The Last Waltz. That's a movie about people who are experiencing an intentional ending and I felt like there were some thematic similarities. But I didn't want ours to be so much a concert film, because I also have a lot of interest in stories and I tried to make it as story driven as possible.
Another movie that I found interesting during the creation of our documentary was The Decline of Western Civilization. I've actually lived in situations very, very similar to how Black Flag lived in that movie. [Laughs]