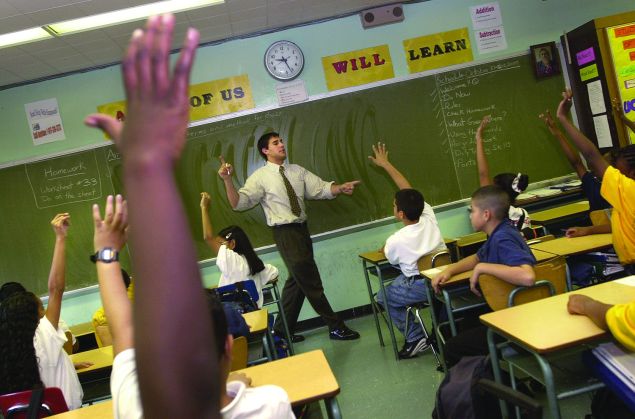 Anyone who has ever visited a New York City classroom knows that our students speak hundreds of languages, practice different faiths and come from diverse neighborhoods. How can one school system serve more than 1 million unique students?
First and foremost, we focus on the classroom. This means innovating, adapting and implementing creative solutions to meet students and families where they are. This also means resisting polarizing narratives that don't capture what occurs in our classrooms or oversimplify complicated challenges. 
One example is the Common Core. From the outset, there has been a misconception about what it is, and critics blame Common Core for any problem facing schools. However, we believe in Common Core. It is a set of standards, not a curriculum, and here's what it means in the classroom: children actively comparing and contrasting, speaking to an audience and making compelling arguments. Of course, even the strongest critics want their children to possess these skills, which guide students to success in the 21st century.
Are there concerns with Common Core? Absolutely. Its initial implementation left much to be desired, which is why we've brought more intensive teacher training to improve instruction and elevate achievement. This is the foundation of our city's Equity and Excellence agenda, our plan for 80 percent of students graduating high school on time, two-thirds of graduates being college-ready and all students reading on grade level in second grade by 2026. We subscribe to only one narrative: raising the bar.
It is also time to reframe the divisive and politicized discussion about charter schools. Rhetoric often pits the work being done in charter schools against that being done in district schools. The truth is this: Every student, whether attending a charter or district school, is a New York City student. They're all our kids. We simply can't allow adult politics to overshadow the need for collaboration to improve education and opportunity in every school. 
In this administration, we choose to facilitate and invest in District-Charter Partnerships, an Equity and Excellence program that fosters charter schools and district public schools (including many that are co-located) sharing best practices and collaborating on projects in their communities. District schools share their strengths; charter schools share their strengths. Teachers improve. Our children benefit.
With struggling schools, we again need to focus on the classroom, not politics. Too often, we're presented with a false choice—install high standards and accountability or focus on underlying socioeconomic issues that contribute to schools struggling in the first place.
We're bringing these two strategies together to turn around our 86 Renewal Schools, some of the city's longest-struggling schools. All Renewal Schools provide an extra hour of class time for every student every day. Curriculum overhauls ensure cutting-edge strategies are employed, with administrators and teachers provided intensive training to implement them. When we don't see necessary progress, we hold schools accountable: We closed or consolidated eight Renewal Schools last year.
We've also made every Renewal School a Community School. They partner with community-based organizations, such as the social services agency Partnership With Children, to offer mental health and guidance services, strengthen after-school and weekend programs and engage families. We know kids have to be in school to learn, so we've focused on attendance—tracking individual student data to target problems early, using mentors to identify the home challenges of individual students and employing specific plans for each child not coming to school.
We are seeing results. On the state exams for grades three through eight last year, English scores rose at 59 of the 63 Renewal schools participating. Across all Renewal Schools, attendance rose to 87.6 percent, compared to 84.5 percent in the 2013-14 school year. The rate of "chronically absent" students (attending school less than 90 percent of the time) dropped to 39.2 percent, down from 47.2 percent in 2013-14. This is significant progress, but it's also a first step—we know there's more work to do.
With roughly 1.1 million students in our care, we cannot afford the heavy weight of false narratives and choices. Our vision centers on the classroom, and we're laser-focused on strategic approaches that lift up every child and create the productive citizens of tomorrow. 
Carmen Fariña is chancellor of the New York City Department of Education