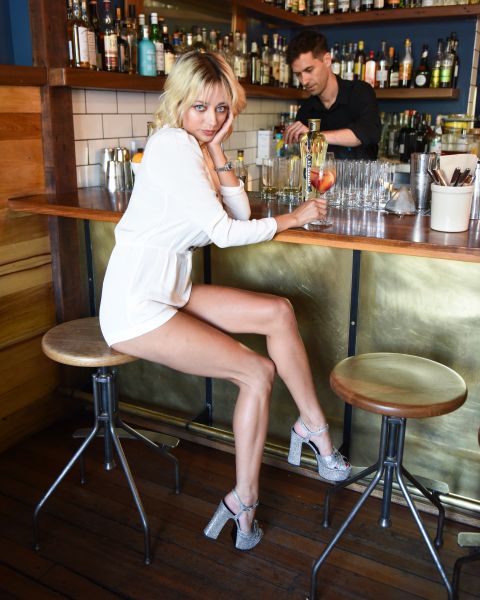 For Caroline Vreeland, great-granddaughter of fashion icon and tastemaker Diana Vreeland, personal style comes naturally–especially when it comes to fashion week. Each season, the model, singer and socialite teams up with BFF and blogger Shea Marie to don matching outfits, such as coordinating jackets which read "BFF," or lace dresses with the same silhouette. The result almost always has major street style photographers chasing after them.
Though you may not know it, from merely looking through fashion week photos of Vreeland, she's as passionate about pizza, pasta, and wine as she is about style. She even has her own Instagram tags for them–#CaroCarboload and #Carowine. As such, Vreeland partnered with St-Germain French Elderflower Liqueur to host a brunch in L.A earlier this summer. We caught up with her to talk carbs, Parisian cafes and what it takes to create the perfect fashion week outfit. Plus, see her favorite cocktail recipe below too.
If you had to choose between pasta and wine which would you choose and why?
You're mean. I guess I would choose wine. Because as much as I love pasta, wine to me, is about the ceremony. You're in a relaxed setting among friends, entertaining. I would choose wine, only if forced at gunpoint.
You spend a lot of time in Paris–what are a few of your favorite spots?
Café de Flore, for the people watching. There's always beautiful women smoking. There's cool old men writing in journals. I spend a lot of time alone and in Paris I have a lot of friends but I like to make time for myself. The French really have it down. We don't have that here as much–to show up to a café alone with your book and just be so entertained, I love to do that there.
What are some fun stories behind the #CaroCarboload and #Carowine hashtags?
I'm trademarking Carowine. I don't know exactly where I'm going to take it yet. I would love to do some kind of collaboration and then have my own little brand, Carowine.
Growing up, my mom always said the term, "carbo load." One time she was at the market and she was buying a lot of stuff and someone said to her, "Wow. You're really doing a carbo load." It always stuck with her. I wanted all my pictures of food to go in one place so I thought, how perfectly does this #CaroCarboload roll off the tongue?
What designers are you loving right now?
Of course I'm obsessed with Vetements. I love Alexander Vaulthier. He took an interest in me at the start of my fashion career about a year and a half ago when I really started to get invested in that world. For my first ever shoot for CR Fashion Book, he made me a bra—trust me, it was a tough task to make this bra—because he knew about my boob situation.
You often get photographed with your BFF Shea Marie when you're at fashion week together. How do you plan out all the matching outfits?
You know what, it's a funny thing, because when Shea and I go into showrooms we feel so lucky to be invited at all, let alone when the designer lets us come in and choose some outfits. We know we always want to do our thing of matching. That's our vibe. So, we go in there and there's not a lot to choose from. It's not like you have free reign of anything the designer has ever made. There's probably between four to eight outfits that we have to figure out how it fits my boobs or how it fits her butt and how we can make the matching moments based on the small things we have to choose from.
You want to wear the designer, it's a honor. My main tip would be mix it with your personal style. I made some mistakes in the past where I did a full look. You can still love the clothes and love the collection but that doesn't necessarily mean it's you. It's an ongoing process finding out what your personal style is.
But Shea and I realize that we like to always dress down. If we have something dressy, we'll pair it with a t-shirt or we'll pair our BFF jackets over a dress. We always try to play with high-low, and I think it's important to not forgot to put at least one piece in that is from your own wardrobe.
What beauty product do you live by for fashion week?
My facialist has a line of skincare products. I swear by her. If she told me to smear dog shit on my skin, I'd literally do it. I'm that obsessed with her. She started a line called Skin Worship. They made the Skin Perfecting Ritual which is a gel with vitamin C in it and I use it.
What's your best tip for burning off all the pizza, pasta and wine to look great for street style photos?
I don't want you to hate me, but I don't work out. I get discouraged because my boobs are so bouncy. I mean… a healthy sex life seems like enough exercise for me. Work it off in the sheets. I have some friends that are really skinny and I think it's not sexy.
Which French girls inspire your style?
Every French girl! Obviously I love Jeanne Damas, she's a dear friend of mine. She always looks put together, but always looks like she doesn't give a fuck. She just has that. It especially manifests in her lipstick, which is kind of her signature. She always has a red lip and it's always super smeared. When I ate lunch with her in L.A. the other day, it was so messy that I was like, 'Oh my god, should I tell her?' But then I was like, that's what's chic about it.
Caroline Vreeland's Favorite Cocktail Using St. Germain:
The 'Candru'

.75 oz St. Germain French elderflower liqueur

1.5 oz mezcal

.5 oz Pomple Mousse

.75 oz Grapefruit

.5 oz Lime juice

2 dashes rosemary tincture