Charlotte Olympia has a cat to thank for one of her most iconic shoe styles. Seriously, her Kitty style is a best seller for the English footwear designer, adored by cat ladies around the globe. One might think that a velvet flat embroidered with a cat's face might be gimmicky, but it has become a brand signature that returns season after season.
Now, the golden-heeled shoe is receiving a major modern day makeover, by borrowing inspiration from emojis. These playful kicks, which are part of the #Emoticats range, will be offered in seven colors and three vibes: #lolkitty, #cheekykitty and #flirtykitty.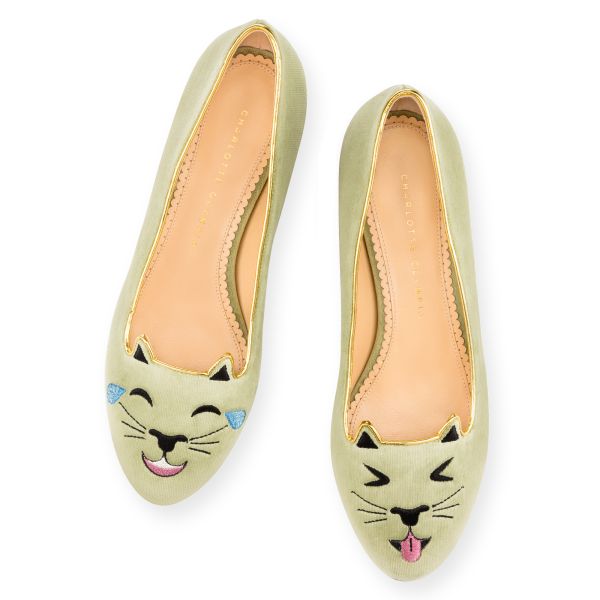 The two faces of #lolkitty includes a cat laughing to the point of crying and a cat sticking out its tongue; for #cheekykitty there's a winking face with a stuck out tongue and a cat blushing; #flirtykitty blows kisses and has hearts in the place of eyes. The pointy flats are even offered in the yellow hue most closely associated with emojis, making these kicks seem really authentic.
Rounding out the social media friendly range is a clutch with a big, golden hashtag on it and a leather cat-themed pouch. The range officially launched on October 1 and to celebrate its arrival, Olympia developed a special photo booth, where you can turn your own visage into an #Emoticat. Those photobooth pics posted on social media with the aforementioned hashtag will be automatically entered to win a pair of #Emoticat flats.
So if your roommate/boyfriend/girlfriend/landlord is forbidding you from obtaining a feline of your own, at least Olympia is offering up a few cheeky alternatives.