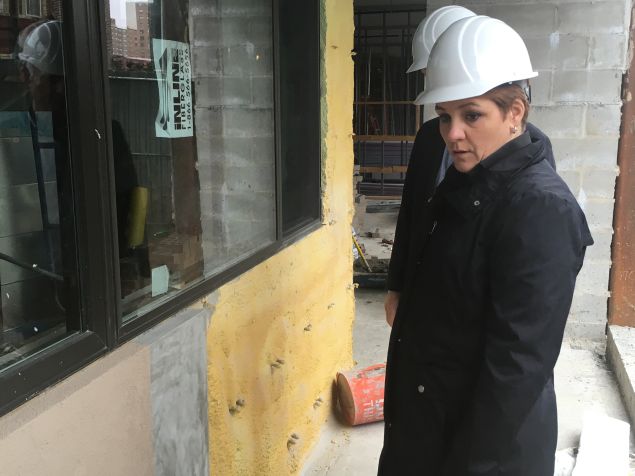 With a record number of 60,000 New Yorkers sleeping in homeless shelters, Christine Quinn—the former council speaker who now runs a nonprofit helping homeless women and children—said her onetime opponent Mayor Bill de Blasio had made progress but that there's still work to be done.
The de Blasio administration rolled out the latest figures yesterday, and put a positive spin on the numbers by noting that it was 7,000 shy of how many New Yorkers they had projected would be homeless.
Speaking to the Observer ahead of a topping-out ceremony—the end of the first phase of construction—for Stone House, a 161-unit supportive housing facility in Brooklyn named for former WIN CEO Bonnie Stone, Quinn noted that the city is "close to an all-time high of folks in homeless shelters, the homeless system."
She credited the de Blasio administration for "doing a lot" to address the homelessness crisis, its focus on supportive housing and said she appreciates that the city has reestablished voucher programs to help people get out of the shelter system. But the work is not done, she says.
"I think if you ask Commissioner (Steve) Banks or Mayor de Blasio, they'd say they're proud of the progress but they're not satisfied," Quinn said. "As long as we have folks—this many people in shelter, this many children in shelter—as long as we have people reentering shelter two or three times, we have not succeeded."
"There's no celebration 'til the job is done," she continued. "There are moments where you can feel gratified, you can feel positive, you can get a little more spring in your step. But you're not done 'til it's done."
Stone, the former WIN CEO, noted the decrease the de Blasio administration was celebrating was only against their projections—not an actual decrease in the shelter population.
"They seem to have been able to reach somewhat of a steady state which is people come in and people who are steady stay, but that may or may not last," Stone said. "But that 7,000 number was against the projections…I think they're at the highest level ever."
She acknowledged the challenges that come with the "Not in My Backyard," or "NIMBY," worldview—which the mayor said has hurt the city's proposals to bring homeless shelters to different neighborhoods—noting that given the rising population of New York City, the city has to "build more than people in neighborhoods would like."
"Nobody was really happy to see us but in the end when you run a decent program…they come to see that it is no harm," she continued. "But it takes a long time to get over that initial fear."
And the new supportive housing facility, Quinn said, will help move more families out of the city's shelter system—70 percent of the people in the shelter system are families with children, something she says "most people don't realize."
"So to have this 161-unit supportive housing development that focuses on families is going to help us move more families out of shelter," she said. "It's also going to be a very positive thing for the community here because it's permanent housing with services."
Quinn also said that WIN is "very grateful to Governor Cuomo"—her return to public service after her failed bid for mayor was as an advisor to Cuomo and she serves on a state homelessness task force—and she praised him for finally giving his OK to release $2 billion in funding for the creation of more than 100,000 affordable and supportive housing units in the state over the next five years.
"I applaud the governor for having signed the MOU," Quinn said. "I think that was a very important step forward and I look forward to Speaker (Carl) Heastie and Leader (John) Flanagan signing it as well."
City Comptroller Scott Stringer recently called on the city to create a land bank that would convert vacant space into permanent affordable housing, noting that an audit his office conducted this year found that there are 1,175 vacant properties in the city.
Quinn said she's open to all ideas to create more permanent housing. "If the mayor, the governor or Scott Stringer wanna give WIN some vacant lots, we're happy to take 'em and build supportive housing," she said.
She would not weigh in on whether she would support de Blasio's bid for reelection next year, but praised the mayor's work on homelessness.
"I thank the mayor for putting WIN on the supportive housing task force so we could really have a loud voice for homeless families," she said. "I think the effort the mayor put together around last winter and spring around clearing violations in shelter was very helpful to us at WIN and we look forward to continuing to work with him."