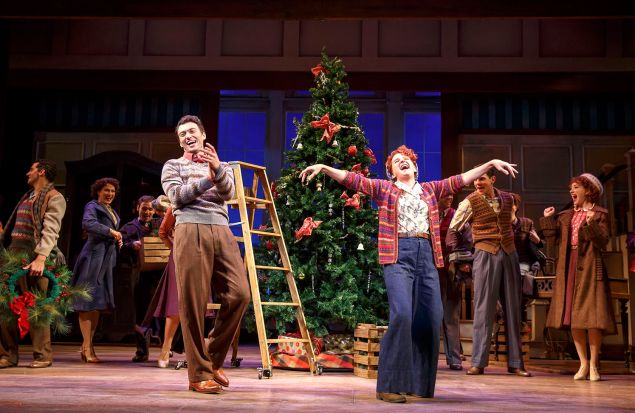 "It's someone I've known for a good many years," Irving Berlin remarked after a quick peek inside the Oscar envelope. "He's a nice kid and, I think, deserves it."
Translation: For the second—and last!—time in Academy history, an Oscar presenter had to declare himself the Oscar winner. Walt Disney achieved that awkward feat six years earlier, and steps were taken to make sure it never happened again. It hasn't.
Berlin's win for Best Song of 1942 may seem a foregone conclusion now, but then it wasn't the big hit anticipated from Holiday Inn. That was to be his haunting hymn to Valentine's Day—the cautionary "Be Careful, It's My Heart"—and it did hit the pop charts first, but it was soon leveled by a seasonal steamroller that charged on to become the best-selling single of all time, unrivaled till 1997 when Elton John turned his "Candle in the Wind" into "Goodbye, England's Rose" for Princess Di's funeral.
And if you cock your ear toward Studio 54, you will find that they are still singing "White Christmas." This time, it's for a stage version of Holiday Inn that is now in unseasonably early previews there for an unreasonably early opening on October 6.
Bryce Pinkham is The Groaner and Corbin Bleu is The Hoofer—present-day stand-ins for Bing Crosby and Fred Astaire, who, in '42, were a best-in-their-field match impossible to top. Though a pair of song-and-dance men, they didn't do much of that together. Rather, they'd retire to their respective corners to do their own special art.
The score was arguably Berlin's best up to that point, but its mighty, tinsel-trimmed evergreen was slow to grow. When the composer first played "White Christmas" for Crosby on the set, the singer shrugged and blandly assessed, "I don't think we'll have any problem with that one, Irving." But, coming at the start of World War II, the song struck national chords of urgent, wistful yearning, and its melancholy melody—so acutely attuned to wartime—may have been a subliminal echo of an earlier personal ache: Irving Berlin Jr., his firstborn and only son, died in infancy on December 25, 1928.
Five years later, Berlin thought up the plot that would unlock "White Christmas." In As Thousands Cheer, a Broadway revue he did with Moss Hart based on newspaper headlines, there was a segment in which Clifton Webb stepped out of a sepia-tinted photo in the rotogravure section to introduce the world to "Easter Parade." Figuring there were more holiday tunes where that came from, Berlin dreamed up a Connecticut inn open only on holidays—basically, a clothesline for him to hang his seasonal songs. Ambitiously, he set out to celebrate New Year's Day, Inauguration Day, Lincoln's Birthday, Valentine's Day, Washington's Birthday, St. Patrick's Day, Easter, Mother's Day, Decoration Day [now Memorial Day], Independence Day, Labor Day, Columbus Day, Halloween, Armistice Day, Thanksgiving and Christmas.
Which left no room for a plot, director Mark Sandrich pointed out when pitched the idea. It might do for a revue, but a movie needed plot, so "Irving's Idea" was passed on to a decent adaptor and screenwriter (Dream Girl's Elmer Rice and Dreamboat's Claude Binyon) to cinematize, but Berlin got the nomination—for Best Original Story.
Sandrich talked penny-pinching Paramount into Crosby and Astaire, then dubbed Holiday Inn "the ABC of American musicals: Astaire, Berlin, Crosby." But he couldn't swing any starry leading ladies for them to play with. The studio quickly shot down his suggestion of Ginger Rogers and Rita Hayworth. Mary Martin passed, pleading pregnancy. And a newly arrived Dale Evans was nixed because she couldn't dance.
The roles went to Marjorie Reynolds and Virginia Dale, both of whom could barely keep up with Astaire and had to be dubbed. Reynolds enjoyed success later on TV as the wife in The Life of Riley, opposite William Bendix. Dale seems to have dissolved.
Lora Lee Gayer and Megan Sikora fill their spots in Holiday Inn, The New Irving Berlin Musical. Both of them start out as Pinkham's girlfriend, but the plot twists and triangulates every time Bleu shows up to offer them an entre into show business. 
"My love interest is myself," explains Bleu brightly, in a right-as-rain evaluation of the amiable roué he plays. "Both girls are just objects to propel my own career."
It's all fun and fluff stuff, between Berlin blockbusters. The storyline is a steady redial of Berlin's own "Change Partners and Dance." And Bleu does, indeed, dance.
You may know that from TV's High School Musical, but you wouldn't have suspected it from his previous Broadway outings: Usavi in In the Heights was supposed to be an awkward dancer, and the skill set for Jesus in Godspell didn't require dancing.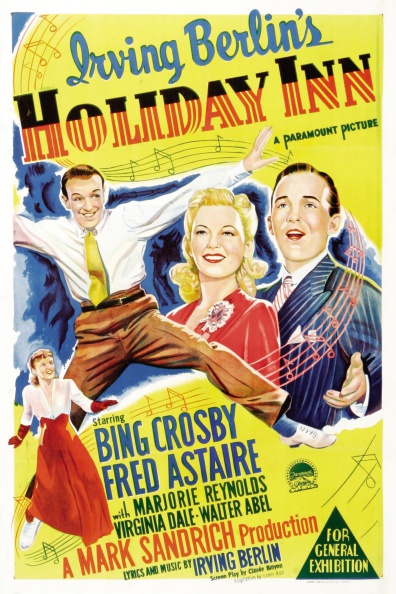 "It's something that I have yet to showcase on a Broadway stage. This is my first time originating a role and the first time I've had a chance to fully stretch my legs."
Choreographer Denis Jones took due note of that. "Corbin," he says, "is a wonderful dancer and moves so beautifully. I'm really creating this choreography specifically for him on his body—playing to his strengths, which, as I said, are enormous."
One of Bleu's big numbers in the show—Berlin's Oscar-nominated "Cheek to Cheek" from Top Hat—was something that he "performed" at his own wedding right before rehearsals began for Holiday Inn. "My mom used to sing that to me when I was a baby, and we decided—well before I knew I was going to do this show and sing that song—that 'Cheek to Cheek' would be our mother-son dance at the wedding."
Director Gordon Greenberg doesn't have to think long and hard about the most difficult dance to put over: "The most challenging—or, in Disneyspeak, 'the solution-opportunity ahead of us'—is the 'Let's Say It With Firecrackers' routine," he says. It's an elaborate Fourth of July flag-waver where Bleu taps and pops all over the place.
"We looked at the many different ways of achieving what, on film, looks easy, but it's pyro, and that involves fire marshals and all kinds of things that normal people shouldn't have to deal with. The solution that we finally arrived at involves smoke, lights, glitter and people from Brooklyn. It should feel very joyous and theatrical."
Since the Pearl Harbor attack occurred midway through filming, Paramount brought out the big guns for that number, patriotically enhancing it with film clips of America going off to war. The dance routine that went with this took three days to rehearse, two days to shoot and 38 takes before Perfectionist Astaire was completely satisfied.
Astaire's other big hurdle was a classic comic drunk scene, which he improvised as he was dancing up a storm. He took two shots of bourbon for the first take and one for each succeeding take. By the seventh and final take, he was pretty well wasted. 
Mercifully blessed with a nostalgic tug for an era he never lived through—namely, the '40s and '50—Greenberg spent the better part of the past three years in the best of both worlds, with his left hand writing the musical book for Holiday Inn with Chad Hodge while, with his right, directing a Chichester-to-West End revival of Guys and Dolls. "The style and sensibility of Guys and Dolls, both in its humor and its humanity, rubbed off on our book, I think," he says. "I should only hope we're half as good."
There was no room in his Holiday Inn for three of the film's dozen songs. The first to go: "Lazy." Only Crosby could get away with giving up showbiz for the bucolic life by singing "Lazy." Anyone else needs a stronger "I want" song. "So," says Greenberg, "we substituted 'The Little Things in Life,' which, for me, summarizes what the show is about at heart—finding beauty and poetry in the everyday, being grateful for the things in front of us. Now the guy says, 'My greatest dream is to embrace real things, mundane things,' and the audience agrees. We started making those sorts of adjustments to flesh out characters and fill in for the personalities of the two stars.
"In casting this show, we wanted actors on their own terms to create their versions of these roles. Finding someone like Bryce was a happy moment for us. He did a reading last summer at Roundabout, and he turns out to be a clown of the first degree and a joy machine—just the kind of guy you'd want to go on a journey with."
The other two skipped songs marked the birthdays of Washington ("I Can't Tell a Lie") and Lincoln ("Abraham"). The latter, played painfully in blackface, is usually gone with the wind when the film plays TV (save for TCM, a stickler for the uncut).
All that remains of the maid Louise Beavers played in the film is the name Louise. She is now a scrappy Caucasian, reimagined as a Rosie the Riveter. As played by Megan Lawrence (a glorious Gladys in Broadway's last Pajama Game), she's a rock-solid sage-in-residence who gives Pinkham the romantic pep talk he needs.
Cue "Shaking the Blues Away." Greenberg believes, "One reason that song works so well is that it's actually medicine for a sick man, and it does the trick. It happens viscerally, decoratively, musically—all those things that work together in that blissful musical-theater way which makes the hairs on the back of your neck stand up."
That's one of several numbers borrowed from the Irving Berlin songbook to shape the new narrative for Holiday Inn. "The seasonal songs are specific and do their job," says music director Andy Einhorn. "Then, you get to songs where you say, 'How am I fulfilling this character's musical arc?' 'What song works in that spot?' We've found some undiscovered gems for the score where you say, 'I believe that song.' There's one in particular that nobody has heard of—from a never-produced 1948 musical."
A half dozen holidays are covered in the show: Valentine's Day, Easter, the Fourth of July, Thanksgiving ("I've Got Plenty To Be Thankful For"), Christmas—and, for New Year's, a nice big musical bow is made of "Happy Holiday," "Holiday Inn" and "Let's Start the New Year Right." The non=holidays are celebrated unshabbily with "Heat Wave," "Stepping Out With My Baby," "You're Easy to Dance With," "What'll I Do?"
Einhorn's favorite is the title tune from the other "ABC" film musical, 1946's Blue Skies. "It's amazing this song was written with minor chords, and yet, at the end of the day, it's an uplifting song. There's something that speaks right to our core as humans when we hear those lyrics, 'Blues skies/Nothing but blue skies smiling at me.' Irving Berlin, as a lyricist, was able to connect so well to the human condition."
According to Rodgers and Hammerstein executive Ted Chapin, Berlin was moved to write "Blues Skies" by the birth of his first daughter, Mary Ellin Berlin Barrett.
A third film teaming of Astaire-Berlin-Crosby was attempted eight years after Blue Skies. Old "idea man" Berlin came up with a story about a New England inn, this in Vermont and run by the boys' old World War II general, but Astaire read the script and felt he'd been there, done that, so Donald O'Connor stepped in—only to contract Q-Fever from his co-star, Francis the Talking Mule—and he had to be replaced by Danny Kaye. Made on the Paramount backlot in the remodeled Connecticut inn that'd been Holiday Inn, the film was called White Christmas, and it was 1954's most popular. ν