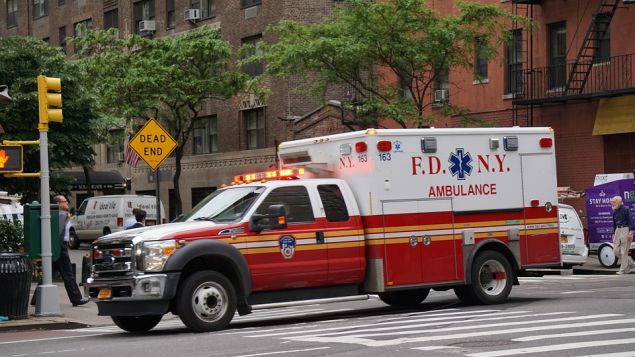 Mayor Bill de Blasio, FDNY Commissioner Daniel Nigro and Police Commissioner James O'Neill mourned the loss of FDNY Battalion Chief Michael Fahey in a Bronx explosion that started with a gas leak as the NYPD investigates reports of a marijuana grow house at the scene of the explosion.
At 7:01 a.m., FDNY personnel requested that police respond to 300 W. 234th St. in Kingsbridge investigate the discovery of an apparent drug lab, according to a police spokesman.
An explosion then occurred at the location, a two-story private residence, with eight people injured. One FDNY member, Fahey—a 17-year-veteran of the FDNY who was in the 19th Battalion in the Bronx—was taken to New York-Presbyterian/Allen Hospital with severe injuries and he was pronounced dead, the spokesman said.
A Con Ed worker was taken to Allen Hospital and listed in stable condition, one sergeant and three police officers were taken to North Central Bronx Hospital and two Emergency Services Unit detectives were taken to NewYork-Presbyterian Hospital—the NYPD members were treated for minor injuries, the spokesman continued.
Speaking at Allen Hospital today, de Blasio called the tragedy "a very sad day for our city" and said that his family "has given so much and today made the ultimate sacrifice to the city."
"We—Commissioner Nigro, Commissioner O'Neill and I—spent time with his wife and with his parents here at the hospital and saw the unspeakable pain when they were told formally they had lost Michael," de Blasio said, "and is a reminder of the dangers that our first responders face every day, the dangers that the men and women of the FDNY face and the bravery with which they do their job."
Nigro—who said he is a "contemporary of his (Fahey's) father," a decorated battalion chief whom he worked with—said he did not know Michael Fahey but he became emotional as he expressed the Fire Department's sorrow over the tragedy.
"We are a family, we feel it deeply, we feel it deeply today," Nigro said, fighting back tears. "We're thankful for the support of the mayor, support of the NYPD, who transported Chief Fahey here and desperately tried to save him and it's a sad day, it's a sad day."
He added, "Thankfully this doesn't happen every day but when it does, it doesn't make it any easier."
Fahey responded with local units to a gas odor, according to Nigro. Firefighters, who were investigating the source of the odor, were on the scene for a little more than an hour when the explosion occurred, Nigro said.
The explosion "blew the large portion of the roof off the building out into the street where the members were" and Fahey "was directing operations from the street," Nigro added.
"He was struck on the head and various other parts of his body," Nigro said.
Police Commissioner James O'Neill said the property is currently under investigation as a marijuana grow house. O'Neill said NYPD Chief of Detectives Robert Boyce and his detectives from the Arson and Explosion Squad will lead the investigation, along with Deputy Chief Jason, head of Bronx detectives.
O'Neill declined to offer specifics on what kind of reports the Police Department received, though he said the investigation was "just based on some preliminary information we received."
"We had a couple weeks ago, we had information we received and we were in the initial stages of an investigation on that block, so that's going to be part of the ongoing investigation as a possible drug lab, as a possible grow house," O'Neill said.
When asked whether or not the area is safe, he said, "Well, it certainly is now. It's a crime scene and it will be for a few days to come."