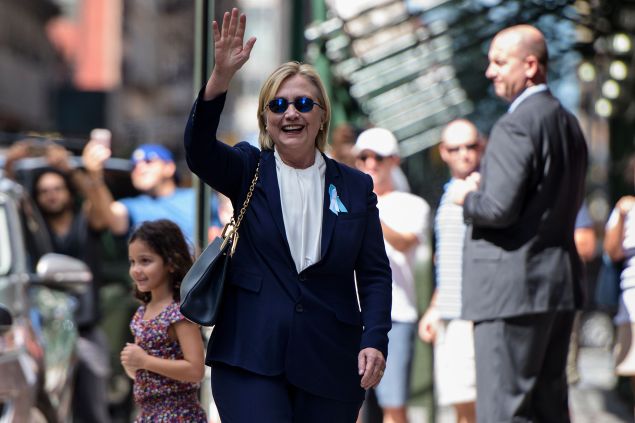 We've been led to believe by many in the mainstream media that Democratic presidential nominee Hillary Clinton is just fine, and questions about her health are only be asked by kooky right-wing conspiracy theorists.
That changed during a 9/11 remembrance ceremony on Sunday, when Clinton was taken away early following a "medical episode." That "episode" turned out to be… pneumonia, I guess. At first, the campaign claimed she was "overheated" and left early, but video surfaced showing her unable to stand on her own and stumbling as her aides rushed her into a vehicle to leave the event.
Some time later, Clinton emerged from her daughter Chelsea's New York apartment, apparently "feeling great" and hugging a young girl. A few hours later, the campaign announced that she had been diagnosed with pneumonia last Friday, and would cancel several campaign events to recover. Damon Linker addresses this over at The Week.
"That's why the announcement that she has pneumonia will only fuel more speculation about Clinton's physical condition, with potentially no end in sight," Linker wrote. "The world saw her collapse, and 90 minutes later, the candidate looked America in the eye and proclaimed that she was feeling great. Except now we know that she wasn't."
Why she was allowed to be near her young grandchildren and a stranger on the street while suffering from a dangerous and contagious disease is still unknown.
The bigger question, however, is why her campaign couldn't have just said pneumonia in the first place—or even back on Friday. Clinton continued to campaign with this disease, potentially exposing more people to it. On Monday it was revealed that multiple people in her campaign—including campaign manager Robby Mook—had also apparently suffered from the disease in recent weeks.
Jennifer Palmieri, Clinton's communications director, acknowledged the campaign "could have done better," but said Americans know more about Clinton than any other candidate in history.
We might know more about her generally, but neither she nor her opponent, GOP nominee Donald Trump, have released as much medical information as President Obama or former candidates Mitt Romney or Sen. John McCain. Further, the way the campaign handled the incident (first with lies, then eventually a truth that now some people don't believe due to context) is indicative of the campaign's lack of transparency.
Clinton's campaign and supporters will of course tell you she's the most transparent candidate in history. Hard to believe that when the campaign constantly lies.
It almost seems like the campaign was intentionally disingenuous so as to leave room for questions from the public. Then they could claim those questions were being asked by conspiracy theorists. Granted, some of what came in the wake of this situation was odd (the Clinton body double claims, for one), but many other questions were raised about her health even with the information the campaign provided.
In addition to wondering why she was able to be around children with a potentially life-threatening and contagious disease, we also have to wonder why she kept campaigning after the diagnosis. Why did the campaign claim her cough was due to allergies if it was due to the pneumonia? Why did they claim at first that she was overheated when the weather wasn't that bad outside? Why is she cancelling campaign events if she's "feeling great"?
These are legitimate questions that even members of the mainstream media are asking, but that are generally being disregarded by the campaign and Clinton supporters as conspiracy theories.
Of course, one question that may have an answer—why she kept campaigning if she was diagnosed with pneumonia—that of a "she can't win" shrug. If the campaign had announced on Friday that she had pneumonia and would have to cancel campaign events, she'd miss the 9/11 remembrance completely, which could be used against her. It would also have fueled those claiming she was unhealthy.
But by not doing that, the campaign allowed a sick candidate to be in public when she nearly collapsed, and it was captured on camera. Now it's being poured over like the Zapruder film, and has dominated the news cycle for two days.
Now the campaign's attempts to discredit those questioning Clinton's health has backfired, as the country has seen she really does have some health concerns. It's brought up past concerns as well, like her concussion from 2012, which her aides at first tried to downplay but then acknowledged that it took her out of commission for several weeks. Clinton used that concussion as an excuse when she was telling the FBI that she didn't recall numerous things related to classified information and her emails.
Seems like a president who can't recall things due to a brain injury might not be the best candidate.
There was no need for the campaign to lie. As has happened in the past—whether it was about emails or Benghazi or other health concerns—people quickly learn the truth, and it makes the campaign look bad.