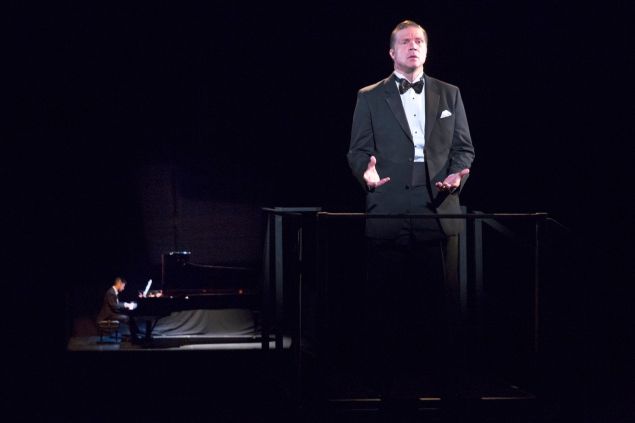 If the failed concert pianist who is the narrator of David Lang's opera the loser is not exactly unreliable, he certainly is devious. The hour-long work, which had its world premiere last night at the Brooklyn Academy of Music, is an ironic hymn to defensiveness and evasion.
Lang's libretto adapts a 1983 novel by Thomas Bernhard in which the narrator and his friend Wertheimer, both promising concert pianists, attended master classes at Salzburg with Vladimir Horowitz. Both of them were overshadowed by another student, though: Glenn Gould, whose meteoric career the narrator recalls with a mixture of fascination and revulsion.
The libretto suffers a bit from compression of the text—especially of the novel's obsessive repetition—into a manageable libretto, but Lang's musical solution is elegantly simple. The narrator, baritone Rod Gilfry, tells his story in recitativo secco, the half-sung, half-spoken style used to carry the plot forward in between the arias of classical opera. Meticulously placed staccato accompanying chords from a chamber orchestra conducted by Karina Canellakis emphasize the sense that what we are hearing is at best a heavily edited version of the truth.
Lang also directed the piece, devising the daring solution of placing Gilfry on a tall tower in the middle of the BAM Opera House's empty orchestra section, seemingly suspended in air before the eyes of the audience in the mezzanine. The metaphor of the mostly-empty theater (the sort of place where losers perform) was obvious enough, but Lang also evoked a more subtle discomforting effect by wedging the well-heeled first nighters into BAM's less than luxurious cheap seats.
Gilfry's lyric baritone sounded crisp and effortless in the narrator's ironic patter, warming up to a ravishing mezza-voce in the opera's single scene of open emotion. Lang expands a brief scene in the novel of the first meeting between Gould and the narrator (atop a peak called Suicide Mountain, portentously enough) into a mini love duet. Gilfry's sigh of the single word "Yes" felt as erotic as Tristan's first glimpse of Isolde.
The opera finished on an appropriately ambiguous note. The stage curtain opens to reveal young virtuoso Conrad Tao playing blurry chords, as if heard from a practice room down the hall. The narrator turns his back on the audience to listen, and we wonder: is this music coming from the past or the future?
One thing is sure, though: for this loser, the music is never happening now.