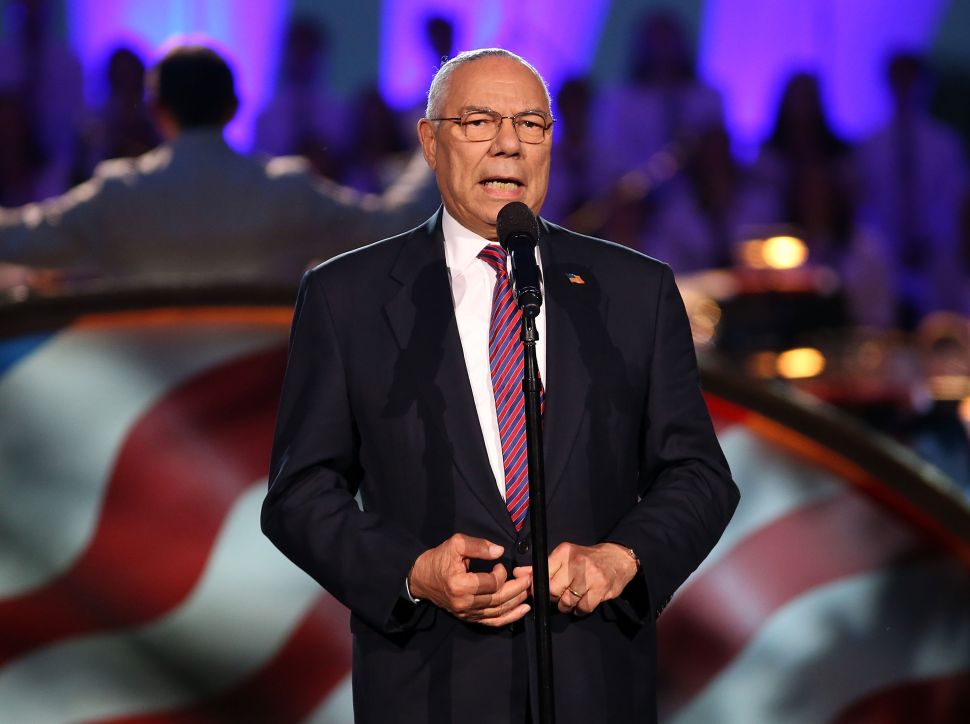 In recently leaked emails, Colin Powell, former secretary of state, National Security advisor and chairman of the Joint Chiefs of Staff wrote: "the whole birther movement was racist. That's what the 99% believe. When Trump couldn't keep that up he said he also wanted to see if the certificate (Obama's birth certificate) noted that he was a Muslim." Powell went on to describe Donald Trump as "a national disgrace and international pariah."
After President Obama has served in the White House for almost two terms, Donald Trump, one of the most visible voices in the birther movement in recent years, told The Washington Post he remains unwilling to say the president was born in the United States.
Some day presidential historians and professors of psychology will write write at length—as virtually all reputable journalists do today—about the political dementia and bigotry that led some opponents of President Obama to spread the lies that the president is not an American and that he is Muslim and not Christian.
Powell is right. Birtherism is racism. The lie that the president was not born in America was an attack on the legitimacy of America's first black president. The lie that the president is a Muslim is a play for votes based on bigotry against Muslims and fear of Muslims—which is based on another lie, that Muslims as a group should be tarred as terrorists when the truth is the exact opposite.
For the record, if President Obama was indeed a Muslim, there would be nothing wrong with that. Many Muslims serve courageously, wearing the uniform of our nation in the battle against terrorism. Many Muslims are gold star mothers and fathers who embody the highest patriotism of the nation, as Trump learned the hard way after some recent ill-fated comments he made. Virtually all American Muslims are patriotic Americans.
It is astounding, absurd and nauseating to huge numbers of voters that anyone who aspires to the presidency could state that the president is not an American.
Lets ignore the various statements offered by various Trump staff and supporters that the Republican nominee does indeed believe the two term president is an American.  That is not what he said to The Washington Post this morning.
Considering the timing and magnitude of Trump's latest birther gaffe, and the damage it will do to his campaign, Trump will almost certainty, finally, admit after almost eight years of the Obama presidency that the president was, indeed, born in America and is, indeed, an American. Perhaps Trump will even admit that the president is, indeed, a Christian.
But that is not enough. Trump owes President Obama an apology and a call for the entire birther movement to end the barrage of falsehoods that birthers have directed against the president.
Trump should state unequivocally that he was wrong for the entire Obama presidency in refusing to accept the president's American birth and  apologize to the president and the nation about being so wrong about a matter so fundamental.
Trump should call on all birthers to recognize the error of their ways and also offer their apologies to the president and the nation.
Trump should apologize to every African American for the hurt and pain he inflicted with the falsehood he repeatedly told against the first black president whose election, rightfully, made them so proud.
The man who prides himself about never apologizing, no matter how much he wrongly hurts those he falsely attacks, should also apologize to a list of people and groups he has wrongly offended that is so long it would not fit in a single column.
Trump should apologize to Hispanics for wrongly suggesting that the Mexican government is "sending" rapists and criminals to America when the facts prove that most immigrants to America are not rapists or criminals.
Trump should apologize to Sen. John McCain and all former American prisoners of war, who are national heroes in the eyes of most of us, for saying that he prefers troops who were never captured.
Trump should apologize to every woman he has called a fat slob, bimbo or any other insulting name.
Trump should apologize to every disabled American for his ghoulish and vile impersonation of a disabled New York Times reporter.
Trump should apologize to Federal Reserve Board Chair Janet Yellen for insulting her with his ridiculous suggestion that she is keeping interest rates low to benefit President Obama, which no financial analyst believes. If he wants to call for higher interest rates he should do so in the presidential debates, not by making a transparently false representation insulting the chair of the Federal Reserve Board.
Trump should apologize to Sen. Ted Cruz for suggesting the preposterous lie that his father was complicit in the assassination of President Kennedy.
Trump should apologize to every courageous Russian fighting for democracy and a free press in Russia for his repeated praise of Russian strongman and dictator Vladimir Putin.
Each of these offending Trump insults—and others on a list too long to fully state here—are alien to the tradition of American democracy, in a nation founded on the principle of mutual respect and a community of shared values.
In the final analysis President Obama has triumphed over the birther lie that Trump worked years to spread. Obama's popularity and favorable ratings tower over those for Trump and his fellow travelers in the birther movement.
It is not enough for Trump to reluctantly and belatedly admit, because his latest birther gaffe could do fatal damage to his presidential campaign, that in the eighth year of Obama he will finally concede that the president is, in fact, an American.
Donald J. Trump owes the president of the United States—and others he has wrongly offended—a full and unequivocal apology.
Birtherism is racism. It should end today and never again rear its ugly face in the land of the free and the home of the brave.
Disclosure: Donald Trump is the father-in-law of Jared Kushner, the publisher of Observer Media.