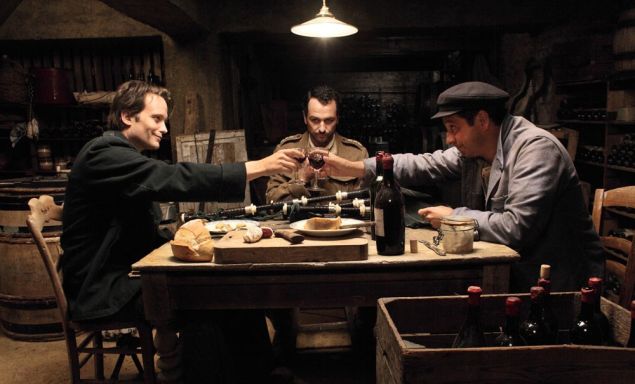 If all else fails to inspire future filmmakers, there is always World War II. An endless source of material for books, plays, anecdotes, historic footnotes, first-person accounts, museum exhibits and library collections, the war so devastating in its universal impact that there has never been a World War III, you can always count on the events of what happened in the 1940s for new and exciting chapters. The latest is Come What May, a beautiful, poignant and illuminating French film that manages to make a familiar history lesson seem freshly observed.
---

COME WHAT MAY ★★★
(3/4 stars)

Directed by: Christian Carion
Written by: Andrew Bampfield, Christian Carion and Laurie Irrmann
Starring: August Diehl, Mathilde Seigner and Matthew Rhys
Running time: 115 min.

---
The setting is 1940, when the Nazis invaded France and drove eight million people from their homes in one of the largest single displacements of human beings in the 20th century. The story centers on a group of peace-loving villagers forced to abandon their homes and farms to escape the invaders, among them a German boy whose widowed father, an opposition activist seeking refuge from Nazi oppression, had successfully managed to escape his decimated homeland, only to be jailed when France declared war on Germany the previous year, leaving behind his only child to be raised by kindly neighbors. But when German planes start bombing the village, the child is taken to Dieppe to be placed in an orphanage. In the chaos that envelops the country, the trajectory of the plot divides between the lonely boy and his newly released father's struggles to find his son, accompanied by a Scottish soldier trying to find his way back to England after his entire battalion is wiped out. You can't help being caught up in the heroism and humanity people show in the face of despair and death.
Basing the harrowing events in Come What May on his own personal family history, writer-director Christian Carion (Joyeux Noel) has a wise and sympathetic eye for detail that encompasses every corner of a wide canvas of war, missing nothing about the strengths and sacrifices of a vanquished people, refusing to surrender their hopes and values in even the darkest circumstances. You get it all—the plight of children found wandering aimlessly on the roads and hiding in the fields after losing their families, the greed and selfishness of French merchants who refuse to provide food for starving fellow countrymen if it fails to make a profit, and always the planes that appear without warning, ready to kill everyone below. Carion knows how to cover his angles and keep a complex story going, and he milks every emotion from a talented cast that includes the wonderfully expressive actors August Diehl, Mathilde Seigner and England's Matthew Rhys, not to mention a gorgeous, haunting score by Ennio Morricone.
Curiously, the director makes a point of showing that some Germans had feelings, too—especially the young soldiers, who were far away from home and following orders they didn't always understand. It's a variation on a theme Carion examined with more detail in his memorable film Joyeux Noel, when allies and their German adversaries ceased fire for one night to share Christmas together. It's jarring to see even a pinch of compassion for such a toxic enemy, but the Germans, Carion is saying, were victims of war as well, although their fates would have been less sympathetic if they had won. Come What May is not exactly a new idea but a sensitive, polished and carefully executed film anyway, extremely thoughtful and well worth seeing.