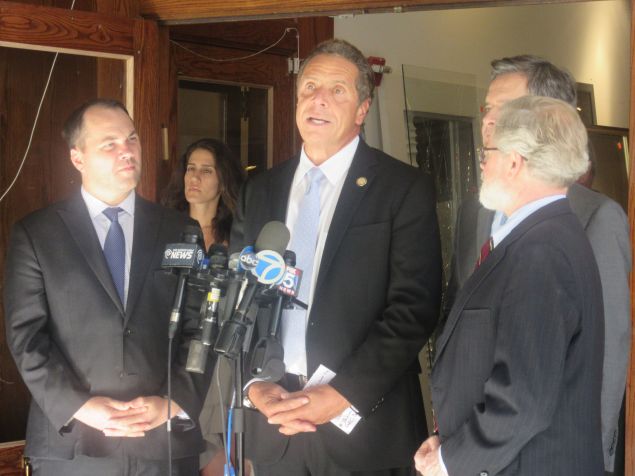 Gov. Andrew Cuomo, Assembly Speaker Carl Heastie and State Senate Majority Leader John Flanagan announced that emergency funds will be made available to small businesses, homeowners and renters affected by the Saturday night explosion that injured more than 30 people.
Afghani native and U.S citizen Ahmad Khan Rahami, 28, of Elizabeth, N.J., has been charged with using and attempting to use weapons of mass destruction, bombing and attempting to bomb a place of public use, destroying and attempting to destroy property by means of fire or explosive and use of a destructive device in furtherance of a crime of violence, namely, the use and attempted use of weapons of mass destruction, U.S. Attorney Preet Bharara announced today.
The FBI has also announced that it is looking for two criminals who came upon the second device, a pressure cooker bomb, found inside luggage on West 27th Street between 6th and 7th Avenues, as first reported by DNAinfo.
Speaking in front of King David Gallery 23 at 131 W. 23rd St. this afternoon, Cuomo said Heastie and Flanagan agreed to authorize state appropriation to reimburse people who were hurt financially and who are not covered by insurance.
"So I want to thank the speaker and the Senate leader for their cooperation," Cuomo said. "People know that our government normally operates slowly. Here it's operating very expeditiously."
The Department of Financial Services will work with insurance companies to expedite claims and resolve issues. The Division of Homeland Security Services will administer a grant program for uninsured losses that will cover remaining uninsured costs.
The state is currently working to determine eligibility for homeowners, renters, businesses and nonprofit organizations to get help through the Small Business Administration's physical disaster loan and economic injury disaster loan programs. Under the federal Small Business Act, the governor can vouch on behalf of a small business' economic hardship to prove their eligibility for emergency loans.
"As you know, we have been working very hard post-bombing to apprehend the people who were responsible but also to make sure anyone who was hurt directly or indirectly from the explosion, property damage, etc., is compensated and gets up and running as quickly as possible," Cuomo said. "The bomb did do damage to storeowners, it did do damage to residences and the state is taking two actions."
The state Office of Victims Services, working in conjunction with the FBI, has also connected victims to OVS-funded service providers, which will then file claims for compensation for medical bills and other expenses and also offer direct services like crisis intervention and counseling.
Councilman Corey Johnson, Richard Gottfried, Brad Holyman and the gallery's owner—with whom Cuomo met ahead of the press conference—were also in attendance, praising the state for its support of the city in the aftermath of the explosion.
Cuomo added that upstate New Yorkers commended the way New Yorkers and first responders handled the bombing, noting that New Yorkers "got right back to work on Monday, right back to business as usual and didn't allow the bombing to affect them."
"Because that's what terrorism is all about, trying to disrupt our lifestyle and that didn't happen," he said.