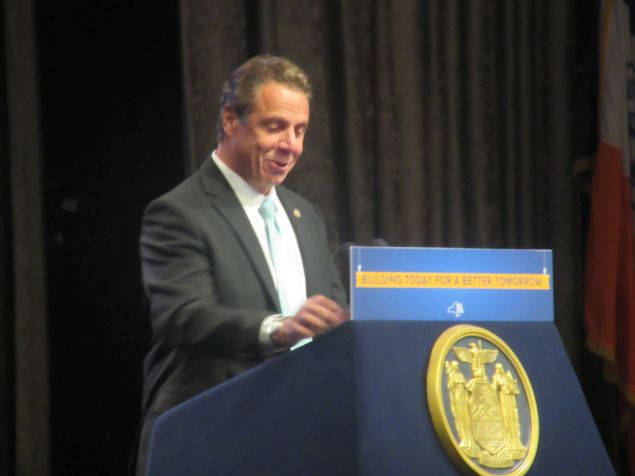 Despite a multibillion-dollar bid-rigging scheme implicating some of his closest associates, Gov. Andrew Cuomo tried to shift the focus to an ambitious infrastructure program—a $1.6 billion plan to transform the historic Farley Post Office into a world-class transportation hub that would entail revamping Penn Station, which he called the "train version" of LaGuardia Airport.
Cuomo announced the selection of a developer-builder team that includes three companies—Related Companies, Vornado Realty LP and Skanska AB—to redevelop the Farley Building, creating the new, 250,000-square-foot Moynihan Train Hall to house passenger facilities for the Long Island Rail Road and Amtrak. That train hall would also include 700,000 square feet of office and retail space.
Pre-construction work will start this fall, with the new train hall slated to be completed by December 2020. The LIRR concourses and the two subway stations in Penn Station will be rebuilt by the MTA. The Empire State Development Corporation (ESDC) and Amtrak will partner on a request-for-proposal to rebuild the current Amtrak portion of Penn Station.
The governor—who said the state has put forward a $100 billion plan to rebuild the state's transportation system over five years that includes federal funds and other sources—said Penn Station serves 650,000 passengers per day, which he said is double JFK, Newark and LaGuardia airports combined.
He blasted the sorry state of Penn Station, calling it the "train version of LaGuardia"—a reference to U.S. Vice President Joe Biden's remark comparing LaGuardia Airport to "some Third World country."
"It's triple the capacity that the facility was designed for," Cuomo said. "And it is not representative of New York. It is dirty, it is dingy, it is dark and that is not what New York is all about. It's the equivalent of LaGuardia Airport, which has now become a national laughingstock, right?"
Cuomo said the original plan, which was announced 20 years ago, had both conceptual and implementation flaws. That plan consisted of rebuilding the Farley Post Office into a train hall and then moving Amtrak from Penn Station into Farley—and the LIRR would remain in Penn Station. The proposal also lacked a plan to fix Penn Station, Cuomo said.
"Now I love Amtrak, but that makes no sense, it makes no sense for anyone," he said. "Amtrak has got 30,000 riders, Long Island Railroad has got 230,000 riders. Why would we build a new facility, invest all of that money and then the LIRR stays exactly where it was in Penn."
He also criticized the fact that the original plan called for the government to be the builder.
"You know the most important thing in life to know is to know what you don't know," he continued. "You know what government doesn't know? Government doesn't know how to build. Fine. Then find a different way to accomplish it."
He first kicked off his speech by polling the audience on which presidential candidate performed better at the debate at Hofstra University last night.
When he asked the audience whether Clinton did best, there was modest applause in the audience and when he asked if it was Trump, one person clapped and others laughed.
"You are all alone, and it's not the first time," Cuomo said, frequently interrupted by roaring laughter from the audience. "Either everyone is wrong or you are right, my friend. That's OK, we will see and then you will say what was true."
But notably missing from the breezy conversation was the scandal swirling around his key economic development program—the Buffalo Billion initiative.
U.S. Attorney Preet Bharara charged Alain Kaloyeros, president of the State University of New York Polytechnic Institute, with allegedly designing requests-for-proposals for the Buffalo Billion to guarantee contracts would be won by his associates, developers who donated to Cuomo's campaign.
Bharara also charged Joseph Percoco, Cuomo's former executive deputy secretary and right-hand man, with two bribery schemes. One saw Percoco allegedly take a $35,000 bribe to get ESD to pay a company for the construction of a parking lot in Syracuse, despite the fact that the project lacked the necessary labor agreements.
In the second plot, Percoco and his wife allegedly accepted payments from a Maryland-based energy company to smooth the way for the construction of a power plant in upstate New York.
Last week, Cuomo said that he would "learn from" the scandal," announcing that he would transfer the management of Buffalo Billion from SUNY Polytechnic to ESDC.
This story has been updated to clarify that the state's plan to rebuild the its transportation system includes federal funds and other sources.