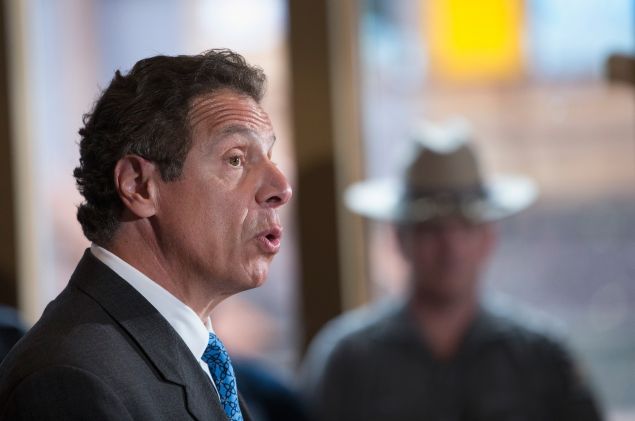 A day after the Justice Department filed accusations of a multibillion-dollar bid-rigging scheme at the heart of his biggest economic development initiative, Gov. Andrew Cuomo appeared on the scene of the alleged crime—Buffalo—to announce both an administrative reshuffling and a renewed commitment to the program.
U.S. Attorney Preet Bharara charged Alain Kaloyeros, president of the State University of New York Polytechnic Institute, with tailoring requests-for-proposals for the Buffalo Billion project so that only his accomplices—developers who had donated heavily to Cuomo's campaign—could secure the contracts. Kaloyeros, the highest paid state employee prior to his removal yesterday, and SUNY Polytechnic have handled almost all the governor's economic development agenda in upstate New York.
But the governor declared today that he would "learn from" the crisis, and transfer the management of the Buffalo Billion from SUNY Polytechnic to the Empire State Development Corporation.
"I want the taxpayers of New York to know that every dollar is guarded, and guarded professionally," Cuomo said. "Whatever we can do to protect the taxpayer dollars is, is going to be done."
Cuomo simultaneously vowed to "redouble" his investment in the region, and lay out a "phase two" of the program in his State of the State address this coming January.
"These charges will have absolutely nothing to do with the energy, and the progress and the momentum of Western New York's revitalization under the Buffalo Billion project," he said to applause. "I want you to know I am more committed to Western New York's revitalization than ever before, I want you to know we are not going to miss a beat."
SUNY Polytechnic, as part of the state university system, falls wholly under the control of a Cuomo-appointed board—and thus, of Cuomo himself. The governor also appoints the leadership of the Empire State Development Corporation, right up its President and CEO Howard Zemsky, a Buffalo-based developer. So the handover announced today the will effectively move administration of Buffalo Billion contracts from one Cuomo-controlled entity to a different Cuomo-controlled entity.
And the ESDC hardly emerged unsullied from yesterday's announcement. Bharara charged Joseph Percoco, the governor's former executive deputy secretary and righthand man, in a pair of interlinking bribery schemes.
In one of those alleged schemes, Percoco purportedly took a $35,000 bribe to get ESDC to pay a company for the construction of a parking lot in Syracuse even though the project didn't have required labor agreements in place. In a separate arrangement, Bharara claimed Percoco and his wife took payments from a Maryland-based energy company to facilitate the construction of a power plant in upstate New York, and for help sustaining its business.
The company in question, Competitive Power Ventures, is also a major donor to Cuomo's campaigns.
The governor today described the accusations against Percoco as "emotional" and "painful" for him personally, since Percoco was a close friend who worked in the governor's father's administration. Percoco had also served under Cuomo himself not just as governor, but during his tenure as secretary of the U.S. Department of Housing and Urban Development during the 1990s and while he was state attorney general in the 2000s.
"It was the first time since we lost my father that I didn't miss him being here yesterday, because it would have broken his heart," said Cuomo. "But we have to clear, and speak with one voice that any wrongdoing in state government will be punished severely."
It is unclear as yet whether the governor, a notorious micromanager, had knowledge of what his closest aides, underlings and donors were doing. Cuomo again pledged to "work 100 percent" with Bharara throughout the investigation.
The governor has evinced an odd preoccupation with Buffalo since his Republican opponent Carl Paladino outperformed him there in the 2010 election. Not only has he established the Buffalo Billion and installed Zemsky atop the ESDC, but he selected former Congresswoman Kathy Hochul—a native of the Western New York city—as his lieutenant governor when running for re-election in 2014.