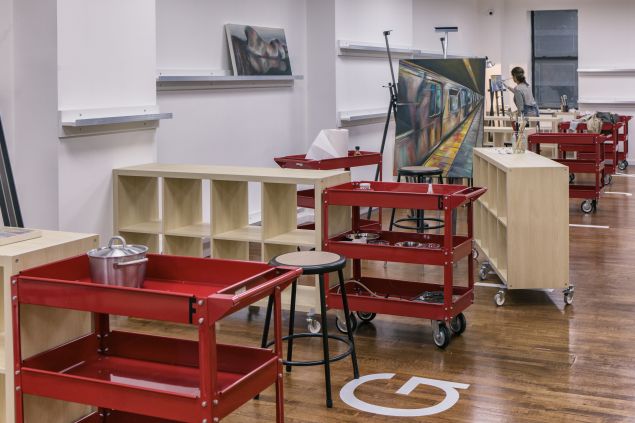 WePaint, you might call it.
Victoria Milo, an artist who also works full time in the advertising industry, is the latest entrant in the "disruption" festival arena.
In April, she did a soft opening for SmART Space Studios, which offers open studio space to artists short-term and allows them to store their materials cheaply. Essentially, it's WeWork for artists. Not an entirely new concept, but the first we've heard of in Manhattan catering to visual artists.
"I paint after work on the weekends," she told the Observer. "I needed a studio to do that in." But usually, renting an artist's studio—especially in Manhattan—is even more daunting than finding an apartment.
"I found it was very difficult to find space," she said. "Talking to artists over the years, I found there was definitely a need for a more high quality space designed for artists." Because artists are messy, spaces kind of have to have their specific needs in mind.
With online booking, lockers, storage, easels and events for artists to mingle at, all SmART Space (get it?) lacks is the free beer. The broader opening is set for later this month, according to Milo.
The Flatiron District space is essentially one massive open studio, which can accommodate artist membership of around 60, the founder said. The are a variety of different surfaces, and the online booking system makes sure there aren't too many people in the space at any one time. At the moment, there are about 20 members.
A Monday through Friday 24-hour access to SmART Space runs $400 a month, and $600 gives you 24-hour access seven days a week. Weekends only passes are $250. In comparison, a private artist studio in Manhattan would run you from $700 to $5,000, it seems, according to the website for New York Foundation for the Arts. Outer borough studios are of similar price to SmART Space membership, but may be far less convenient.
Tomorrow is the second-ever community class by the new organization and it's open to members and the general public. The topic is "coloring and collage" and the class costs non-members $45. That includes booze, appetizers and materials. Huzzah.