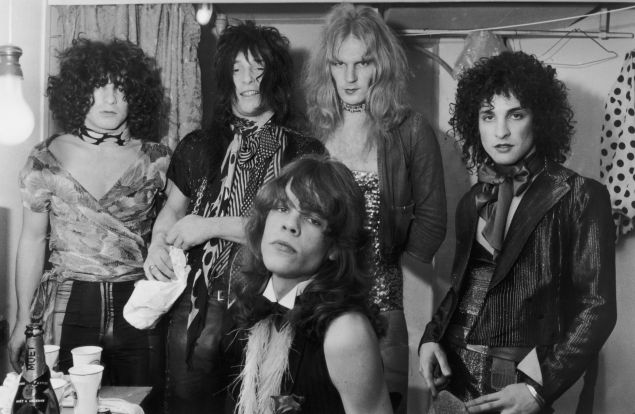 How often do you get to see David Johansen perform with Mercury Rev? As if that wasn't reason enough to head to the City Winery on Monday night, when the New York Doll and the psyche rockers will perform together: A more important reason is to support Pathway to Paris, an organization started by Jesse Paris Smith (Patti Smith's daughter)—and to spur action on climate change.
All of the artists performing Monday night—such as Martha Wainwright, Nicole Atkins, and Smith and Rebecca Foon—feel action is needed, and needed now. It's no coincidence the City Winery event falls at the beginning of Climate Week (September 19-25).
Smith, who just released a live album, Killer Road, capturing a performance with her mom and the Soundwalk Collective at the French Institute in Manhattan 2014, and Foon started Pathway to Paris to raise awareness of the UN climate change negotiations in Paris, last December. A show in the City of Light featuring Thom Yorke, Patti Smith, Flea, and many more artists was recorded and proceeds from the album, Pathway to Paris Live @ Le Trianon, and from the live events benefit climate activist group 350org, whose founder, Bill McKibben, will be at City Winery.
The Observer spoke with Smith just before the event. Why is she doing it? "This is the most important issue. It really is such a scary moment right now," Smith says.
[youtube https://www.youtube.com/watch?v=ZIArIw31UCc&w=560&h=315]
Do you think we can leave it to politicians to take care of our planet, or do we the people need to take action?
You read that Obama just ratified the Paris agreement—just joined onto it. Then you read that Donald Trump, if he wins [the election] he will cancel it. I just read that yesterday. The future is so terrifying. We can be active, but it takes the top person to sign the thing. That's what scares me.
Is America dragging its feet on the issue?
I see so many other countries that are fully committed to the Paris agreement, and have already done so much to change their energy sources. But I've no idea what's going to happen with the election. It seems a lot of people seem confused about who to vote for and need an angle to push them. We're hoping climate change might be it.
Your generation is the one that will have to deal with a big mess from climate change. Are you annoyed previous generations did so little?
It's a good question. I learned about climate change when I was about 16 because I read about it in a newspaper. I was so mad with my teachers I went to my high school and asked why didn't you teach me about this? My family and other adults seemed to be learning about it at the same time I did. Now, it seems like everybody knows about it. In the past, maybe you only knew about it if you were particularly engaged in environmental activism.
[youtube https://www.youtube.com/watch?v=3gCtiUNvub0&w=560&h=315]
The issue still doesn't seem to be an issue in many parts of America.
That's because of big oil and corporations who want to hide it. Other countries are so far ahead, it's amazing.
Politicians and people are fixated on the economy not the environment. Do you think they are concerned about the wrong E word, because if the environment goes down so does the economy?
Right! Exactly. If we switch to sustainable, renewable energy it will open up more new jobs and investment opportunity. It would boost the economy. I guess there's a fear of making change. Other countries have made that change because it's common sense, and they're thriving.
Clinton is at least saying that switching to renewables creates a new fertile economy, so it's a win-win situation.
I can't tell if when people say things they mean them, or are just trying to get elected.
For music fans, the Johansen and Mercury Rev hook-up is exciting. How did that happen?
People were invited in different ways. [Mercury Rev's] Jonathan [Donahue] called me and said, "Can I bring David Johansson."
And you said, "Yes, please!"
Exactly! I asked everyone in the show why this event is so important to them, and I love what Jonathan wrote.
Let's leave the last word to Jonathan then:
"The world we see broiling outside our windows is none other than the same shimmering mirage of the hot world rising within us. If we truly want climate change we must watch ourselves from morning to midnight. Our own emotional smokestacks, the raw sewage of contempt we pour into our thought streams each day… The world is not polluted by fossil fuels and plastic. It is polluted by misunderstanding, envy and blame."
David Johansen, Mercury Rev, Martha Wainwright, Nicole Atkins, Lucy Wainwright Roche, Bill McKibben, and Jesse Paris Smith and Rebecca Foon perform Pathway To Paris on Monday, September 19 at City Winery. Tickets: $25-$38.