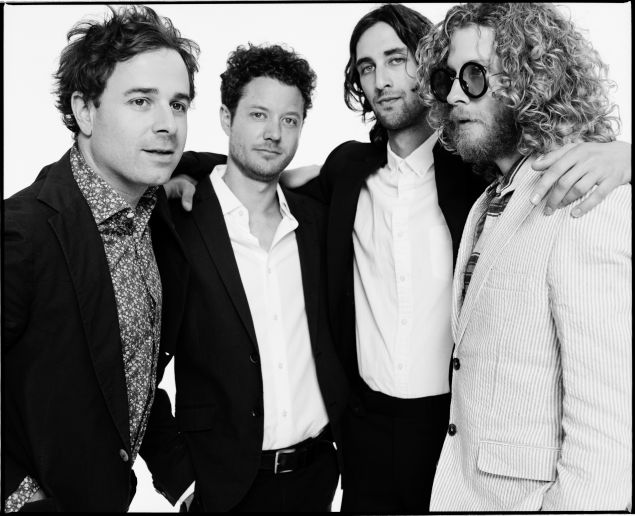 Young rock bands have it hard. Such a long and storied a history precedes them, they can easily feel like they're standing in someone else's shadow. It doesn't help that hip-hop and avant-pop overwhelm both the charts and the conversation, making a lot of guitar-based music sound like little more than an echo of the past.
The young American rock band known as Dawes decided to do something about all this on their new album, We're All Gonna Die. Previously, the critically-respected foursome drove down a road clearly marked "folk-rock," following such signposts of the style as Jackson Browne, CSN and The Byrds. In the process, they became lynchpins of the so-called neo-Laurel Canyon sound, along with acts like Jonathan Wilson, Jenny Lewis and Rilo Kiley. That route not only served their muse, it made Dawes a safe choice for fans seeking a smart new band working in a familiar vernacular.
On their new album, however, Dawes took a sharp turn without signaling. They traded jangling guitars for swampy keyboards and forsook traditional folk-rock for timeless pop-soul—all with ravishing results. "We needed a new vocabulary," band leader Taylor Goldsmith says. "If we kept making the same record, people would eventually say, 'Yeah, they're that band that does that thing and I already heard 'em do that thing. So I'm not interested anymore.' "
[youtube https://www.youtube.com/watch?v=Nku2DZV7eYE&w=560&h=315]
The band's evolution mirrors the arc of two other contemporary rock bands: Wilco and My Morning Jacket. Both began by employing key elements of folk and country rock, as well as psychedelia. Later, they abstracted those genres with sounds and moods that borrow from the avant-garde.
"At first they were more comfortable celebrating what it means to be a folk-rock group without challenging themselves or their listeners," Goldsmith says. "But, as time went on, that challenge became essential to them being willing to stay a band. That's very much the case with us. We're four young dudes singing rock 'n roll songs with guitars at a time when Daft Punk and Kanye West also exist. We have to reflect that."
At the same time, Dawes' previous albums proved they could live up to folk-rock's legacy more surely, and creatively, than most anyone else in the current scene. They started honing their approach a decade ago. Goldsmith began in a band confusingly named Simon Dawes with his friend Blake Mills while they were still in high school in Malibu, Calif. The foursome took their name from Goldsmith's middle name (Dawes) and Mills' birth name (Simon). "We were angsty 16-year-old kids who wanted to be understood—and we picked a name no one understood," Goldsmith said.
Their debut, Carnivore, came out in 2006 and snagged some attention. But Mills wasn't interested in touring, preferring to pursue a career as a session guitarist and producer. After he left, Goldsmith led a new group, rebranded under the old one's surname. He brought his brother Griffin into the fold and they released North Hills, their debut as Dawes in the summer of 2009. Goldsmith's elaborate verses, flowing melodies and mournful timbre immediately stood out. Vocally, he has some of the cadence of Jackson Browne. He also shares that star's bent for philosophically-minded lyrics. "His music came to me at a time when I was really impressionable," Goldsmith says. "I found that guys like Jackson Browne, Warren Zevon and Bob Dylan would go so far, and so deep, and yet still have three-and-a-half-minute songs."
In 2001, Goldsmith mimicked a bit of the Crosby, Stills and Nash approach by forming the brief, folk-rock "super-group" named Middle Brother with fellow neo-folk-rockers John J. McCauley of Deer Tick and Matt Vasquez of Delta Spirit. The three weren't exactly of superstar quality but their album served to get more attention for Dawes while providing a worthy reflection of the classic Laurel Canyon sound. That same year, Dawes returned with Nothing Is Wrong, followed by Stories Don't End, in 2013 and All Your Favorite Bands two years later. All these releases showcased Goldsmith's literary skills as well as his flair for fluid melodies.
Ironically, Dawes' first album to break with the Laurel Canyon sound was their first recorded in L.A. in years. (More recently, they'd worked in Nashville and Asheville). For this project, they hired old friend Mills as their producer. Over the past few years, he realized his dream of becoming both an in-demand studio guitarist (for everyone from The Dixie Chicks to Norah Jones), and a hot shot producer (for Conor Oberst, Alabama Shakes and more). Last year, Mills earned a Producer of the Year Grammy nomination for his work with the Shakes.
[youtube https://www.youtube.com/watch?v=D3_PMOwK3Zo&w=560&h=315]
Mills encouraged more studio experimentation, and more manipulation of the sound. For the first time, the guitars and drums took a back seat to the bass and keyboards, aided by the work of new member Lee Pardini on the latter instruments. The new songs also draw from a different genre—the warm '70s pop-soul of Michael McDonald (in his time with the Doobie Brothers) and Steely Dan (on their early R&B-leaning songs).
One element that connects the band's work concerns the lyrics. The title tracks from the last three albums find Goldsmith writing about the mythology of bands, either from the point of view of the musician or the listener. In the new "We're All Gonna Die" he expresses jealousy for a fan he spies at one of the band's shows who brings more passion to the songs than he can at that moment.
"There have been stretches where I'm on stage and I'm not in the song," Goldsmith says. "I'm somewhere else. Then, I'd see someone in the audience and I can see that the song means more to him right then than I can access—and I'm the one who wrote it! It sucks, but I can't imagine any artist not feeling that way at times."
Goldsmith said he used to feel self-conscious about writing songs about being in a band, though artists as crucial as Pete Townshend and Ian Hunter have made a career out of it. "Sometimes I feel like I'm making movies about movies," Goldsmith said. "But if that's my lens, my way of talking about the human experience, then I'm cool with it."
"Being a writer is weird," he adds. "You're supposed to be some kind of expert about what this thing called life is and the nature of our relationships and the secrets behind our experiences. But the reality is, you spend way more of your time behind a guitar, or at a computer, than does a normal person who actually engages with all the human experiences you write about."
It's a classic dilemma—one just as vexing as trying to make a young rock band sound contemporary. At least for now, though, Dawes seems to be on the right side of the struggle. "As time as gone on, our approach has been less about 'what would a rock band do in this situation' than asking 'what would a rock band not do?' Let's do that instead.' "