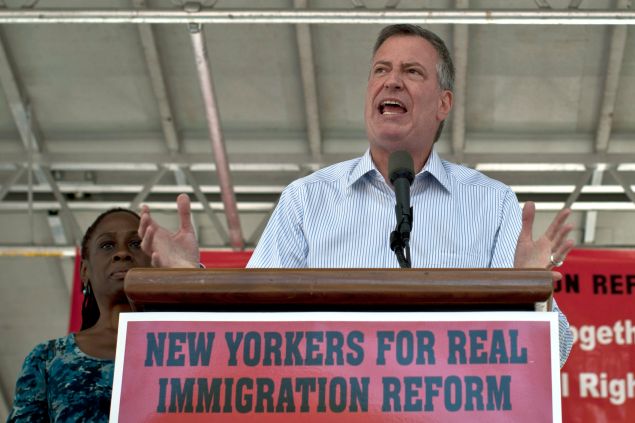 Mayor Bill de Blasio fiercely defended his administration's refusal to cooperate with federal immigration authorities in the majority of cases—a day after Donald Trump vowed to crack down on so-called "sanctuary cities" as part of a vitriolic speech in Phoenix.
Talking with radio host Brian Lehrer in his weekly "Ask the Mayor" segment on WNYC, the Democratic mayor bitterly rebutted the Republican presidential nominee's attacks on undocumented immigrants. Trump reiterated his trademark claims last night that marauding border-crossers are murdering American citizens and taking their jobs with impunity, hours after he met with Mexican President Enrique Peña Nieto in Mexico City—and after more than a week of waffling from the candidate on earlier commitments to forcibly deport almost 12 million foreign nationals residing in the United States without proper paperwork.
The Queens-born businessman also vowed in the Arizona address that as president he would cut off federal funds to cities like New York, which do not willingly turn over the undocumented to Immigration and Customs Enforcement under most circumstances.
"These are our fellow New Yorkers, we're going to respect them, protect them, they're part of our communities," de Blasio said on the radio today, noting that roughly half a million city residents are undocumented. "We're going to stop denying their existence or treating them like second-class citizens, and embrace them and work with them because they're our neighbors. That's the core concept."
In 2011, the City Council passed legislation sponsored by East Harlem Councilwoman Melissa Mark-Viverito—who de Blasio helped install as speaker in 2014—that forbade the Department of Corrections from surrendering undocumented immigrants in their custody unless those individuals fell into certain categories. This law barred the city jail system from complying with ICE requests to detain anybody not accused or convicted of a crime, not listed in federal gang or terror databases, or without a standing deportation warrants against them.
ICE detainers usually request that local authorities hold onto a person for an extra 48 hours so federal officials can determine whether the person is staying in the country illegally.
In 2014, de Blasio signed legislation strengthening the policy instated in 2011. The new law booted ICE from Rikers Island and banned them from ever establishing an office there again. It also prohibited both Corrections and the NYPD from complying with ICE detainers on any person not convicted of a violent felony in the past five years, or unless federal authorities have an arrest warrant.
The mayor and Mark-Viverito have also spearheaded a municipal identification program called IDNYC, which allows the undocumented to access public and private services that require a government credential like a drivers license.
Today, de Blasio insisted that immigration "undergirds" the economy both of New York City and of the nation, and that his sanctuary cities legislation allows and encourages the undocumented to cooperate with crucial police investigations. He also made an appeal to empathy, citing Pope Francis and arguing that deportations separate families and expose them to financial hardship.
"Do you want to send someone out of the country, and break up a family that's already here, which is what happens in a really high percentage of the cases?" the mayor, who has endorsed Hillary Clinton for president, said. "That family is left here, often in a very difficult situation, oftentimes because the person who was deported was the breadwinner. And that has huge ramifications for this community here."
"Immigrants and migrants are human beings first. We have to take away national identifications and think about the human reality," he continued.
The mayor called for allowing the present undocumented population to become a "normalized part of American life" through a legalization and citizenship process, and for the country to establish vague "standards" for future admission to the country—though he objected to Trump's equally vague demand for "merit" and "proficiency" requirements.
Deportation of 12 million people would, de Blasio asserted, "be repulsive to the American people and destroy the positive image of America in the world". He also maintained it would forsake the nation's history as a destination and haven for people from foreign lands.
De Blasio even praised a caller to the show who purported to employ people without the appropriate papers.
"Of course you're running a business, and if someone's willing to work hard for you, of course you're going to hire them. If you're giving them a job that they can feed a family on, and I thank you for that, we should normalize the equation," the mayor said. "You should not be penalized for hiring someone, and they should not be penalized."
Disclosure; Donald Trump is the father-in-law of Jared Kushner, the publisher of Observer Media.