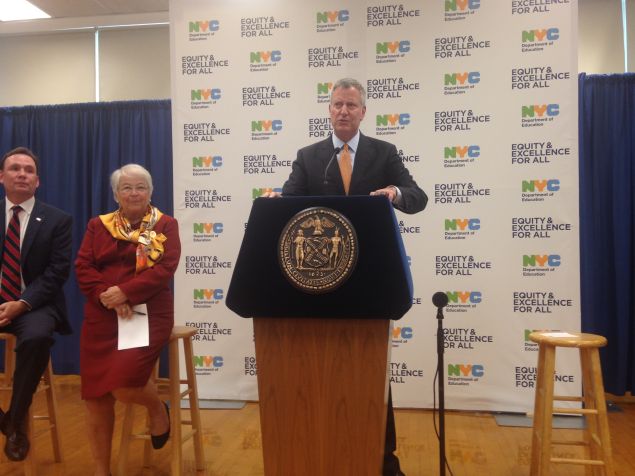 Despite his fraught political history with charter schools, on the first day of class today Mayor Bill de Blasio said he wants to see charter and traditional public schools sharing ideas with each other more often.
"Our message to the charter school community is of course we want to work with you," de Blasio said. "This is about all of our children and what we want to set up is a situation where good ideas and good approaches are shared between charter schools and district schools."
The mayor, speaking at Port Richmond High School in Staten Island—where he discussed the administration's Equity in Excellence agenda seeking to increase student achievement in public schools and community schools—said Schools Chancellor Carmen Fariña has spent a lot of time working with charter schools all over the city as well as leaders in the charter movement.
He also said Deputy Mayor for Strategic Policy Initiatives Richard Buery has a history of working with them as well, noting that he helped start one when he headed the Children's Aid Society.
Still, he stressed that "a lot of the innovation's happening at all different kinds of schools," and he said best practices should be shared. He noted that traditional public schools have a great deal to offer and that parochial schools also "played a big role in our pre-K initiative and continue to and in our after-school initiative for middle school kids."
"Now one thing we will say because we all believe in the power of our traditional public schools is that's a two-way street, and there's a lot of great ideas in our traditional public schools, more and more," de Blasio continued.
The New York City Charter School Center recently announced that 10 percent of New York City students are now enrolled in charter schools, with 106,000 enrolled in charters this year, the New York Post reported.
As a candidate, de Blasio often railed against the fact that charter schools—especially those run by his longtime foe Eva Moskowitz at Success Academy—got free rent in city buildings, among other issues. But he's sought to re-set his relationship with charters, at least some of them.
Last month, de Blasio described the higher tests scores among students in charter schools as being due to an emphasis on test prep, which he says is the wrong approach. After charter school advocates blasted him for his comments, he maintained his position, adding that some charters "have a long history of exclusion."
When it comes to high-stakes testing required to get into some of the city's own public schools—its specialized high schools—de Blasio said today he still believed the best way to determine entry is "a multiple measures approach for admission to our specialized high schools" and that the city will do what it can on its own.
The mayor has long said he can't change entry requirements to those schools without a change in state law—but recent reports have indicated that isn't true for all of the specialized high schools. Asked today by Newsday's Matthew Chayes if he would move to eliminate testing there without Albany, de Blasio said: "I wish that were true and I think from my memory of the last conversations with the Law Department, it's not as simple as that."
"There is an Albany component to that decision-making we have to deal with," de Blasio added. "That being said, we're going to make the changes we can make in terms of how we prepare young people and any other ways that we have to broaden the diversity of our specialized schools."