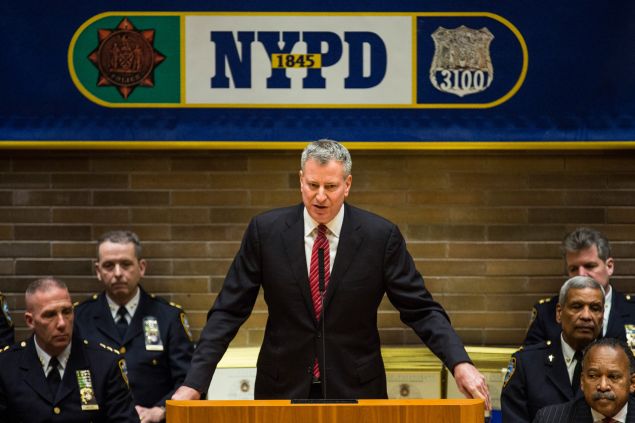 Mayor Bill de Blasio defended his administration's legal effort to avoid divulging the disciplinary history of the NYPD officer who killed black Staten Islander Eric Garner in 2014—even as the liberal Democrat claimed to support releasing such records in principle.
Speaking to radio host Brian Lehrer on his weekly "Ask the Mayor" segment on WNYC, de Blasio insisted his Law Department had an obligation to appeal a state Supreme Court judge's 2015 ruling that the city disclose past punishments the NYPD levied against Officer Daniel Pantaleo. The police department's press office for decades shared such information willingly, but the administration's lawyers have decided an obscure section of New York State's 1976 Civil Rights Law makes those revelations improper and illegal—or, in de Blasio's phrase today, "a bureacratic error."
"Our Law Department took a position that, until that law is changed, or until there is a higher court opinion allowing us to release the records, we couldn't do it," the mayor argued over the airwaves. "If the appellate division rules that it's allowable, well then, we'll do it right away."
The mayor did not explain why he respected the opinion of the appellate court but not that of the state Supreme Court. But he insisted that failing to defend the state law—as his municipal attorneys have only recently reinterpreted—could establish a precedent that might undermine the city's ability to uphold and enforce its own statutes.
"The reality of the city's overall legal position, meaning the need of the city to defend our legal prerogatives in all sorts of cases, in very narrow obscure legal ways," he said by way of a tortured explanation. "We have to follow the law as it is, clearly, indicated right now. We can't make it up as we go along."
He again claimed that he would support a legislative effort in Albany to amend the Civil Rights Law in a way he said would permit greater transparency.
"We need the legislature, we need the governor. We need to fix that law to say it is perfectly appropriate to release those records. That is something that could be done in a matter of months," the mayor insisted. "And I'm ready to work with anyone who wants to change that law. That would allow us to immediately release those records. I think it's the right time in history to make that change."
However, Gov. Andrew Cuomo, de Blasio's bitterest political rival, told reporters that yesterday the record disclosure is not a state matter at all but "a decision for New York City." The mayor pushed back mildly on that assertion on WNYC.
"I understand the logic, I just don't think it's accurate," de Blasio said.
Lehrer noted that, shortly after gaining Gracie Mansion, de Blasio voluntarily dropped Mayor Michael Bloomberg's appeal of a federal judge's 2013 ruling that the NYPD's controversial "stop-and-frisk" policy was unconstitutional. But the mayor claimed that was a different matter, since stop-and-frisk was not a product of legislation, but a procedure and protocol the department had established internally.
"There's a huge difference there. Stop-and-frisk policy was a city policy, it was administrative policy, it was not a state law. This is a state law," he said. "Anyone who is confused by this matter, I fully understand. Because there are a lot of obscure legal realities."