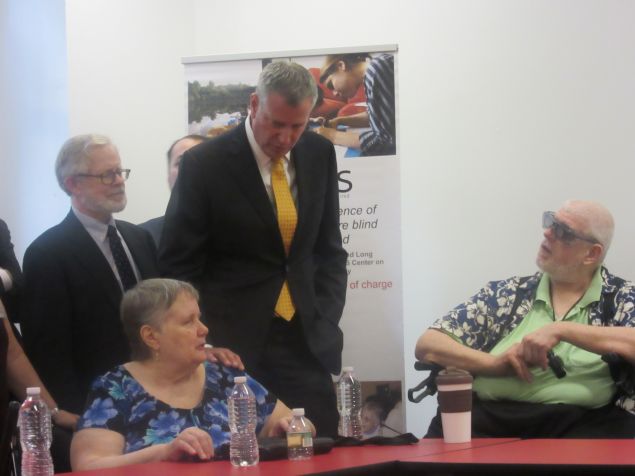 Three days after an explosion rocked Chelsea and injured 29 people, Mayor Bill de Blasio visited a nearby home for people with vision impairments, where the residents praised the city's response and weighed in on how it affected them.
The mayor chatted with Nancy Miller, executive director and CEO of VISIONS at Selis Manor at 135 W. 23rd St. as well as some of the tenants. They discussed how residents were faring in the aftermath of the explosion just outside their building, as well as what they would like to see the city do to assist them.
"You got a strong-willed group of residents here, that no one's taking their independence away," de Blasio said.
When the mayor said he would set up a meeting with the precinct commander for the area, Emergency Management Commissioner Joseph Esposito jumped in and said he would do it right away.
"That's fast service. Joe Esposito!" de Blasio said, his response met with laughter from the residents.
Ahmad Khan Rahami,28, was arrested Monday morning after a confrontation with police in Linden, N.J., a town close to his family home in Elizabeth, where police found a bag full of pipe bombs near an NJ Transit station in Elizabeth.
Officers found Rahami in Linden after receiving a tip that a man was sleeping outside a bar, according to news reports. Two officers were hurt as they traded gunfire with Rahami, who was shot but survived.
An NYPD spokeswoman said there were no updates at this time. The 29 individuals who were injured in the explosion have since been released from the hospital.
Addressing reporters following the meeting with the mayor, Miller, the executive director of the home, said "everybody was reaching out": she was in touch with Victor Calise, the commissioner of the Mayor's Office for People with Disabilities; Department of Aging Commissioner Donna Corrado; and the New York State Commission for the Blind.
She noted that the building is well-known and that the residents—who range in age from 18 years old to people close to 100 years old—are independent and typically navigate on their own, "but if they have no access, they can't get in touch."
"They could walk on their floors but the police wouldn't allow them to leave the building," Miller said. "The building was on lockdown. If they could walk down 12 flights, you know. The elevators were out."
She added that after the bomb exploded, people were kept on the first floor "until the Fire Department went door to door, made sure there was no fire, that there was no other incendiary device."
Sharon Joyner, a resident at the home, said she is concerned that the building will attract negative attention given that it is in the press due to the explosion, also noting the slashing of a 24-year-old woman in the area by a stranger back in January.
She also said "ISIS really doesn't like people with disabilities" and said called the mayor's presence and the city's overall response "excellent."
"They got here so fast, it was amazing how fast they got here. And they helped us to feel that we were protected, cared about and really concerned for our safety," she said.
But she said that the residents would like to see more officers patrolling the area more often, particularly at night. She also expressed concerns about homeless individuals in the area.
"Especially in the evening, we have to walk our dogs—most of us have service animals," Joyner continued. "We have to come out and we're concerned. I think two blocks away from here, there's a shelter. So we do have a lot of homeless that come on this block as well…sometimes I have been harassed by homeless or other people."
At a briefing at One Police Plaza yesterday, de Blasio said all evidence points to the explosion being an "act of terror," a significant shift from his stance over the weekend—he only referred to it as an "intentional act," in stark contrast with Gov. Andrew Cuomo's analysis of the explosion (Cuomo said it was "obviously" terrorism.)
Police Commissioner James O'Neill, whose first full day on his new job as the city's top cop coincided with the explosion, had said that they would determine whether it was an act of terrorism once the motivation was determined.
Although the mayor and the governor toured Chelsea together for 40 minutes Sunday morning, they each held separate briefings that morning. And despite the fact that the mayor invited the governor to attend his briefing Monday afternoon, the governor was not in attendance.