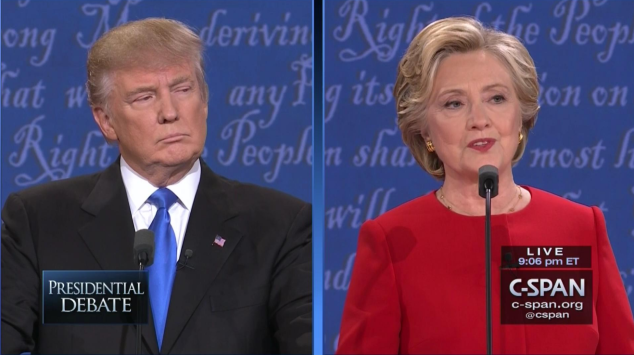 This week, many brands have been using the first presidential debate between Donald Trump and Hillary Clinton as a viral tool to market their products. A lot of these campaigns had fun with the wording of the Declaration of Independence, which was painted on the backdrop of the debate stage.
Some attempts at humor, however, simply made Twitter users gape in open-mouthed astonishment.
Case in point: This afternoon, Fox Searchlight tweeted out this image, which turned the debate into a promo for The Birth of a Nation, a Fox film about the Nat Turner slave rebellion which opens October 7. The background screen reads "The Birth of a Nation, in theatres October seventh":
This marketing is problematic for several reasons: The film includes a scene where Nat Turner's wife is gang raped, so there seemingly isn't much to be gained by associating with a man who began his presidential campaign by calling Mexicans "rapists."
Of course, there is also the case of Nate Parker, the writer, director and star of The Birth of a Nation, who went from being celebrated as a genius to being pilloried as a pariah when rape allegations from his own past resurfaced last month. In 1999, he and one of his roommates were accused of raping a classmate who was drunk and unconscious. Parker was found not guilty, but the woman claimed she was harassed for years after the incident, and that a private investigator publicly displayed her photo on Penn State's campus. The woman committed suicide in 2012.
Parker was criticized for his response to the allegations—he wrote on Facebook that "I maintain my innocence that the encounter was unambiguously consensual." Gabrielle Union, one of Parker's costars in The Birth of a Nation, called his actions "problematic" and "criminal."
Because of all this, the film's marketing arm has been very quiet over the last month—and many on Twitter wondered why Fox Searchlight decided to open itself up to more criticism:
The original tweet has not yet been deleted.
Not all of the studio's marketing ideas have failed, however—Fox Searchlight has partnered with various theater chains on a voter registration drive which will run during The Birth of a Nation's opening weekend in wide release (October 7-9).