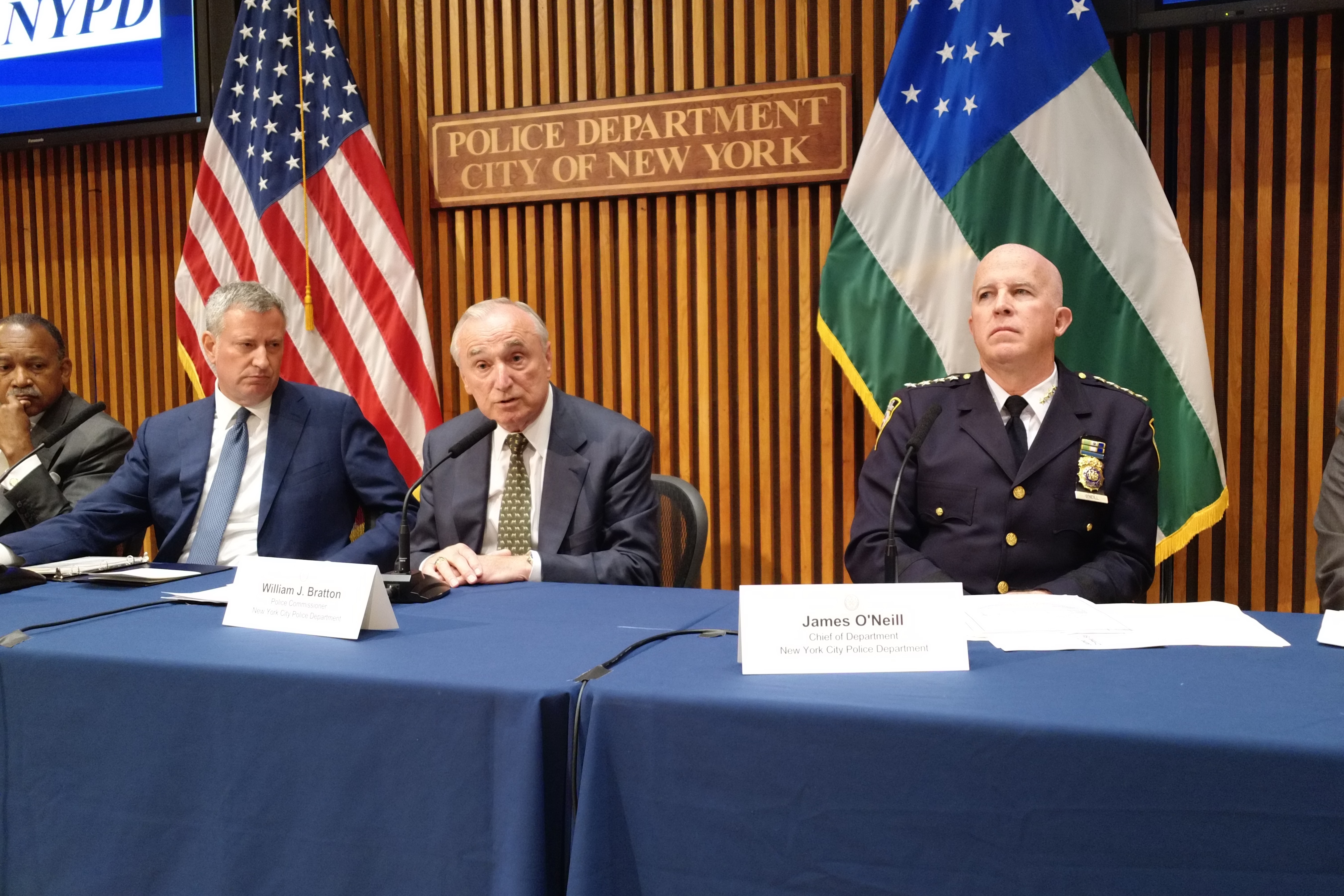 A day after he seemed to leave the door open to canceling J'Ouvert following two fatal shootings, Mayor Bill de Blasio insisted the pre-dawn party would carry on.
"J'Ouvert will continue," de Blasio said today at a 1 Police Plaza press conference. "It's an event that's very important to the community."
Two people were killed during this year's carnival celebration, which is held in central Brooklyn in the dark overnight hours before the West Indian Day Parade—a separate event that draws elected officials but was once itself plagued by violence. The violence occurred even after the NYPD ramped up enforcement and required the event to get a permit for the first time, following the murder last year of Carey Gabay, an aide to Gov. Andrew Cuomo.
But de Blasio said today he would not consider canceling it, even though several outlets reported his comments yesterday had left the door open to scuttling J'Ouvert. He insisted he had not changed his mind nor discussed the matter with anyone—including central Brooklyn politicians who have pushed back hard against suggestions to cancel it—since his comments yesterday.
"We were not including the option of ending something that's gone on for decades and decades," he said. Later, he added: "I thought it was clear, but I'm sorry if it wasn't."
But de Blasio's language yesterday certainly did not rule out a cancellation with any level of clarity. He repeatedly said the city was considering "all options" for J'Ouvert, something he repeated when asked directly about canceling it.
"Just to clarify, all options on the table. Is the cancellation of the event on the table?" a reporter asked, according to a City Hall transcript of the event.
"I'm not going to go into detail until we do a full review. I'm just making a broad strategic statement; all options are on the table. But we're going to look at the whole situation with the NYPD and the community," the mayor responded.
Police said they have made an arrest in one of this year's J'Ouvert slayings: they have charged Regenald Moise, 20, with murder for the shooting death of Tiarah Poyau, 22, a St. John's University student who Chief of Detective Robert Boyce called "a stellar person." Moise had been arrested by police for driving drunk hours after the shooting, and eventually told them he thought he may have shot someone with a gun he'd thought was unloaded, Boyce said.
Today, the mayor repeatedly compared J'Ouvert to other parades with troubled pasts, including the St. Patrick's Day Parade, the Puerto Rican Day Parade and the West Indian Day Parade. But those events did not seem to attract the same level of crime—particularly the same number of killings, something reporters pressed the mayor on today.
"I have a different view of it. Let's let the experts speak to it first," de Blasio said, passing it off to Bratton.
If he was looking for cover from his outgoing police commissioner, he didn't quite get it.
"You're correct," Bratton told the reporter, with whom de Blasio had just disagreed. "The nature of some of the violence that's associated with J'Ouvert is different than the levels of violence at other events that the mayor's mentioned."
Bratton said the department would continue reaching out to the community to get help in keeping the event safe, something he said was key for any large-scale event.
There's another key difference between J'Ouvert and those parades: while they step off in the middle of the day, this event happens in the dead of night, meandering through one of the police precincts, the 67th, where NYPD officials said today gang violence and gunplay contributed heavily to a spike in the city's shootings in August.
"Each one is different, there's no two ways about that—each parade has a different history and a different tradition. But what united those three parades that I mentioned is…they all had a history of disorder and violence, and they all had to be brought under control, one by one. And the NYPD succeeded in doing that. We're going to do that here too," de Blasio told the Observer. "I agree with you, being at night is a different reality."
But de Blasio said the event had grown "over decades, organically in the community." This was the first year that the NYPD deployed such a systematic strategy and so many officers, he said.
"I think there's more that we can and will do," he said, again declining to mention specific options. "The first thing to do  is to get an after-action report."
Asked whether a curfew might be an option, de Blasio hit on one reason why cancellation might not even be feasible. For years, J'Ouvert wasn't an official event—and that didn't stop people from flooding the streets in costume and packing house parties along the unofficial route.
"People are going to be celebrating. Our job is to control that and make it safe," de Blasio said. "I don't think anyone can have the illusion that if we said tomorrow, 'there is no J'Ouvert,' that J'Ouvert is going to go away."