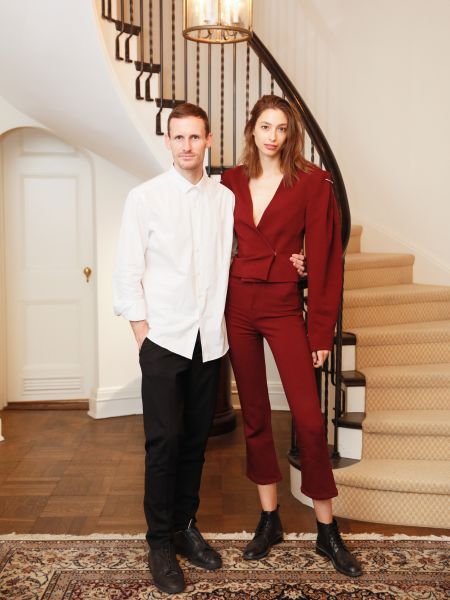 While some designers are going larger and more ostentatious in a move to grab more consumer eyes and punch up the bottom line with see-now-buy-now, Dion Lee's only approach to the buzzword of the moment came in the form of an intimate, seemingly silent launch on Saturday night.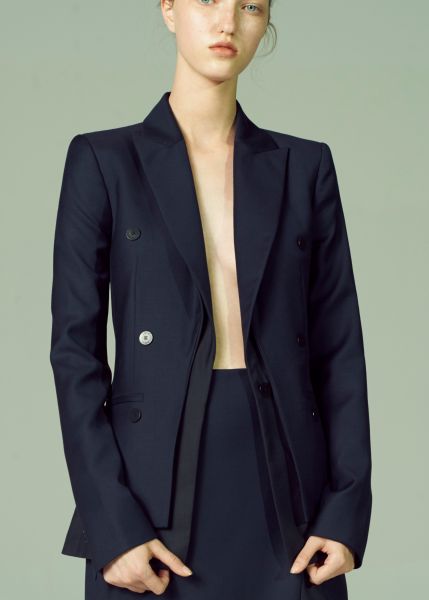 "We have a bunch of our own stores in Australia and from that dialogue with the customer, we realized there was this customer coming to us for really signature tailored pieces. this was an opportunity build that out into it's own collection." Lee said at a private cocktail hosted by the Australian consulate at the politician's Beekman Place residence. The event not only celebrated the Australian's successful Spring 2017 collection but the launch of Lee's multi-season collaboration with Woolmark. "The runway collection is so seasonal and it changes so frequently that it often doesn't leave time for something really classic and that doesn't change as much. "
"The merino wool industry is Australia's oldest industry," Honorable Nick Minchin, the Australian Consul–General, said as an introduction for Michelle Lee of The Woolmark Company and the nights performer, Okay Kaya. "Dion has done so well at such a young age and has really been an exemplar for what Australians can be in such a creative industry."
The 10-piece collection, made exclusively of Australian merino wool and manufactured in Australia and Italy, is set to hit Dion Lee stores in Australia, in addition to Net-A-Porter and David Jones in Australia this month. Borrowing from the menswear strategy of creating pieces that are available to buy season after season, Lee designed knits for $300 and shirting for $1,200. "This was really about trying to capture brand signatures in classic pieces. Similar to menswear it was about wanting something to say nothing, but also have a point of difference at the same time; it's a fine line with trying to make something that's classic but modern at the same time."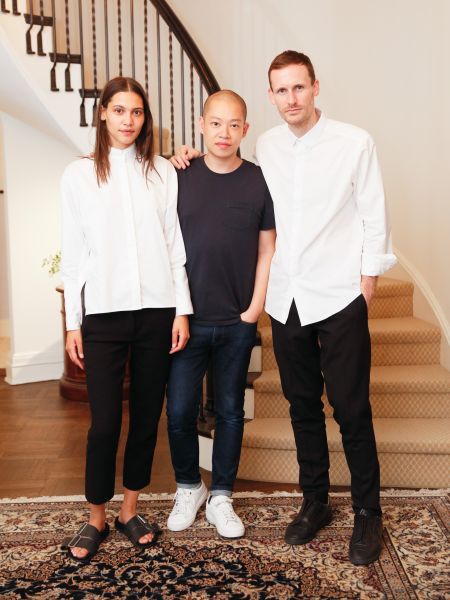 The collaboration is just the latest development in the designer's relationship with Woolmark. According to him, the pair have been working together in some capacity since Lee's collegiate days. Back then, the coalition was putting the young creative in touch with suppliers. "I've known Dion since he won the Australian final of the Woolmark Prize back in 2013," Lee, who heads Woolmark in the Americas, said. "We recognized his talent back then and his innovation with wool; we've always had our eye on him. He's really one of Australia's most talented designers and part of our mandate is to work with the best in the industry so it was really a natural fit for us." Other Woolmark collaborators like Jason Wu were on hand to show support.
Having recently relocated himself and four staffers to New York to a TriBeCa office downtown, it's likely that Lee will see an increased focus on the US over the next few months. Though the designer's retail business is exclusively based in Australia for the time being, America hosts a bulk of his wholesale business. Lee did have a resort collection showing during Australia Fashion Week, but expressed hesitancies about doing more than two shows a year. For those hoping to see a Dion Lee-branded store stateside, the creative director admits that while he has looked into it, the company has yet to explore a definite timeline.