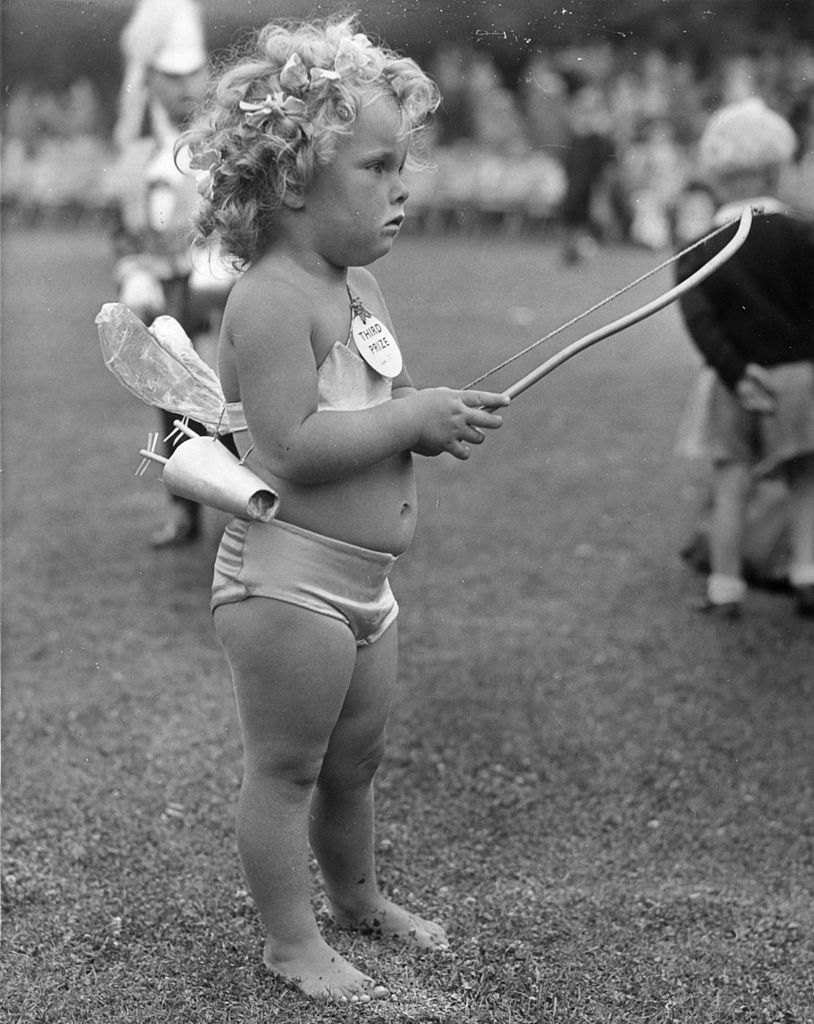 With the influx of dating apps and websites, it's almost expected a couple will meet through the internet. Of course, it's less than romantic, and many singles are hoping to find someone in the wild for a romantic-comedy-worthy twist. But when you could either approach someone in person and be rejected or simply send an unanswered message by phone, isn't one far superior?
Still, some of the messages go unanswered because they're profane, robot-like or disturbing—and many are obviously copy and pasted or even prepackaged by an app. Mind you, some of these messages include phrases (or words) that most men wouldn't feel comfortable saying out loud in public, even at the loudest bar in New York. But, disguised via app, they feel comfortable letting their freak flag fly, especially when it's a message that has had some success in the past. Of course, a copy and pasted message saying, "How was your weekend?" is far different from a long, involved poem that goes into X-rated territory.
Unfortunately, sometimes the messages are more than just uncomfortable. "Beside the obvious dick pics with lame pick up lines, I got an Instagram DM, Facebook message and Linked In message from the same guy," one Texan 20-something woman explained on Facebook. "It said, 'Hey! Wanted to introduce myself since you either don't get on Hinge much or just won't swipe right. Thankfully, I was still able to find you! I think you live in the State and Allen area of Dallas based on your pictures and I'd love to come by sometime to take you out for a drink or dinner. I have a lot of money too so it can even be somewhere nice! Let me know, I promise I'm not that creepy.' " A message that disturbing could make someone consider deleting their social media presence—for good. 
Sometimes, even having a connection doesn't save the receiver from a disturbing message. One young woman matched with a friend's cousin, and he sent her a photo of her name written onto his appendage. It disgusted her but didn't dissuade her from dating apps. Another man asked her if he could pick her up from the Atlanta airport when he saw she was nearby—and when she said no, he started begging. But don't despair! She ended up matching with her boyfriend of three years on Tinder, not long after that.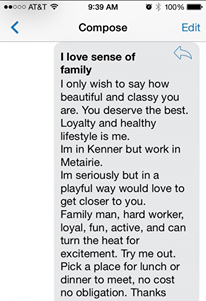 One divorced woman tried Match but ended up switching to Tinder after receiving a long message copy and pasted from someone old enough to be her father. Still, that didn't deter her, and she ended up using Tinder, where she met her current boyfriend, after swiping for only two weeks. She felt more comfortable using Tinder because it let her select an age range. On OkCupid, anything goes—which means that even if you have a preferred age, people will surely ignore it.
Ali, a D.C. resident, tried using OkCupid when she lived in Savannah. There, she received messages that were long and obviously copy and pasted. One long missive read, "You will see in my profile that I like beer, but that does not mean I drink all the time. I simply like good hand crafted beer. Did you know there are more types of beer than wine, and they can be paired with food to come up with the perfect combination? I am not here for games or one night stands or anything like that. I just want to find a good woman to spend the rest of my life with, someone to share all the good thing with. I also write poetry from time to time." Joel included a recent poem. Here's an excerpt: "A broken heart I have, to carry with me where I go. I try to hide it from the world, so they may not know …I wish I could say I love you, or that I care, alas I must whisper it to the still silent air."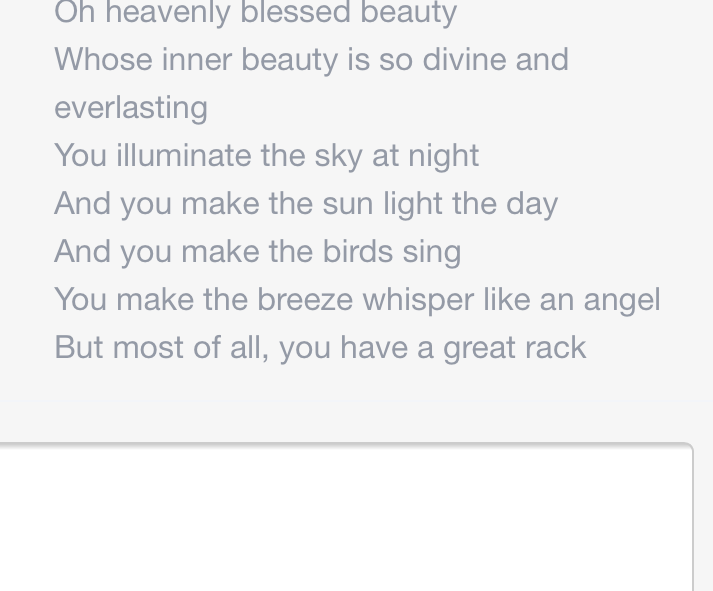 Other copy and pasted messages she received were even more dramatic, but still senseless. Another said, "If we were to meet, here's how it would go down. We'd go out for a great dinner, I'd have a steak and you would have whatever you want. Lots of laughs would be had. I'd be enamored by your laugh, you would admire my confident demeanor. I would take you dancing, where you would be swooned by how cute it is that I am totally oblivious to my horrible dancing. A man and his friend are beating up on a helpless woman who they attempted to roofie. But these aren't just any men—it is The Rock and some other wrestler who I don't know the name of. We then proceed back to your place, where I simultaneously make sweet, sweet love to you while giving you the raunchiest, wildest sex you have ever had. We would attempt a long distance relationship, but I work over 110 hours a week. You would have turn down many men, men who you know would fall short of me, but would at the same time make you happy. So basically you have two options. I can come over, hang out, and we can have one good time together, or none at all." Who could resist such an offer?
When most women receive a message like that, it's obvious that the creator isn't exactly crafting separate messages for all of his potential dates. And few respond to something that seems not only inappropriate but rote. It's like a dating robot. The worst messages tend to come from OkCupid, where there's no way to choose who sends you a note.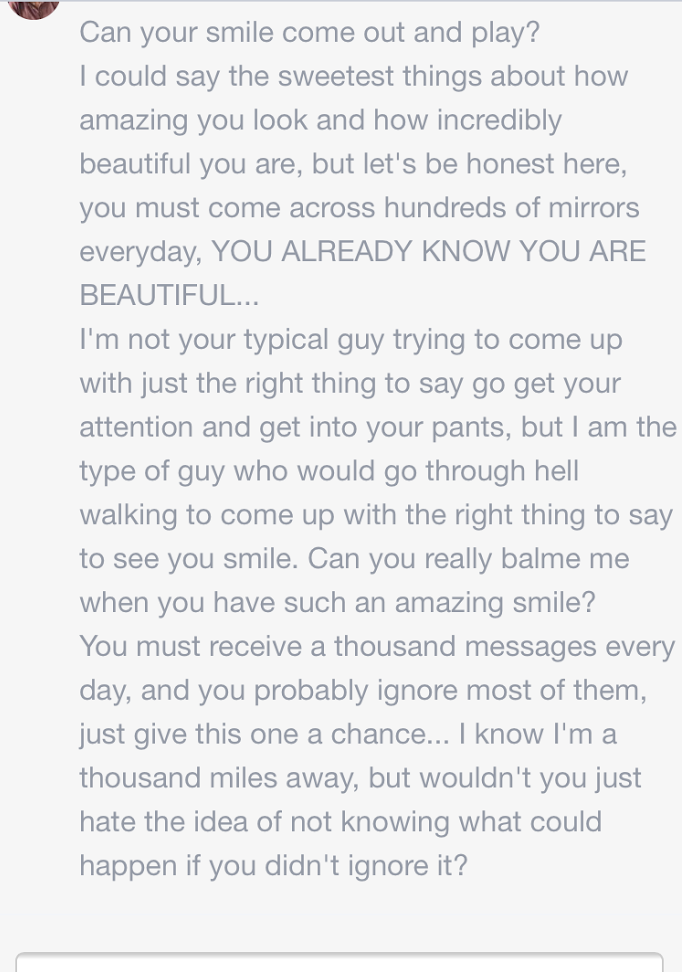 I personally received a rather interesting message from an OkCupid user in 2014 and my friend received the same one from him. As it happens, he resent the same message to me, again, just a week ago. It reads, "Hey, I think you're really attractive. I'm not looking for anything serious right now. So, if you find me attractive, and you want to have to a physical relationship, message me back. If you're not interested, please take this as a compliment." While some might not respond, the odds of it working means he continues to hit send.
"I'll get a response 70 percent of the time," he explained, after I questioned his tactics. "Five aren't interested but say thank you. Two talk with me, two meet up. One I have sex with." And with odds like that, why not keep sending the same old message, time and time again? After all, eventually it will work… And if all you're doing is pasting, the effort necessary isn't exactly rigorous.
But for the women who are tired of receiving copy and pasted, or entirely inappropriate messages, it can be infuriating to login and see something vile in their inbox—but it only takes one person, right? Whether that means one person responding to your terrible message, or one person sending a creative, fresh note. However, if you have a truly inappropriate message you've been itching to send, you should try your luck on 3nder.