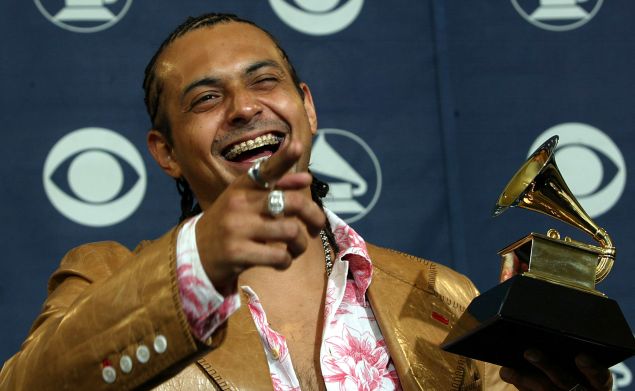 Good afternoon, and I'm sorry you're still pissed about the iPhone 7 ditching headphone jacks.
Yesterday's news likely validates a suspicion you've long held that Apple not only wants to control what music you listen to and where you listen to it, but how you listen to it, too. Apple marketing chief Phil Schiller's logic behind dumping the jack at Apple's announcement wasn't any more reassuring: "The reason to move on—courage. The courage to move on and do something new that betters all of us." Yeesh. I gave Apple five years of my life at their Fifth Avenue store, and have written enough about both how big Apple's endgame is and the subliminal depths they'll go to use music as a branding tool.
All of which is to say, sometimes it also takes courage to ignore the topic du jour, too.
That's why I'm returning to something that noted Jamaican dancehall artist Sean Paul said in this interview with The Guardian. Paul was lamenting his fall from grace in popularity, and the story notes that his 2014 album Full Frequency sold a paltry 5,000 copies stateside. Paul has since left his label, gone independent, and plans to regain his station as an international superstar. Part of what's bothering him, though, is how pop artists are appropriating dancehall:
"It is a sore point when people like Drake or Bieber or other artists come and do dancehall-orientated music but don't credit where dancehall came from and they don't necessarily understand it," said Paul. "A lot of people get upset, they get sour. And I know artists back in Jamaica that don't like Major Lazer because they think they do the same thing that Drake and Kanye did—they take and take and don't credit."
Speaking as an emissary of an authentic cultural tradition, Paul's logic becomes a bit shaky. For one thing, Paul collaborated with Major Lazer, the trio of Diplo, Jillionaire, and Walshy Fire, on ML's 2014 single "Come On to Me". If there's any growing sentiment in Jamaica that dancehall has been misappropriated and separated from the culture that birthed it, Sean Paul's focus on being internationally renowned is the epitome.
Quick history lesson—Edward Seaga's time as head of the conservative Jamaica Labour Party in '74  began a shift from the socialist, outwardly focused practices of exporting culture to other countries that Michael Manley, the head of the socialist People's National Party, had championed. The economy was on the verge of collapse back then, and the direction that the music was moving toward reflected it. Dancehall was insular, hyperlocal, and much more focused on visceral aesthetics than the reggae that had come before it.
The Jamaican dance halls that gave the genre its name were havens for rocksteady, reggae and dub that would pack out with kids wanting to get down to the soundsystem—a loose crew of DJs and emcees who would often roll in and blast tunes from a set of speakers on a flatbed truck, starting block parties. The soundsystem would prove to be a crucial part of dancehall, but rather than focus on the togetherness and community such a party facilitated, the mood would soon turn from a hyperlocal celebration into a territorial, isolationist and sometimes violent one.
[youtube https://www.youtube.com/watch?v=3WDK_hi3AYA]
Seaga established the Creative Production and Training Centre in '84, a for-profit production house that has "proudly delivered on our mandate to record, archive and promote diverse expressions of Jamaica's indigenous culture." The CPTC produces and distributes content, negotiates broadcasting contracts, you name it, and was largely promoted during its founding as a conduit of reclamation—let's be the own architects of our music, film and culture. Jamaicans have always done this, of course, but Seaga made room for corporatism to get in on the action.
All of this is worth noting because, when you try to understand how much the dancehall genre has morphed from its original incarnation as a sample-heavy party mishmash of classic roots, dub, ska and rocksteady into today's faster, more aggressive, violent and homophobic tropes, the political climate shift becomes the best explanation.
As a champion of the singjay style (singer and DJ), Eek-A-Mouse is worth mentioning. As an early example of dancehall, his loose speak-singing epitomizes the emerging genre's tasteful appropriation of classic Jamaican melodies and riddims into this new club music. By the early '80s Mouse had moved further away from his earliest roots recordings to become a champion of the dancehall sound.
Compare Mouse's vibe to Patra for a minute, who rose to prominence in the late '80s dancehall scene as Lady Patra, but wouldn't release her first LP until '93. Queen of the Pack made her an international star, but it's the single "Romantic Call" and its video that tells you the most about where dancehall was heading. The track cuts into straight hip-hop verses at points, and check out Tupac riding shotgun in one of the hydraulic cars.
Though there are still identifiable elements of the classic sounds in Patra's music, today they're mostly gone, save for the patois. A couple of summers ago I caught Damien Marley touring in support of his Distant Relatives collaboration with Nas, and was not surprised to hear his father's classic songs refashioned into lightning fast, dancehall riddims. Were it not for his last name and notoriety, the thread connecting this hyper and aggressive music back to the roots that purportedly inspired it is non-evident.
That was when I considered the fact that, for all its cultural currency, modern dancehall artists have also appropriated from their sonic forefathers, but written their messages of peace and togetherness as socialist dreck and instead succumbed to the same level of inward-focused, gaudy greed that Sean Paul today pulls off so effortlessly. I firmly believe that modern dancehall artists, in burying the energy, spirit and essence of the greats who came before them, are indulging in the same sort of  appropriation that Sean Paul levied toward artists like Drake and Bieber.
[youtube https://www.youtube.com/watch?v=6YZhmWbel8A]
The Guardian piece also mentions Sean Paul's frustration with the fact that many of the Jamaican dancehall artists influencing these chart-toppers can't get Visas to come to the U.S., and Popcaan was mentioned. Perhaps best known stateside for his collaboration "I Know There's Gonna Be (Good Times)" with Jamie xx on In Colour, Popcaan should be much more well known on the international scene. That track was the song of many people's summers last year, and Paul points out that Popcaan's minor past charges for marijuana possession shouldn't be reason to deny him entry into the U.S.
Whose government is responsible for that though, ultimately? As an American or a white person I don't purport to have the answers, but stories from the past year suggests that the Jamaican government could be doing a much better job at helping their artists travel around more. It's a beautiful thing when the desire to spread art and achieve fame slowly moves a country away from its long-held sense of cultural isolationism.
"Officials are hashing over the creation of a certification mark to designate 'authentic reggae'—a sort of 'Good Housekeeping Seal'—to encourage the use of Jamaican musicians, producers and merchandise," notes this Jamaica Observer story from last year. "They also hope to defend Jamaican reggae by having the UN's culture organization add it to a global list of 'intangible cultural heritage' such as Argentina's tango and China's Peking opera. The Paris-based agency says the island's government has yet to apply for inclusion on the list of more than 280 cultural traditions."
This goes back to being an issue with the Jamaican government, and what they value as important. The Jamaica Labour Party has a slim, three-seat majority over the People's National Party, but its enough to give the conservative members more clout. Taking the award for the longest title ever, Principal Director of the Culture and Creative Industries Policy Division in the Ministry of Youth and Culture, Dr. Janice Lindsay, said in a statement last February committee has been set up to get the documents filed with the U.N. by March 2017.
"We have so far had one meeting. It has been a robust meeting. Essentially, the discussions have been about how we describe reggae when we put forward that nomination file," she said.  "We need to protect that distinctive history of reggae as an intangible heritage and we need to do this before someone else presents the elements in some other form as theirs.[The kids], 50 years from now, would not have forgiven us if they lived to read in bits and pieces that there was a music emanating from our country and that it was lost over time, because there was no proof of the origin and distinctiveness being uniquely Jamaican."
Maybe Sean Paul should concern himself less with promoting his own comeback or waving dancehall around like a cultural purist, and instead just use his clout to focus more on getting his fellow artists on the island the right to travel and make a name for themselves. A logical first step would be to partner with Dr. Lindsay and ensure that the U.N. not only adds reggae to the global list of "intangible cultural heritage," but makes it a priority.