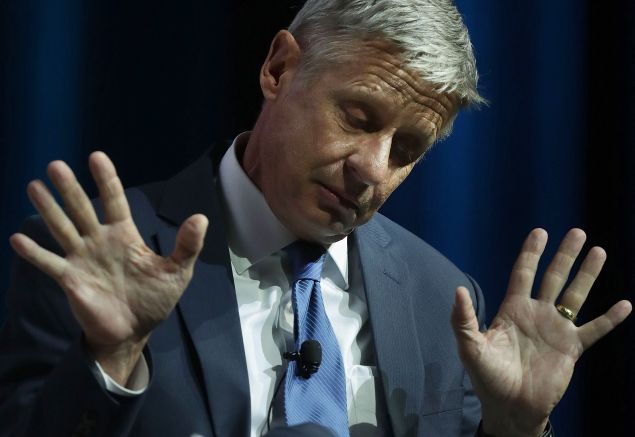 In any election during which a third-party candidate or candidates appear poised to perform unusually well, the question often asked is which of the major-party candidates will be hurt most by this phenomenon.
In some cases, it is an easy enough question to answer. It is simple to understand that the Green Party, to the degree that it takes any support from a major party, will be pulling that support away from the Democrats. The Greens, led by far-left presidential candidate Jill Stein, are uber-progressives and it is inconceivable that very many people who would vote Green would otherwise vote for the Republican candidate.
But in the case of the Libertarian Party, which combines laissez-faire conservative economics with generally liberal social policy, the effects are not necessarily so clear-cut. That's why the Gary Johnson candidacy, currently hovering around nine percent in national polling, has added an element of unpredictability into this year's presidential race.
The Real Clear Politics polling average as of September 10-11 showed Hillary Clinton ahead of Donald Trump by 2.7 percentage points in a head-to-head race, but up by a smaller 2.1 percent margin when Johnson and Stein were included, with Johnson at nine percent and Stein at 3.3 percent.
Of course, the national numbers are interesting but irrelevant. As students of U.S. politics understand, it is the state-by-state races that matter in determining the winner in the all-important Electoral College vote. In 14 states that are currently close or are usually considered battlegrounds, the difference between Clinton and Trump head-to-head, or in a four-way matchup with Johnson and Stein, typically tends to be slight. In 13 of these 14 states, the difference in the average margin between a two-way race and a four-way race was less than 1.5 percent. In 10 of those 14 states, the average difference between the two-way and four-way margin was less than one percent.
In four of those 14 states (Georgia, Michigan, New Hampshire and Virginia), Clinton performs slightly better in a four-way race than she does in a head-to-head, and in two others (Florida, South Carolina), there is no difference in the average margin between a two-way and four-way race. In the remaining eight states, Trump performs better in a four-way race than in a head-to-head, but in only one of them (Missouri) is there more than a 1.2 percent difference between the two measurements.
Also crucially, and this may be the most important point: in none of the 14 competitive states at this point is one candidate leading the four-way pack who was not leading head-to-head. In short, the third-party candidates, as things stand today, are not causing a single state to flip from Clinton to Trump or vice versa.
Typically, third-party candidates fade down the stretch, so if history is any guide, some portion of Johnson's and Stein's supporters will move toward either Trump or Clinton, possibly with a slight benefit to Clinton. But it probably won't be much of a boost. On average, across the 14 competitive states, the third-party effect is benefitting Trump by about 0.25 percent.
In short, it appears that the unusually strong performances to date by the Libertarians and Greens are not affecting the race in any key state. Despite her recent polling erosion, Clinton continues to lead in more than enough states to win the election if she can hang onto those leads.
Disclosure: Donald Trump is the father-in-law of Jared Kushner, the publisher of Observer Media.
Cliston Brown is a communications executive and political analyst in the San Francisco Bay Area who previously served as director of communications to a longtime Democratic Representative in Washington, D.C. Follow him on Twitter (@ClistonBrown) and visit his website at ClistonBrown.com.