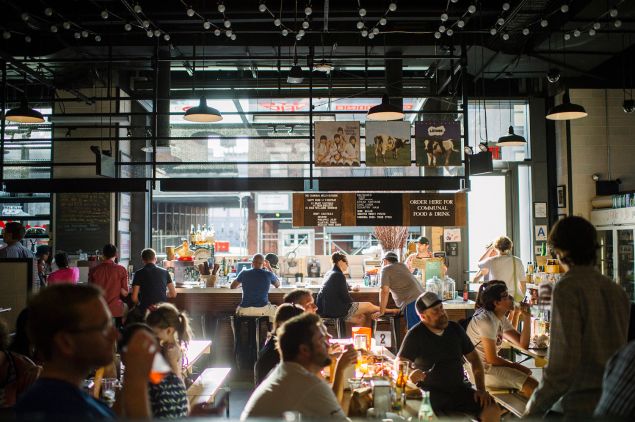 When Paul Travis went looking years ago for his first post-college New York apartment, the last thing he wanted was food on the ground floor.
"I would see buildings with a supermarket [as a tenant], and I would think, 'Oh, I don't want to be there,' " he recalled. "I didn't want problems with vermin or whatever. And supermarkets load in at like 3 or 4 in the morning, and I really didn't want to be woken up at that time."
Subsequent experience bore out these fears. "I was in a co-op later on, and there was a D'Agostino's down the block, and it would wake me up at 5 o'clock every morning," Travis said.
Funny then, that his firm, Washington Square Partners, is behind one of the city's more prominent food-residential hybrids—Downtown Brooklyn's City Point, which features more than 1,000 apartments atop a commercial space that includes a Trader Joe's and the 26,000-square-foot Dekalb Market Hall.
In a city where the cockroach and subway rat can reasonably claim status as unofficial mascots, it's not hard to understand why a person might look askance at storing foodstuffs in the bottom of their building. But in a world where pre-tweens regularly self-describe as "foodies," isn't a slightly heightened infestation risk worth the joys of having farm-to-table grazing right downstairs?
"Years ago a restaurant or grocery store would be the last tenant you would want," Douglas Elliman broker Anita Grossberg told the Observer. "But today it's an amenity to the building.
"New York has become so food-centric," she added. "High-end restaurants are now very desirable [tenants in residential buildings]. We did a deal over at the Bloomberg Building with Le Cirque, and they wanted that tenant. I remember when [Elliman broker] Neal Sroka and I were marketing 110 Central Park West, and they were seeking a food use."
'Years ago a restaurant or grocery store would be the last tenant you would want,' Douglas Elliman broker Anita Grossberg told the Observer. 'But today it's an amenity to the building.'
In fact, restaurants and the like have become such desirable amenities that some residential developers will leave money on the table in order to lure them. That's the case at new Financial District condo building 50 West, said Ami Ziff, director of national retail at Time Equities, which is developing the project.
"When we were considering how much retail space to carve out of this building and what use to make it, we went through a bunch of different iterations as to what it might look like," he said. "And I can tell that we could make a lot more money by not leasing this space to a restaurant. We could put in a number of other uses that would carry a lot better credit and be able to afford a lot more rent, but we chose [a restaurant] because we view the restaurant as an amenity to the building and the general environment we are looking to create."
The trade-off is twofold, Ziff said. A bank or drug store can afford some 30 to 50 percent more rent than the typical restaurant tenant. The other half of the equation, he noted, is that large corporate tenants tend to have solid credit and balance sheets, which ups the project's value if the developer wants to sell or finance it.
That said: "This building is not necessarily about the retail space," Ziff noted. "It's about the 63 stories that are above it, the residential investment." And what's best for that investment, the developer has decided, is a restaurant.
As opposed to, for instance, a Walgreens, a restaurant in the base of your building creates an "instant social experience," Ziff said.
And if one restaurant is good, then wouldn't, say, 10 restaurants be even better?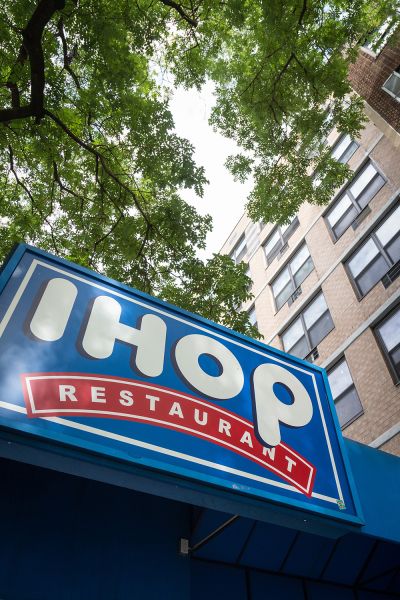 We speak, of course, of that trendiest of New York retail spaces, the food hall. Not, mind you, the food court, that suburban purgatory of dad jeans, warmed over Panda Express. Rather, the food hall, a sleek yet welcoming pavilion of gastronomic delights that at once recalls the glory days of Les Halles and that time you stumbled across the amazing ramen joint wandering around the Lower East Side.
They're popping up everywhere, from Brookfield Place to Hudson Yards to the aforementioned City Point. In an age where dining defines a neighborhood, food halls are a way for developers to goose an otherwise unremarkable restaurant scene.
"You put a food hall in, and in [the case of City Point] you have 40 separate vendors," Travis said. "So you are covering a very broad range. And for a place like Downtown Brooklyn, which I would call a food desert, that is very attractive for people."
A few blocks away in Fort Greene, the Gotham Organization has installed a food hall in its 586-unit rental building, The Ashland. The developer also has a food hall in its Gotham West rental building at 550 West 45th Street in Manhattan.
"In the case of Gotham West, we knew we had 1,240 apartments on 11th Avenue, and we knew that people thought there could be more restaurants and bars in that area and that there could be a more engaging community in the area," said Christopher Jaskiewicz, president, Gotham Properties & Hospitality. "So instead of putting a drug store at the bottom of the building we decided to assemble interesting restaurants and interesting bars and design a space where they would all fit together."
Likewise at The Ashland, which contains at its base a 17,000-square-foot market with 10 vendors, including Mu Ramen, Apizza Regionale and Mason Jar.
At City Point, the development's food offerings "come up all the time when people are renting apartments," Travis said. "People say, 'I want to be above Dekalb Market. I like the fact that Trader Joe's is downstairs.' It's a very food-oriented population."
And, Grossberg noted, stricter city codes and advances in filtering technologies have mitigated the downside of a restaurant downstairs. New construction designs can also help reduce the annoyance factor: City Point was built so that "all our loading is done two levels below grade," he said. "So you don't have the sort of issues you [once] did."
At City Point, the development's food offerings 'come up all the time when people are renting apartments. People say, "I want to be above Dekalb Market. I like the fact that Trader Joe's is downstairs." It's a very food-oriented population.'—developer Paul Travis
Yet, like the smell of a slightly overripe bacon, egg and cheese on a warm summer afternoon, for some, concerns still linger.
"Usually people see a restaurant at ground level and they immediately get scared," Citi Habitats agent Jessa Lee told the Observer. "Most people who have lived in New York have dealt with roaches, or they have at least heard the horror stories."
BOND New York agent Lilia Berzon recalled a recent client who found the apartment of her dreams in Midtown East but was put off by the Italian restaurant below.
"It was a beautiful apartment, and she loved it right away. But, downstairs was a restaurant, and her concern was the roaches and mice and if they left garbage out and all that sort of food-related stuff," Berzon said.
The apartment was fairly high up, and the restaurant was a nice one, so ultimately the woman took the plunge.
"She loves it. She hasn't mentioned anything about the restaurant," Berzon said. She noted, though, that under different circumstances, a restaurant could certainly be a nuisance.
"If the apartment is on a low floor right above a restaurant, I think that is more of a concern because of the noise and people hanging out late," she said.
The particular kind of establishment is also key, Grossberg noted. "I think there are still some restaurants that have challenges, like delis and such."
Several years ago, for instance, the International House of Pancakes at 235-237 East 14th Street caused an uprising among East Villagers complaining about the spot's bacon smell. Ultimately, the restaurant's owner installed a $42,000 filtration device to eliminate the fumes.
Even beloved New York institutions aren't immune from offending. In 2003, a co-op owner at 176 West 87th Street sued his building claiming that his unit had been made uninhabitable by the smells coming from the ground floor restaurant, famed appetizing store Barney Greengrass.
That case actually set precedence of a sort for those who would argue the smell of smoked fish is simply an (delicious) inevitability of city living. Upon learning of the suit, Barney Greengrass filed a general liability claim with its insurer, but the insurer asserted that the store's food odors were "pollutants" and therefore not covered by the policy. In 2010, a federal judge ruled in the store's favor, and area lox enthusiasts breathed a deep, if slightly fragrant, sigh of relief.
Citi Habitats' Lee lives in the Financial District at 100 Maiden Lane, which hosts a Chipotle downstairs. She said she doesn't notice the scent of burritos wafting up to her apartment, but she has had visitors comment when she has her windows open.
Smells aside, living above the restaurant does seem to have certain social advantages.
"I have a lot of friends who work in finance, and sometimes they come by after work to hang out," Lee said. "They seem to like the fact that they can pick up a burrito when they come see me."