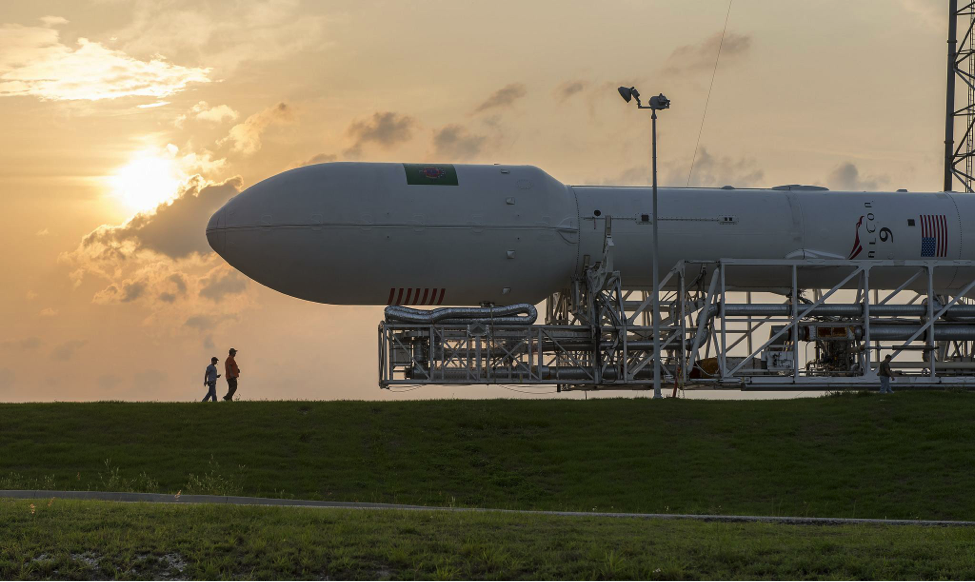 SpaceX has a long road ahead if they want to lead humanity's colonization of a new world. In just one week, that endeavor will begin at the International Aeronautical Congress in Guadalajara, Mexico where CEO Elon Musk will give a talk titled Making Humans a Multiplanetary Species.
SpaceX will use the venue to present its long-term plans to establish a human colony on Mars  despite the recent (and unresolved) fast-fire that destroyed its Falcon 9 rocket and accompanying payload. The September 1st incident, labeled "difficult" and "complex" by Musk, has raised questions about SpaceX's ability to launch customer satellites on schedule and how inevitable delays will affect the major hurdles that must be crossed in order to launch a human mission to Mars. Up until now, it's been unclear what SpaceX's actual plan is to reach our neighboring world.
This past week, SpaceX's billionaire founder started to shed some light on the company's vision for that mission. Musk tweeted some startling updates on the long-rumored Mars Colonial Transporter (MCT) — a spaceship that would take up to 100  "colonists" or 100 tons of cargo to the red planet in order to build a settlement. Apparently, SpaceX discovered it could go much farther than expected, prompting the need for a name change.
The spaceship is now called the Interplanetary Transport System (ITS), implying it could one day take humans or cargo to worlds beyond Mars. The change is a pretty significant departure from the Mars-focused language SpaceX has been using since the company's founding.
It was back in April when Elon Musk confirmed he would reveal his plans to "build a city" on Mars in Guadalajara when prompted by the Observer. Musk made a rare appearance at Kennedy Space Center following the first-ever landing of his Falcon 9 rocket booster on a barge at sea. "I thought that would be a good venue to describe what we think would be a good approach, something that would be effective for establishing a city on Mars," said Musk. "I think it's going to sound pretty crazy, so it should at least be entertaining."
The Observer followed up with SpaceX on the status of the talk at IAC following their recent mishap and they confirmed to us that it was "still on the agenda."
It seems that SpaceX also changed the title of their presentation at the Congress. On the official website for the IAC, the company's time slot originally had it titled Colonizing Mars – A deep technical presentation of the space transport architecture needed to colonize Mars. The change could reflect recent developments in the massive rocket's capabilities or simply to make the talk more accessible to the general public.

On Saturday night, Elon Musk tweeted a "preview" of SpaceX's new ITS. After linking to the "I could build a spaceship!" scene from the Lego movie, Musk then confirmed that the name had in-fact been changed from MCT to ITS.
SpaceX wants to put footprints on the Martian surface in less than a decade and if they succeed, they will be the first to do so. "If things go according to plan, we should be able to launch people probably in 2024 with arrival in 2025," said Musk at Code Conference last June. NASA has no concrete timeline for their human mission to Mars but statements point to mid to late 2030s.
In the days following the fire that destroyed the Falcon 9 and damaged SpaceX's Space Launch Complex 40 (SLC-40), there was speculation on how the launch provider would proceed and how long they would be grounded. Speaking at the World Satellite Business Week Conference in Paris last week, SpaceX President, Gwynne Shotwell announced they would return to flight in November, launching from one of the company's other launch pads: the historic launch pad 39A at Kennedy Space Center (which the company leases from NASA) or at SLC-4E at Vandenberg Air Force base in California.
Pad 39A, once home to NASA's Apollo and Shuttle missions, has been under construction for nearly two years now. Once complete, SpaceX plans to use the complex to launch its upcoming Falcon Heavy—a rocket that Musk boasts will be the most powerful in the world. The heavy-lift vehicle is composed of a Falcon 9 core and two Falcon 9 first-stages strapped on each side to provide a serious boost. And it's going to need it. SpaceX plans to use the Falcon Heavy to launch heavier payloads as well as establish a cargo route to Mars, a necessary step in establishing a colony.
The first of those missions are expected to begin in 2018, and will use a variant of SpaceX's Dragon Cargo vehicle, dubbed the Red Dragon, which will be launched atop the Falcon Heavy. "Red Dragon missions to Mars will also help inform the overall Mars colonization architecture that SpaceX will reveal later this year," SpaceX stated in a news release.
But before that can happen, the Falcon Heavy must get off the ground. According to Shotwell's latest announcement, the Falcon Heavy will "likely" have its first launch in early 2017.
Among its first contracted missions following a successful flight test, will be a ride to space for the Lightsail 2 solar sail spacecraft built by Planetary Society—a non-profit, space exploration advocacy group founded by Carl Sagan and now led by his former astronomy student, Bill Nye. During a meeting, SpaceX revealed to Nye that despite the incident they were still on schedule to launch LightSail 2 in 2017 and even gave him an interesting tidbit: The Falcon Heavy will use a brand new middle core and two flight-proven cores for the outer rockets.
"Flight-proven" is the new term SpaceX is using to describe Falcon 9 first-stages that have safely returned to Earth and have been refurbished for "reflight."
Now that SpaceX has successfully brought home two Falcon 9 first-stages to ground at Cape Canaveral's Landing Zone 1 and four on the company's autonomous drone ship at sea, they are planning to refly one of those recovered rockets for the first time. No official date has been set but given that SpaceX was aiming for late 2016, being grounded for three months will probably push that into next year.
One of the biggest concerns for SpaceX in the wake of the launch pad destruction and last year's fiery loss of their Dragon cargo spacecraft, is the upcoming responsibility of returning human spaceflight to american soil for NASA. SpaceX is expected to conduct an unmanned flight test of the Dragon crew vehicle in late 2018 in preparation for contracted missions to ferry crew members to and from the International Space Station.
These crewed missions will demonstrate SpaceX's ability to safely operate a human-rated spacecraft and ultimately lay the groundwork needed for the eventual year-long trip to Mars
Elon Musk's unveiling of the Interplanetary Transport System will occur in just seven days and will mark the beginning of a new chapter for SpaceX. If all goes according to plan, they will become a firm that not only pushes innovation in the aerospace industry, but leads the effort to expand human presence in the solar system.
The Observer will be reporting live from the IAC in Guadalajara so follow the author's Twitter and Instagram for updates: @nova_road. You can also watch a livestream of Elon Musk's talk here.