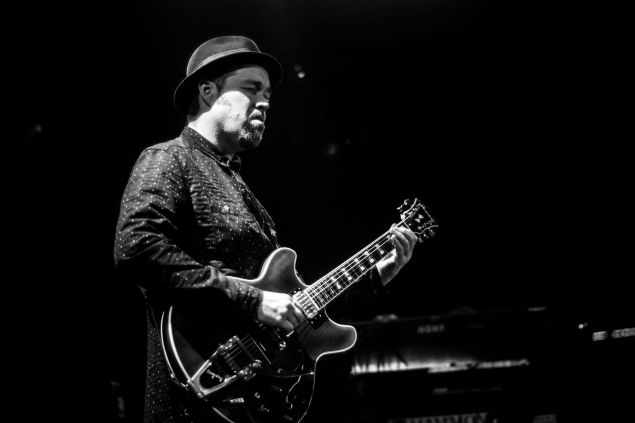 For nearly 25 years now, Eric Krasno has built a repertoire as one of the most talented and in-demand guitarists in professional music, be it as a session man or as a member of such influential groups as Soulive and Lettuce. But in 2016, this most unique and innovative guitar hero aims to put his official stamp on the world as a pop artist himself with the release of his stellar solo debut Blood From A Stone.
Produced in Maine with Dave Gutter, onetime frontman for the massively overlooked Portland funk-rock group Rustic Overtones, the album finds Krasno not only playing some of the best guitar he's ever displayed on record, but revealing major skills as a singer/songwriter as well. It's funny, for a guy who has played with some of the best vocalists in the world including Susan Tedeschi and Norah Jones, earning Grammys for his roles on Tedeschi Trucks Band's Revelator and Derek Trucks Band's Already Free, it's a sin to think he's been hiding this great voice all these years. But better late than never.
The soulful husk he possesses definitely gives the music on Blood a vibe on par with such Clapton solo classics as There's One In Every Crowd  and No Reason To Cry as well as Stevie Ray Vaughan, especially circa In Step, albeit with a more contemporary R&B flavor. And there's guests to speak of as well, namely fellow six-string samurai Derek Trucks who appears on the Santana-esque instrumental "Curse Lifter" as well as his homeboys from Lettuce, Soulive, and The London Souls, a promising group signed to Krasno's label Feel Records (who released singer Nigel Hall's amazing soul manifesto Ladies and Gentlemen…Nigel Hall! last year).
Additionally, Krasno has a new album with Lettuce called Crush, played a bunch of shows with the Grateful Dead spinoff group Billy and the Kids (led by percussionist Bill Kreutzmann) earlier this year and continued to espouse his production prowess through the release of New Orleans legend Aaron Neville's incredible new album Apache.
The Observer recently caught up with Krasno to talk about what inspired him to release his first-ever solo album, what it was like working with Aaron Neville and how it feels to celebrate Lettuce's 25th anniversary this year.
[youtube https://www.youtube.com/watch?v=Pup28REM6c8&w=560&h=315]
What took you so long to start singing?
I was always kinda singing demos and writing songs all along. When I started with Soulive, that wasn't really the direction I was headed in. Alan and Neal [Evans, both formerly of Moon Boot Lover] had a concept of this real futuristic soul jazz trio. And I had been in the studio making songs and producing. My roommate at the time, Jeff Basker who is now a huge producer, he and I were always making tracks and writing songs and doing Lettuce.
It was just one of those things where I jumped on the train with Soulive and rode that where really my focus before that was very different. But it was a blessing, because I got to go out and play and focus on becoming a guitar player for 20 years. I met so many people, so many amazing musicians, along the way that I got to work with and all of this fed into what I am doing now. I'm very thankful for those experiences.
How was the transition for you?
Well, for me I'm kinda finding all these new things that I can do. I've always done singing in the studio doing background but never singing lead. So now being on tour with the solo band and stuff, it's been fun seeing what I can do. I have a great singer in the band named Mary Corso, who is a badass at doing really high harmonies. I made the record on my own and not really with a band, per se. Now I'm going out with a band and it's really cool watching it evolve and take on a shape of its own.
Listening to the record, I hear a heavy solo Eric Clapton vibe on it.
Yeah, yeah, totally. I love that shit. Actually, part of the inspiration was—and it's really random—that I read the Clapton book when I was in Japan and about his transition from being in bands to going solo. It was cool to read about that. He wasn't really a singer before that. He did sing a bit, but it just became a thing for him, and he worked on it and he got really good at it. Just like anything else, really.
Some people just have this natural voice that just turns on instantly, like Nigel Hall, who has always been a great singer. For me, I had to work on it a little bit. I'm not trying to be an acrobatic singer. I'm just trying to sing my songs and play the guitar. I'm always writing songs, but prior to this record I would try to place these songs with other people. It's great.
I've written for Aaron Neville and the Tedeschi-Trucks Band and a lot of other people. But the thing is you always have to wait for that moment, which is what I did with this album. I mean, I already have half of a new album written in the can, plus a bunch of songs that didn't make this one. I'm just excited to be putting stuff out more frequently.
I've actually been revisiting some of Clapton's '80s albums like Behind the Sun and August, both of which were produced by Phil Collins. It's interesting to hear, now, the R&B vibe they were trying to go for with those records.
Maybe I need to revisit those. Literally the '80s Clapton stuff I'd know it because it was in the background as a kid, but I never had those records. I knew Journeyman because it had such massive hits on it. That might be his biggest record. I went to see Clapton about four years ago. Doyle Bramhall II is a good friend of mine, and he played with him on that tour and got me passes to the show and whatever.
I was blown away, man. I thought he sang his ass off. His guitar playing was really great, but I was really impressed by his vocals at this point. His vocals seemed to have gotten better and better and better. And the band he had for that tour, Willie Weeks on bass, Steve Jordan on drums and Doyle on second guitar, they were killing.
Willie Weeks is the man! He's on all those underrated George Harrison solo albums on Dark Horse, David Bowie's Young Americans, Randy Newman's Good Old Boys…
Oh yeah, man. Willie Weeks played with a ton of people. He was in the Doobie Brothers for a while. He is on my favorite soul album of all time, which is Donny Hathaway Live, and he was like 18 during that recording. I got to work with him a few times; he's just the coolest guy ever. He plays his butt off, man. And he played on everything.
[youtube https://www.youtube.com/watch?v=zPoFY2ftsuo&w=560&h=315]
I also hear a little Stevie Ray Vaughan in your sound on this record as well. Are you a big fan?
Oh yeah, huge huge Stevie Ray fan. His singing is amazing. When I first saw that video Live at the El Mocambo, it changed my life, man; the intensity by which he plays was like nothing else I've ever seen. I remember I was supposed to go see him on the In Step tour with Jeff Beck, but I got in trouble and was grounded. I had tickets and me and my dad were going to go, but I got in trouble in school.
Another interesting thing I get from Blood from a Stone is that it feels separate from the other stuff you've done in the past. Was that a conscious decision?
I jump around, man. It's funny, I was talking about that to someone the other day. The jam scene and the fans of that scene, they want to see us do different things and evolve and change. They want to come see a different show every time, which is kind of a challenge to us in both Lettuce and Soulive.
I think, genre-wise, it's kind of blown in every direction. It's kinda to the point where you don't have to sound like The Grateful Dead to be a jam band. There's hip-hop and then there's reggae and there's EDM now. It's really just an alternative to radio in a lot of ways.
But what makes Blood from the Stone, in my opinion, stand out is because it's a more song-oriented collection than much of what is available in that jam-band scene.
This is a huge thing for me. And I think that's honestly what is lacking with the modern jam bands. It's too much noodling and not enough songwriting. For example, I started playing with Phil Lesh and some of the Grateful Dead guys in the last few years and going through that songbook and learning those songs made me really love The Dead again; and mostly because of the songwriting. They have so many great songs and really interesting songs.
They're not just 1-4-5. There are all sorts of amazing changes and Robert Hunter was such a great lyricist. I've really become such a huge Dead fan again through this experience. I loved them when I was really young, they opened my mind to a lot of new music. And now I've come full circle.
[youtube https://www.youtube.com/watch?v=httKgGnq7l0&w=560&h=315]
How did you connect with Aaron Neville to produce his new album Apache?
That was a real blessing to be able to do that. I got the job through his manager. I've been friends with the Neville family for a while, through Ivan Neville and Dumpstaphunk. His manager knew me through producing some other stuff that he heard and thought I would be a good match.
When I met up with Aaron, I gave him my spiel and told him, "Man, I'd love to make a real gritty, soulful, funky album that really showcases what you do best."
And he says, "Well, I got all these poems I'm trying to turn into songs." So once he decided to work with me, he gave me like 50 poems and myself and Dave Gutter went up to Vermont and sat up there with these poems to try and make them into songs so we could begin recording them. And I got some of the Lettuce guys and some of the Dap-Kings guys to be on it. It really turned into an awesome project.
Was it a little intimidating considering the last Aaron Neville album was produced by Keith Richards and Don Was?
Yeah, that was a pretty big seat to fill. He didn't talk to me really about those sessions. However, a lot of his previous records he wasn't really that involved, whereas this one he had a hand in the songwriting, he stuck around for the mixes, he was there when the band was tracking. It's funny, someone who has been in the business for 55, 60 years or whatever, he'd never been so involved. And he was really excited about that.
It stirred something in him. That was a really cool part to that process is seeing his excitement about being so directly involved in this album.
Next year is going to be the 25th anniversary of Lettuce, is that correct?
Yeah, wow. Well, we met in 1992, but we didn't start playing shows until 1994. But we were a band, at least in the loose sense of the term. We were rehearsing and stuff. It's pretty amazing, man. I don't tour with them consistently anymore because I've got a lot of stuff going on and they book a lot of shows now, but I'm still part of the band. I'm in the studio with them and I will do the bigger shows they put together.
You guys were really young when you started Lettuce, yeah?
We were I think sophomores in high school, and we went to this summer program kinda thing at Berklee College of Music. We all were into funk music and improvisation so we were all like, "O.K., when we're in college we're all going to come here and start a band." And we actually did. We're all best friends. We all make music together in various other ways outside of Lettuce. It's just kind of this band of brothers and we have a blast, you know?
Eric Krasno plays Central Park Summerstage on September 7. Blood From A Stone is available on iTunes and at better record stores in your neighborhood.