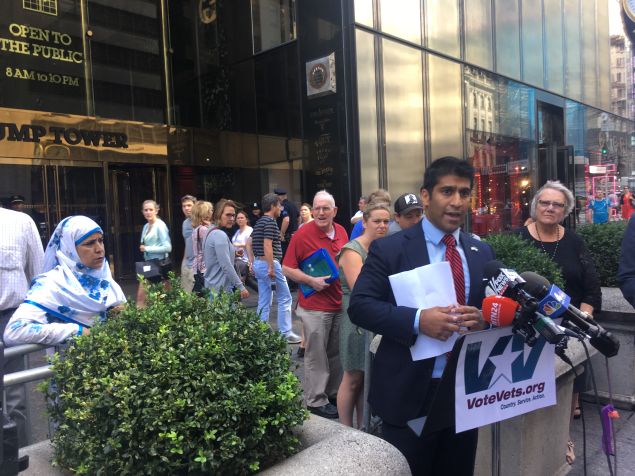 Hours ahead of a presidential forum on military issues—the first event to feature both Hillary Clinton and Donald Trump—a group of veterans and Gold Star families rallied outside the Republican nominee's eponymous tower to protest his attacks on minority groups.
VoteVets, a liberal political action committee, convened outside Trump Tower to assert that that the Queens-born businessman's infamous comments about Muslims, Mexicans, prisoners-of-war and Gold Star families—among others—disqualified him from holding the Oval Office. Trump and Clinton will address the nation, and its servicemembers in particular, at a forum in Manhattan tonight hosted by the Iraq and Afghanistan Veterans of America, a nonpartisan group. (They will appear separately, rather than on stage together as they eventually will in their debates.)
"It's a different military today, O.K.? You cannot insult women in today's military, O.K.?" said Jon Soltz, an Army veteran of Operation Iraqi Freedom and the co-founder of the 220,000-strong organization, as he dismissed the 88 retired generals and admirals who endorsed Trump last week. "You can't insult Muslims. "
U.S. Army Captain Shah Chowdhury, a former artillery battery commander stationed in Baghdad in the early 2000s, took issue with Trump's proposals to obstruct immigration from Muslim lands. He asserted such statements, as well as the candidate's much-publicized feud in July with the parents of a Muslim soldier killed in Iraq, empower groups like the Islamic State and impede military efforts to win trust from civilians in the Middle East.
"This is a national security issue. From a national security standpoint, we have troops on the ground right now, and their job is to convince the local population that we're not at war with Islam," said Chowdhury. "When Donald Trump opens his big, fat mouth every time, and he insults Americans, he insults veterans, he puts the lives of our troops in danger, ever single day. Somebody who does that is completely unfit to be commander-in-chief of our great nation."
Gold Star wife Cheryl Lankford claimed that the real estate seminar Trump University—which faces fraud allegations in several states, including New York—bilked her out of $35,000 just months after her husband died in Iraq. Lankford, who also spoke about her experience at the Democratic National Convention, alleged the program contacted her while she was looking to find a way to care for her two-year-old son in 2007 after her husband's death. But three weeks after she enrolled, she said the supposed school cut contact with her.
"They stopped returning my phone calls, stopped returning my messages. I'd leave messages with the 800 number, leave messages for the person who was supposed to mentor me, the person who was 'handpicked by Donald Trump himself,' would not return my phone calls," Lankford told the Observer, adding that she is not a party to any outstanding suit against the candidate or Trump University. "That's when I realized I'd been taken, and that this was a scam."
The Trump campaign did not immediately respond to requests for comment. VoteVets purports to be "the largest progressive group of veterans in America," and largely works to elect Democrats and promote left-leaning causes like the closure of the Guantanamo Bay detention facility.
Disclosure: Donald Trump is the father-in-law of Jared Kushner, publisher of Observer Media.