For months the mainstream media has not only gone to great lengths to cover up Hillary Clinton's health problems, they've launched calculated and vicious attacks against anyone who has dared to raise questions about the Democratic presidential nominee's health. Members of the media bullied all—including Donald Trump, independent doctors, politicians, reporters and pundits—who expressed legitimate concerns about Clinton's health. They were accused of sexism, called all kinds of nasty names and multiple people even lost their jobs for speaking ill of their anointed queen.
Now, in a stunning new video, Clinton was seen collapsing into the arms of her Secret Service detail after leaving a 9/11 memorial earlier than planned on Sunday. Despite the indisputable footage, incredibly, some media outlets such as Facebook, YouTube and voices from some of the big networks are showing just how deep their allegiance to Clinton truly is by frantically continuing to cover up her health crisis up to and even after her campaign officially announced that she had been diagnosed with pneumonia two days prior.
It was a day the news cycles and social media forums should've been flooded with remembrance stories revolving around the 15th anniversary of the 9/11 terrorist attacks. Instead, the entire internet blew up over Clinton's health after a video of her collapsing surfaced and spread like wildfire. There were a few exceptions, though, and there appears to be major damage control taking place by some in the liberal media.
After Fox News first broke the story and aired the troubling video, other news sources that had previously censored any indication of Clinton's frail health were forced to finally cover the story. Remarkably, in a play straight out of George Orwell's "1984," Facebook continued to censor Clinton's collapse Sunday evening even though the story was trending on Twitter and the lead story on most major news sites. Other major media outlets have followed suit by refusing to air the jaw-dropping video and YouTube has actively taken down several videos of the incident.
Around 5 p.m. EST, the hashtag "Hillary's health" (#hillaryshealth) was trending on Twitter and was the top story on Apple news and most major news sites. However, nothing about Clinton was trending on Facebook even though Facebook's own numbers showed that it should've been trending.
Facebook has a history of censoring conservative voices and any content that is critical of Clinton.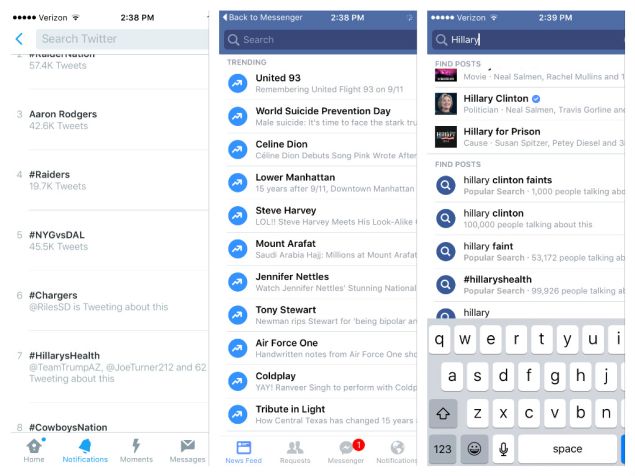 For example, at that time "Flight 93" was trending and Facebook displayed that 1K people were talking about that topic. However, a search for "Hillary's health" revealed that almost 100K people were talking about that on Facebook, yet the topic wasn't trending. More than 50,000-plus people were talking about "Hillary faint" and that topic wasn't trending, either.
Facebook has a history of censoring conservative voices and any content that is critical of Clinton. Even though Facebook spokespeople have claimed the company doesn't change their algorithms to favor any candidate, the evidence is hard to dispute.
Facebook's co-founder, Dustin Muskovitz, announced last week that he was donating $20 million to Democratic groups backing Clinton to help her defeat Trump. This, of course, in addition to several former Facebook employees admitting they were instructed to suppress stories of interest to conservative readers from their "trending" section and substitute them with "selected stories" even if they weren't trending or popular enough to warrant inclusion in that section. In response, Facebook Founder Mark Zuckerberg and his team met with a group of conservatives, claiming it would be difficult to inject bias into their "trending topics" section. However, the latest censorship of Clinton's health suggests otherwise.
Clinton's health issue bled into the mainstream media after a wildly popular video posted on Alex Jones' InfoWars network received several million views. Clinton has repeatedly denied having any health problems and lashed out at Jones and other media outlets during a speech on August 25, accusing them of being part of an "alt-right" conspiracy against her.
Even though the footage of Clinton collapsing has been blasted all over the media, YouTube has removed some of the videos owned by InfoWars. In a video posted Sunday night, Jones said he's had multiple copyright claims on his YouTube channels and he expects to be shut down. He added that he's ready to file a lawsuit against these "false copyright claims." A lot of the major networks aren't running the footage of Clinton collapsing—opting, instead, to downplay her medical episode, Jones said.
On Sunday, many scrambled to cover Clinton's tracks. An MSNBC host brushed off Clinton's episode by stating that she left the memorial early to "be polite," while a doctor on the network stated that it looks like "she could've just lost her balance." Others claimed that, despite the video, there's no proof that she fainted—only evidence that she was helped into a van. One CNN pundit stuck with the conspiracy theory defense, and another MSNBC host used Twitter to mock coverage of Clinton's health.
The left has gone out of its way to intimidate and ridicule anyone who dares to question Clinton's health despite the fact that she's vying for the highest office in the land. Sarah Silverman said anyone who questions Clinton's health is an "asshole." The Washington Post called questions about Clinton's health raised by Donald Trump and Sean Hannity "sickening" and "repulsive." And an article on CNN claimed reports of Clinton's health were a "lie," and just a bunch of "conspiracy theories" based off "junk science."
One has to wonder how long the media can praise an emperor's new clothes before eventually noticing she's wearing nothing at all.
Disclosure: Donald Trump is the father-in-law of Jared Kushner, the publisher of Observer Media.