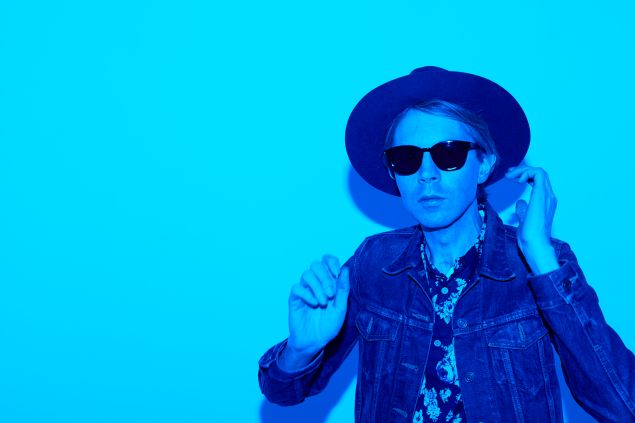 Darkness is looming on the horizon: like a night of hard drinking followed by Papaya King, fall's inevitable. But don't panic just yet.
You might think spring's cornered the market on rebirth, hope, happiness and that whole not-hibernating-yourself-inside-a-fortress-of-solitude-and-Netflix thing, but no one's given autumn's best new albums that message. You have the right to be skeptical. But music this good won't just challenge your perspective, or try to persuade you that Drake's an "Artist"—it will transform you.
Fall's best new releases and concerts are all about the thrill of change, confronting your core beliefs, walking into the flames and emerging from the ashes stronger. There's beauty in embracing uncertainty. Dive in.
Thom Sonny Green, High Anxiety (Out now, Sudden Records/Canvasback)
[youtube https://www.youtube.com/watch?v=fk8a_r_Jp_k&w=560&h=315]
Sometimes an album is so undeniably good you just have to say, "Angle be damned!" and write about the damn thing. Thom Sonny Green's High Anxiety is one of those records. This album isn't "upcoming"—it was just released in late August—but if my incessant listening is any indication, it will remain ahead of everything else that's still to come in 2016.
I never pay much attention to PR emails, but when I by chance listened to "Vienna," the first track on Green's debut solo album, I was stopped cold. It's an absolute stunner on an album filled to the brim with moments of low-key cinematic cool.
A true headphone record in the best sense possible, High Anxiety's globetrotting, beat-head tourism flirts with several genres simultaneously, from soft-focus hip-hop instrumentals to trip-hop to synth-worshipping psychedelia to ambient to IDM, always prioritizing the beat (no surprise: He's the drummer for U.K. art-rockers Alt-J). Filtered through a lens of restless escapism, Green's debut is pure groove, as mesmerizing as anything you'll hear all year, a love letter to honoring private fantasies.
The album's Rothko-esque cover suggests being submerged in the ocean's darkest depths, a subtle flicker of sunlight trapped on the water's surface. At its best, that's exactly what High Anxiety sounds like—a treasured secret. A work so surprising and unique you don't want to share it with anyone for fear of ruining its mystique. Well, apologies. This one was too good to keep to myself.
Preoccupations, Preoccupations (Out now, Jagjaguwar)
[youtube https://www.youtube.com/watch?v=csMbqrFT1dM&w=560&h=315]
Preoccupations is an innocuous band name, and that was most likely the point. Formerly known as Viet Cong, the Calgary post-punk band changed their name to the far less controversial "Preoccupations" after increased protests from fans about their band name's cultural insensitivity. Thank God, because now we can get back to focusing on their incredible music.  
Following two releases of some of the most exhilarating rock music of the last decade, Preoccupations wipe the slate clean on their new self-titled full-length, their first under the new name. Having perfected a formula mixing the icy precision of Joy Division with the doomed elegance of The Cure, the expectations are sky-high for this one.
Let's Eat Grandma (September 21, Berlin, East Village)
[youtube https://www.youtube.com/watch?v=hZ3tmmkr3sg&w=560&h=315]
The children are the future. And if the teens in Let's Eat Grandma are a sign of what's to come, the future is as blissfully weird as it is hauntingly beautiful. Evoking everything from Celtic folk music to Depeche Mode to Eurythmics to Lorde to Sinéad O'Connor, the duo's sound refuses to be pinned down. They even make rapping about Shiitake mushrooms with a British accent sound catchy, just in case you didn't believe that last sentence.
Riding a tsunami of hype all the way from Norwich, England, somehow-not-identical-twins Rosa Walton and Jenny Hollingworth introduce the U.S. to their delicate, ingenious art-pop with a concert at Berlin in the East Village on September 21.
The Pixies, Head Carrier (September 30, PIAS America)
[youtube https://www.youtube.com/watch?v=DUdWbv5fWvA?list=PLxKHVMqMZqUQXpWUO9Ic89b5Tl6wgIUTW&w=560&h=315]
Nothing forces you to confront your mortality like staring your youthful nostalgia in the face 25 years later and hearing that nostalgia try to top its own legend. Enter the Pixies' new record Head Carrier, following 2014's Indie Cindy (a record made up of previously released EPs), and the band's first true full-length studio album since 1991's Trompe Le Monde.
You know where this is going: It can't end well. "But Kim Deal quit the band three years ago, this is blasphemy," you say. Listen: We could talk Deal vs. singer/guitarist Black Francis all day, but let's get to what you're really waiting to hear. Yes, Head Carrier actually sounds like vintage Pixies, the same Pixies that wrote "Where Is My Mind?" and "Tame."
You will remain cynical, as you should. Doolittle and Surfer Rosa are monoliths of art, not mere records; those early Pixies songs changed the course of 20th-century rock. But aside from the fact that this is about as close to the real Pixies as we're likely to get, here's more good news: Francis' ferocity is still intact, something we haven't heard in a Pixies song in what feels like decades, and the band still sounds an awful lot like the Pixies of yore.
This is a reboot of sorts, to be sure, but it is a faithful one. Black Francis isn't forgiven quite yet, but if you're willing to remember that not every remake involves Jar Jar Binks, you will be happily surprised. And impressed. With the Pixies, that's worth the price of admission alone.
Beck, Untitled (October 21, Fonograf Records/Capitol Records)
[youtube https://www.youtube.com/watch?v=pyCkhPTU13w&w=560&h=315]
After a breakup record of introspective acoustic-centric country (Morning Phase), Beck returns in October with his still-untitled new album. Purportedly a sonic callback to his liveliest, most danceable material, this time around he teamed up with producer Greg Kurstin (Sia, Adele), who also helped write many of the record's tracks, and the results are…weird! Singles "Dream" and "Wow" come off like classic '90s Beck by way of zeitgeisty radio pop and M.I.A., and the rest of the album is anyone's guess.
Is there another living pop artist more content to up the stakes with every release than Beck? Perhaps, but based on a career of chasing his muse wherever it leads, not to mention the strength of a decade-plus of brilliant records, he always deserves our attention.