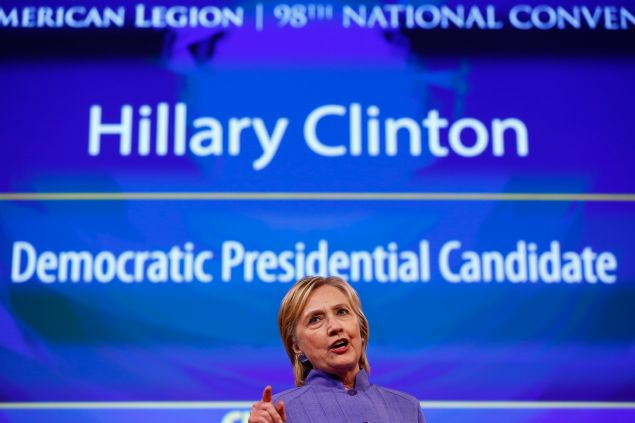 Today, on the Friday afternoon before the long Labor Day weekend, the Federal Bureau of Investigation released documents on its investigation of Hillary Clinton and her mishandling of email while she was secretary of state. The Friday afternoon data dump is a venerable Washington cliché, a shady way to bury a story that the bureaucracy doesn't want covered in depth, but even by Beltway standards this was a shocker.
Nobody expected much from the FBI here, given the Bureau's recent punting on its formal inquiry into Hillary's dubious activities with her "unclassified" email of bathroom server infamy. I've been covering the EmailGate story for over a year, from the beginning, and I too didn't expect the FBI to reveal much about what Hillary did that was unwise and perhaps criminal.
To be fair, a good amount of today's release has been redacted. The original documents were classified at the Secret/Not Releasable to Foreign Nationals level, and to make it Unclassified about a third of the text has been cut out.
But what's there is awful enough for Team Clinton. Although the FBI's press release is terse, the documents themselves indelibly portray the Democratic presidential nominee as dishonest, entitled, and thoroughly incompetent.
Considering that Hillary has been accused of mishandling classified information on an almost industrial scale, what shines through is that Clinton is utterly clueless about classification matters, betraying an ignorance that is shocking when encountered in a former top official of our government—and one who wants to be our next commander-in-chief.
Our Federal classification system isn't particularly complicated, the basics can be explained in a quarter-hour, and there are courses of instruction that exist precisely to explain how to identify classified information and properly handle it. In fact, they're mandatory. Since Hillary blew off those courses, even though they are required for government workers at all levels, it's not surprising that she has no idea what she's talking about.
There are three basic classification levels (with a bunch of handling caveats that can be added):  Confidential, Secret, and Top Secret. These are abbreviated in classified documents as C, S, and TS, respectively (for a quick primer on how this works in the real world, read this).
Since Hillary had been accused of mishandling a lot of classified information, in her July 2 interview with the FBI, agents understandably asked her about this, only to discover that America's former top diplomat doesn't have the smallest clue how classification works.
If Hillary actually is as dumb as she appears in these FBI documents, she is nowhere near smart enough to be our commander-in-chief.
When asked, "Clinton could not give an example of how classification of a document was determined," the FBI recorded. Hillary could not explain what the (C)—for Confidential—classification marking at the beginning of a paragraph was. She thought it perhaps had something to do with alphabetical order.
This tragicomedy continued with the FBI pressing Hillary on specific examples of classified information that wound up in her "Unclassified" emails. She explained her position concisely. As the FBI noted, "Clinton stated that she did not pay attention to the 'level' of classified information."
We can safely assume that the FBI agents present gasped at that one, since classification is all about the level. Simply put, compromising Confidential information will get you a letter of reprimand, while compromising Top Secret information can easily get you a trip to the Federal penitentiary. Not to mention that brave Americans have died to protect Top Secret information.
The Clinton follies continued, with Hillary's lawerly position clear: "Clinton did not recall receiving any emails she thought should not be on an unclassified system," the FBI recorded. She even stood her ground when asked about emails regarding drone strikes—a subject that the CIA and the Pentagon consider to be highly classified. Indeed, it's Top Secret and part of a super-sensitive Special Access Program or SAP.
Not to Hillary. Such SAP information wound up in her "Unclassified" emails but Clinton would have none of it. As the FBI noted, "Clinton stated deliberation over a future drone strike did not give her cause for concern regarding classification." This would be stunning news to the thousands of American military and intelligence personnel who have to treat such Top Secret SAP information according to the strict rules and regulations that apply to anybody not named Clinton.
Here Hillary has confirmed what many have long suspected—that there's one set of laws for Clintons and Friends, and a very different set for the rest of us. Classes on how to handle classified materials—much less actually following those rules on pain of arrest and prosecution—are for Little People, not for Clintons and their charmed retinue.
The FBI inquiry descended into farce. The Bureau's investigation determined that hundreds of the emails containing classified information had been sent by Hillary while she was out of the United States—including in Russia. Since these were sent on Clinton's ubiquitous Blackberry, all of those should now be assumed to be in the hands of foreign intelligence agencies—particularly the security service of whatever country Hillary was in when she clicked "open" or "send."
The FBI could not find evidence of cyber-tampering with Hillary's Blackberry, but that's irrelevant here. As someone who used to do these things for a living when I worked for NSA, let me state that it's easy for any marginally competent intelligence service to intercept unencrypted (or lightly encrypted) messages sent to or from a Blackberry. No "hacking" is required. Such routine intercepts would leave few, if any, traces for the FBI to find.
Not that Hillary and her staff took even the most rudimentary security precautions. They emailed each other everywhere, all the time, even in high-threat countries like Russia and China. Anybody who doesn't understand that Moscow and Beijing—and probably many others—have those emails (and worse, may have used them to crack into other, even more sensitive U.S. Government systems) is uninformed about 21st century espionage.
In perhaps the most laughable of the FBI's revelations, we learned that Hillary had a bad habit of losing her personal electronic devices. As many as thirteen of them went missing—including ones that possibly had classified emails on them. In a couple cases, Clinton staffers disposed of old devices by smashing them with a hammer. Which does nothing to render whatever classified information may have been on them unreadable to any competent spy service.
There are strict rules about how to destroy classified information systems that are no longer needed. Of course, Hillary followed those rules no more than she did any of the dozens if not hundreds of other security regulations she ignored altogether when she was secretary of state.
Saddest of all in this sordid saga is that Hillary had no excuse for any of it. It's ok not to be a whiz at the nuances of classification. Cabinet secretaries are busy people. When you're the secretary of state, you've got seasoned security personnel on call, 24/7, anywhere in the world, to answer questions and resolve security dilemmas like how to handle classified materials. Calling them apparently would have been too much trouble for Hillary and her inner circle.
It beggars belief that Hillary Clinton is really as clueless as she came across in her interview with the FBI. I've given classified briefings to cabinet officials. None of them were ever this out of it. Perhaps, accompanied by her lawyers, the Democratic nominee decided to play dumb to dodge possible prosecution. If that's the case, Hillary repeatedly flat-out lied to the FBI—which, yet again, is something normal Americans go to prison for doing.
If Hillary actually is as dumb as she appears in these FBI documents—utterly clueless about basic classification matters even after years of Federal service at the highest levels—she is nowhere near smart enough to be our commander-in-chief.
In my time with NSA I worked in counterintelligence and I investigated people who mishandled classified information. It was rarely a pretty story and it seldom ended well. Let me state with 100 percent confidence, having now seen at least some of what the FBI discovered about Hillary and her emails, that anybody not named Clinton who did these things would be facing severe criminal charges and potentially years in prison. Democrats need to seriously ask themselves if this is the kind of person they want to represent them on November 8.
John Schindler is a security expert and former National Security Agency analyst and counterintelligence officer. A specialist in espionage and terrorism, he's also been a Navy officer and a War College professor. He's published four books and is on Twitter at @20committee.