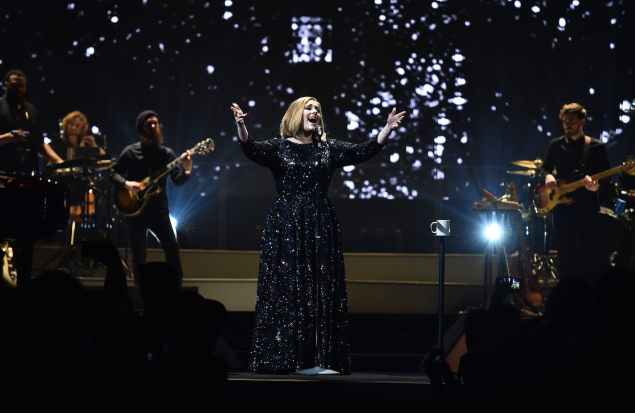 This year has been especially brutal for institutions.
The music business, in particular, has been shaken to its foundations by a sustained series of losses—deaths of legitimate legends clustered so close together it seemed like a vendetta—that have altered the landscape.
Change is inevitable, and adjusting to what is left in its wake is a fact of life.
Some musicians adapt more easily to this reality than others, and it is those who intuitively see the way forward who offer hope, light and the promise of, if not a return to the halcyon days of the past, a semblance of pleasure in the here and now.
Improbably, the 28-year-old British vocalist Adele bridges a chasm between the ways things were and the rapidly shifting reality of the 2010s. She cannily embraces elements of the music business as it once was, while also harnessing its distinctly 21st century aspects.
This is an artist that shuns streaming and leaves fans little choice but to buy either a physical album or files from iTunes (reaping eye-popping sales statistics as a result), who also gets maximum mileage out of viral, recorded-on-the-fly video clips from her live shows.
In an era of prestige ambush video releases on cable or online—Beyonce's grimly compelling Lemonade or Frank Ocean's gorgeously mystifying Endless and Blond—Adele delivers sleek, precisely staged concert specials on NBC (but also doesn't hesitate to shoot brief, unflattering video clips explaining concert cancellations).
She is as much then as she is now.
An old-school belter, armed with nothing more than a voice worthy of hurricane warnings, the British superstar has spent the better part of the last year enjoying her delayed victory lap.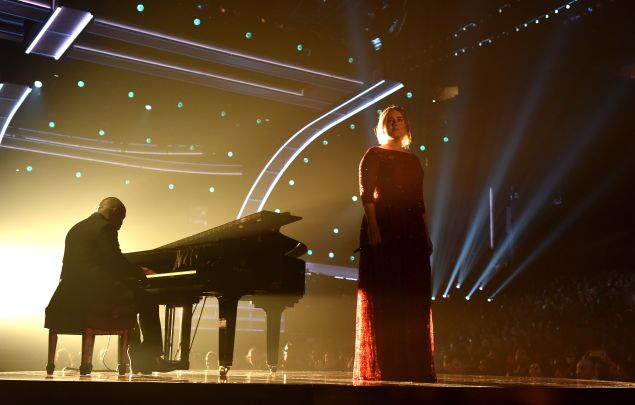 Four years passed between her 2011 sophomore album, 21, which sold a staggering 31 million copies worldwide and earned Adele seven Grammys, and last year's 25, which has, to date, sold around 20 million copies worldwide.
In that span of time, Adele endured a vocal cord hemorrhage and was forced to postpone what would have been her celebratory, post-Grammy world tour. (She also had a child with her partner, Simon Konecki, and took some time to raise her son, Angelo, who is now three.)
The result of Adele's initially unplanned but then decisive hiatus created a vacuum—something her fans certainly weren't prepared to deal with, and which pop music, in its stubborn, reductive way, tried to fill with similarly styled artists (not to take anything away from the gifted Sam Smith, but his arrival in 2012 was nothing if not fortuitously timed).
Adele has cemented herself as a pop music institution, a welcome ray of light for music in a year of a near-ceaseless torrent of misery.
That absence prompted the sort of demand, first evidenced by the brisk sales of 25, that hasn't been seen in the music industry in at least two decades: NME reported in December that a whopping 10 million fans tried to purchase fewer than a million tickets—750,000, to be exact—for her entire tour.
With all of her offstage life sorted, and, effectively, two new albums to promote—Adele never properly toured behind 21—she pulls into Madison Square Garden for six shows, beginning September 19. (Expect ample social media moments from one or all of these performances, as Adele will undoubtedly have a few surprises up her sleeve.)
That tension between past and present extends to the music on 25, as well.
The shift between 21 and 25 is striking, with Adele moving away from her earthier, jazzier influences—her first two records often evoke someone steeped in Nina Simone B-sides and Louvin Brothers compilations—and embracing the genre-less aesthetic favored by millennials sampling a little of everything.
It's a tricky boundary to navigate, as Adele is just old enough to have come of age in a period when musical tastes were more segregated, but also savvy enough to understand that something as brooding as "River Lea" can rest comfortably alongside the crackling "Send My Love (to Your New Lover)".
[youtube https://www.youtube.com/watch?v=fk4BbF7B29w&w=560&h=315]
Unlike her previous two albums, the lead single for 25, "Hello", is a bit of a misdirect—a big, thunderous ballad, with its echoes of Celine Dion prime mid-'90s schmaltz—as the record is far more diverse and uncertain of a signature style than such a bombastic song would suggest.
Adele's voice is, of course, the common denominator, but apart from her surgically strengthened pipes, the unifying element of 25 is its creator's willingness to try anything, in an effort to chart a path past this shining moment.
Seeing an A-list artist effectively throw everything against the wall to see what sticks is astonishing, if only because the fear of failure —or worse still, the fear of trying something the public might ignore—is so fixed within the pop mainstream.
And that realization—once this mammoth, global trek is completed, what next?—is the most fascinating aspect of Adele's career at the moment.
Few artists, in the age of warts-and-all intimacy and near-constant content creation, would be able to climb back into the conversation after a four-year absence, but Adele has not only reasserted her primacy as one of pop music's most influential talents, she has also staked a claim as one of the precious few success stories in an industry more accustomed to grim reminders of its irrelevancy.
Staging a successful comeback is one thing. Sustaining an artistically satisfying and commercially viable career is something else, and it is worth asking in this industry-hobbled and humbled moment what that looks like.
If Adele is content to issue albums (or even the occasional EP) every so often, eschewing a cohesive statement for a fresh batch of tunes, and spend a year or two touring behind them, that could feasibly buy her some time to figure out what the new template for divadom looks like in the post-Snapchat/Spotify/emoji world in which we all now live.
For better or worse, Adele has cemented herself as a new pop music institution, a welcome ray of light for music in a year when it has borne a near-ceaseless torrent of misery.
Institutions can crumble, or change, or disappear entirely, but often the past is prologue—that which will stand as tomorrow's benchmark for quality has to begin today.