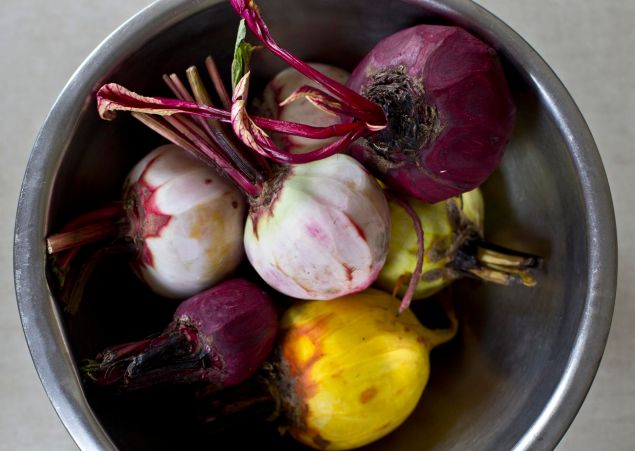 We're only a few days removed from Labor Day, which, for many people, marks the unofficial end of summer. And even though spring tends to be the most popular season for detoxing, it's important to remember that this transition into fall is also a great time to reset the body. In fact, ancient healing practices like Ayurveda often focus on eliminating toxins in the fall and preparing the digestive and respiratory organs for the tough winter months ahead.
So whether you've spent too many lazy afternoons at the pool, cocktail in hand, or you just want to give your body a kickstart in advance of comfort food season, the good news is that a fall detox doesn't have to be drastic. There's no need to starve yourself or embark on a strict juice cleanse. Sometimes the best way to detox is with a whole foods-based diet, and these fall superfoods are the perfect place to start.
Pumpkin Seeds Yes, it's officially pumpkin season! Right now, every restaurant and grocery store in the country is stocking up on pumpkin spiced everything, and while pumpkin puree is a great source of antioxidants, the seeds pack a serious punch when it comes to essential minerals.
An excellent source of magnesium, pumpkin seeds promote healthy digestion, muscle function and even help relieve headaches or mild anxiety. They're also rich in zinc—a trace mineral important for boosting immunity, handling stress, maintaining healthy reproductive functions and regulating insulin production. Need one more reason to add pumpkin seeds to your shopping cart this fall? Pumpkin seeds are one of the best plant-based sources of omega-3 fatty acids, which research shows are beneficial for fighting depression—including the seasonal kind brought more common during the darker months of year.
Brussels Sprouts Brussels sprouts are one of my all-time favorite fall foods—and not just because they're delicious. One cup of Brussels sprouts has more cold-fighting vitamin C than an orange, and they're also loaded with folate, vitamin K and calcium. A close cousin to kale, Brussels sprouts are finally making their own name in the superfood world, with such impressive stats as powerful cancer fighter (thanks to their antioxidants and phytochemicals), vitamin K-rich bone builder, immune system booster and high fiber digestion regulator.
If you're still struggling with childhood memories or soggy, bland Brussels sprouts that you secretly fed to your dog under the table, no worries. This warm autumn salad and this recipe for baked Brussels sprouts with walnuts will make you a true believer.
Warming Spices You may crave a sprinkle of cinnamon atop your morning toast, or love the spicy zing that ginger adds to your favorite cookie recipe, but you may not know that these spices and others—including turmeric, cumin and cardamom—have been revered for their healing properties for thousands of years.
These spices are available year-round, of course, but they tend to make a more prominent appearance during cooler months when hearty stews, soups and other baked dishes take center stage. And that's a good thing, as one of their most powerful benefits is as a digestive aid. They're also excellent for enhancing the body's cleansing effects and helping you to absorb all of the nutrients from the rest of your diet.
My recommendation: Taste a few different spices and keep them handy to add to whatever you're whipping up in the kitchen. Add a dash of cumin to give your scrambled eggs some smoky depth, or try cinnamon in your morning smoothie for an added sugar-free sweetness.
Beets If you're looking for a true, nutrient-rich superfood, look no further than beets. They pack a serious antioxidant punch, as evidenced by their deep purple color, but they're also a great source of potassium and fiber, too. You may have read that some of your favorite athletes have started guzzling beet juice lately, and that's because research suggests that nitrate-rich beets can improve nitric oxide production and blood flow to muscles, helping prevent fatigue and soreness.
Even if you aren't training for a marathon or boxing it out in the gym regularly, beets are still beneficial for healthy nerve, kidney, liver, and pancreatic functions, since they supply high doses of vitamin C, folate and manganese. Not keen on the "earthy" flavor? Try roasting them to bring our their natural sweetness, like in this roasted beet salad.
Cranberries Don't wait for Thanksgiving to shop for cranberries. These tiny, tart berries will start showing up in your grocery store soon (if they haven't already), and they pack enough nutrient value and detoxification potential that you should definitely grab some now. Cranberries have one of the highest antioxidant loads of any fruit—even beating out other superfoods like blueberries and strawberries. Because of this, they're known to decrease the reoccurrence of urinary tract infections, thanks to the presence of particularly strong antioxidants called proanthocyanidins.
Cranberries are also able to fight harmful bacteria, lower inflammation, and balance acidity—making cranberries an all-natural way to reduce toxins while lowering your risk for infections, cardiovascular disease, tumor growth and digestive disturbances.
Dr. Josh Axe, DNM, DC, CNS, is a doctor of natural medicine, clinical nutritionist and author with a passion to help people get well using food as medicine. He recently authored Eat Dirt: Why Leaky Gut May Be the Root Cause of Your Health Problems and Five Surprising Steps to Cure It, and he operates one of the world's largest natural health websites at DrAxe.com. Follow him on Twitter: @DRJoshAxe