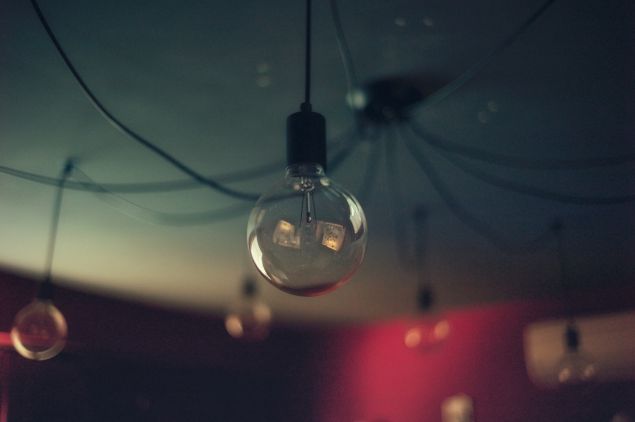 Freak blizzards. Hurricanes, like Sandy or Irene. That weird blackout from 2003. Any number of things can leave you in the dark! But, fear not… I have written about a number of solutions to keep basic power on, whether you live in an apartment or a house. This time I'll spare you from having to run out and get batteries for your flashlights, or worry about burning your house down with candles.
Solar Path Lights You see solar powered path lights popping up more and more. They're very reasonable: just stick them in the ground around your garden or property—and presto! The little battery inside charges by the sun all day and gives light for most of the night. On a sunny day, I've noticed the lights turning on at sunset and staying lit until 4am or later. As time goes on, that won't be the case—but who stays up that late, anyway? On cloudy days, you may only get a few hours out of them before they fade. But that's still enough to get you through to bedtime.
How would you use them indoors?  Well, the top portion with the light just pops off the base that you would normally stick in the ground. Simply place them on the window ledge all day (or wherever your apartment gets the most sunlight), and then flip them solar side down anywhere you'd want a candle at night. They gives off a decent amount of ambient light, and can go right back in the box when not needed. No flames. No worry. Just lots of light.
Power Failure Lights In our home, we've added these all around. Available for under $10, the Amerelle 71134CC Slimline Power Failure Lite charges in whatever outlet you leave it in and comes on automatically when the power goes out. It can also be removed and used as a flashlight. It's got a switch to choose between flashlight and room light mode (powerful directed LEDs on the top or a strip of LEDs along the side). It also has an on/off/auto switch.
Solar Power While your local power company might fail you in a storm, we still have a while before the sun runs out. Why not harvest it during emergencies—or any time! This kit from MicrosSolar is slick.  I purchased it as a way to add permanent lights to our detached garage without having to have an electrician restore electricity to it (it's old).
For under $70, you can get the MicroSolar – Lithium Battery – 2X2W LED Lamps – 1 USB – Solar Home System. It gives you two "pull chain" style teardrop lights to hang (either black or white fixtures), a decent sized solar panel plus a hub to connect it all—which also contains a solar charged USB port! The system throws off an impressive amount of light—the very bright white LED kind… so you're probably not going to make this your primary source of lighting. But you could. Added bonus:  A USB breakout with all SORTS of phone connectors. But none of them are for lightning connectors… yet.
Solar Step Lights Similar to the garden lights mentioned above, these little guys charge all day and come on automatically when the sun goes down. The added benefit is that they have on/off switches on the bottom. You can leave them in auto mode or choose when you want them on. They're small—each the size of deck of cards, and give off the same amount of light as a good LED flashlight, with a diffuser to spread it around a bit.
The Signstek 6 Pack 2 LED Solar Powered Wireless Stainless Steel Staircase Step White currently goes for under $27 on Amazon. They take up very little room and can be stored easily in your home or apartment. One small note: the stainless steel cases have sharp edges. Don't let your little ones play with them.
Yet another solar option Finally: a solar spotlight. Like the solar items above, this will charge in the sunlight and come on automatically when it gets dark. You can buy a 50 lumen version for $15.99, which includes a solar panel with a 16-foot cable that connects to the light. It's BRIGHT! And for a little bit more money, you can get the 100 lumens version with a bigger solar panel. Stick it in your indoor potted plant and aim it at the ceiling for all night lighting in a blackout (depending on how sunny the day is). There's no on/off switch, but you can just unplug it when you don't want it.  You might even consider plopping this inside an existing lamp to use the shade a diffuser. Heck, I sorta wonder if we can just make solar lamps out of these things.
So, there you have it! No more scrambling for batteries and digging up flashlights.  Whatever your budget, there are solutions to help take the sting out of a storm.
Frank Verderosa is an award winning audio mixer in NYC whose work you've heard on your TV, radio and movie screens. He is also a passionate gadget freak on a never ending quest to use technology to make life easier. Or at least get it to work properly. Visit him at www.frankverderosa.com