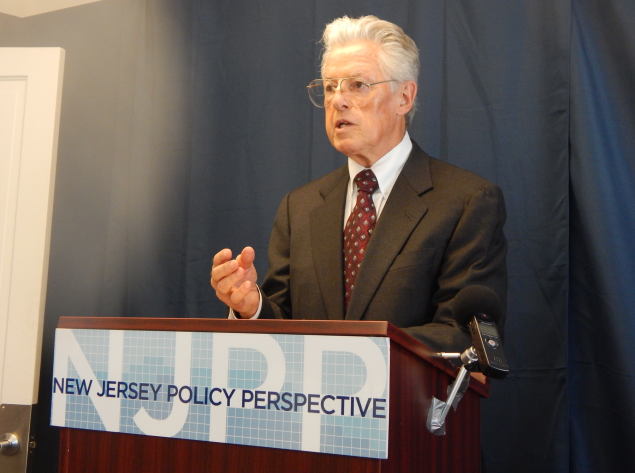 TRENTON — Former New Jersey governor Jim Florio joined members of liberal think tank New Jersey Policy Perspective Wednesday as they released a long-term study of the state's borrowing habits. The group's report argues that nine key court decisions have contributed to the state's economic decline over the last 20 years by allowing lawmakers to neglect payments into its public pension system.
The NJPP report characterizes that change as "the intentional, systematic and large-scale raid by governors and legislatures of both parties of the assets that had been set aside for the funding of pensions and retiree health benefits for hundreds of thousands of public employees."
NJPP traces the state's trouble paying its pension obligations back to a 1994 income tax cut of 30 percent that cost the state roughly $14 billion in revenue in its first ten years. Subsequent legislation significantly reduced state and local governments' contributions to the state pension system—a situation that they say motivated the state to take out then-unprecedented long-term bonded debt to patch over holes in its budget. Pension benefits, meanwhile, continued to grow.
The Court eventually ruled against allowing the practice of borrowing the fund the budget, but the decision was not retroactive and left those debts in place. Moody's downgraded New Jersey's credit rating a record ninth time last year, citing the pension shortfall. Florio, who served as governor from 1990 to 1994, described that initial tax cut as the root of the state's current fiscal gridlock.
"A tax cut obviously loses revenue, unless you go with supply-side economics and think it's going to generate revenue. Which it did not.  The revenue was not paid for," Florio said. "Generally if you cut revenues, you have to cut programs. We did cut programs, cut the taxes, lost revenue and therefore nobody paid into the pension fund."
"We've had to come up with all of these exotic things to try to deal with that problem. I'm the last governor to fully fund the pension fund."
Former state treasurer Clifford Goldman joined Florio that afternoon, saying "today's problems were predictable two decades ago, just as tomorrow's problems are predictable today." Goldman served under Governor Brendan Byrne.
The pension system, he said, is on course to run out of money within ten years.
"In 2024 there will be zero money in the pension funds and an $8 billion obligation to the reitrees," he said. "If we stop paying 800,000 people their pension, we're going to create a catastrophe.
"All three branches are responsible for creating this problem," he added.
The question of whether to fund the pensions or fully fund other areas of state spending has become an either-or proposition. Lawmakers have been at a stalemate over how to fund the nearly insolvent Transportation Trust Fund, a stumbling block that led Senate President Steve Sweeney (D-3) to delay a Senate vote on a constitutional amendment to require quarterly payments into the pension system.
Governor Chris Christie recently moved to end tax breaks for commuters between New Jersey and Pennsylvania in order to shore up a $250 million budget hole left after the state's teachers' union did not concede to his proposed cuts.
See the group's full report, which traces the evolution of the state's bonded debt and pension debt across several administrations, here.