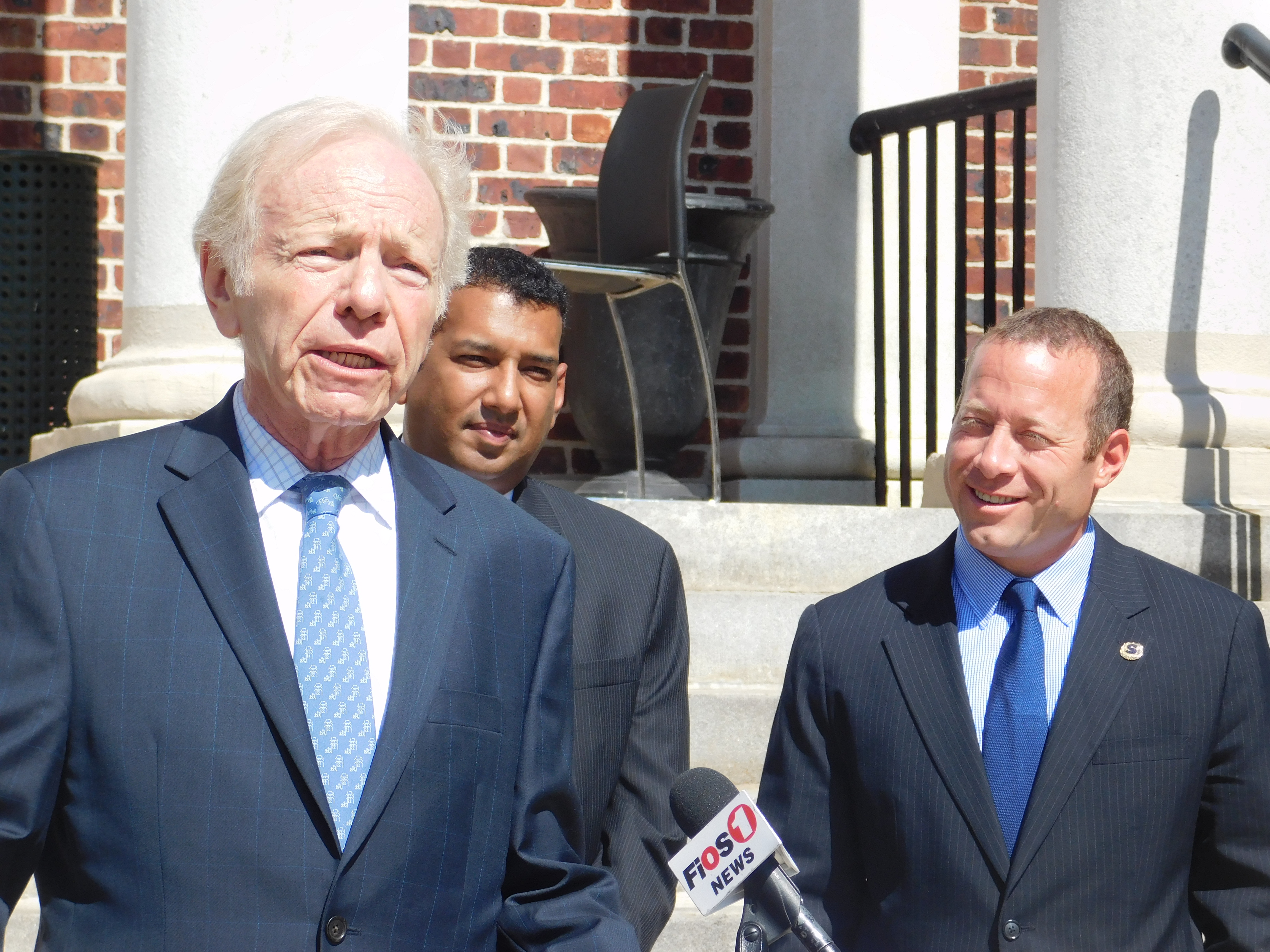 TEANECK- While former Connecticut Senator and vice presidential candidate Joe Lieberman is one of the national leaders of No Labels—a non-partisan group focused on crossing party lines to create a more effective government in the United States—in August he decided to support the presidential campaign of former Secretary of State Hillary Clinton over Republican Donald Trump.
Before he made the endorsement official, reports swirled that the man who once ran alongside Al Gore might back Trump in the same way he opted to endorse former Republican presidential candidate John McCain in 2008.
"It is funny. I was focused on working for No Labels but then people began to ask me 'Why aren't you supporting Secretary Clinton's campaign?' I always intended to so I decided I better just announce it," Lieberman said immediately following an event for New Jersey congressional district five candidate Josh Gottheimer. At that event, Lieberman represented No Labels as they endorsed Gottheimer over incumbent Scott Garrett and presented him with their "seal of approval."
While Lieberman formerly identified as a Democrat, he was openly disdainful of former President Bill Clinton's 1998 scandal involving Monica Lewinsky. However, Lieberman said that the incident should not mar Hillary Clinton's presidential run. Lieberman also said that Clinton's email "mistake" should not impact public perception of her.
"One was very personal and a mistake as he would say. And the other, I would say is a mistake with the emails as Hillary Clinton has said. She has apologized for it," Lieberman said. "I understand based on some of those public opinion polls that people, unfortunately, seem to not trust her. But, I can tell you as somebody who worked closely with her in some stressful situations, I have total trust in her. If she tells me something, she means it. If she gives me her word, she keeps it. I am not just making that up. That is what I experienced over the years I worked with her."
According to Lieberman, Clinton's record in the senate was one of bipartisanship.
"I have known her a long time and I really worked with her closely over the eight years we were in the senate together and for the four years she was secretary of state and I was involved in foreign policy from the senate," Lieberman said. "I can tell you from that experience that she really reached across party lines to try and get things done, particularly in the senate but also as secretary of state. If you got the Republican members of the senate to speak privately to you today I think a surprising number of them would say that they respect her and they like her."
Like Lieberman, Gottheimer has been vocal in his support of the former secretary of state. According to Lieberman, No Labels decided to endorse the challenger for his "working across party lines" mentality.
"Too often in the political system today in elections the leverage is from partisan groups and ideological groups and special interest groups. When they support a candidate, that candidate owes them something. No Labels is trying to create a counter-pressure here from a genuinely non-partisan group," he said. "Josh really is all about working across party lines to get things done for his district and for the country."
According to Gottheimer, party affiliation will not shape how he approaches what he sees in congress if elected.
"A lot like Senator Lieberman, I'm going to Washington to fight for what's best for us, here in the Fifth District," said Gottheimer during his remarks. "It's why I've already stood up to my party against the Iran Deal, against all the rhetoric about class warfare, and against raising our taxes… Look. Some of these are more traditionally Republican ideas. Some of them are more Democratic ideas. Frankly, I do not care what label you slap on them. If they're right, I'm going to vote for them. If they're wrong, I won't… regardless of whether or not it toes the party line."
The Teaneck event also featured Mayor Mohammed Hameeduddin. According to Hameeduddin, despite the fact that Teaneck is a non-partisan town, he decided to endorse Gottheimer. The mayor said he welcomes any criticism that may follow the endorsement because it means that he "stood for something."
Goals of No Labels include creating 25 million jobs over the next 10 years, balancing the federal budget by 2030, making the U.S. energy secure by 2024 and securing Medicare/social security for the next 75 years.
Disclosure: Donald Trump is the father-in-law of Jared Kushner, the publisher of Observer Media.