Every fall is something of a homecoming. This season, homecoming means a return to painting, although that painting isn't likely to be anything ordinary.
Marian Goodman Gallery will be showing the work of Ethiopian-born Julie Mehretu, whose pictures range through a spectrum from architectural sketches to classic Kandinsky-inspired abstraction. The show's title is "Hoodnyx, Voodoo and Stelae"—a set of references to religion and mythology that Mehretu will explain at the opening on September 22.
Always present is the sign that Mehretu's hand has been there—sometimes as if it's haunted by the marks of Cy Twombly, sometimes suggesting still-life in monochrome, sometimes with the foreboding of the Arab Spring and its aftermath surrounding the country where Mehretu was born.
The style to expect from Mehretu this time is grisaille, a rich texture that visitors will find in many paintings, some of them on an imposing scale, that Mehretu has not shown before.
Her work goes on view after her return from the first exhibition of her pictures this summer, with the support of the U.S. Embassy, in Addis Ababa, Ethiopia's capital. It's another twist on homecoming.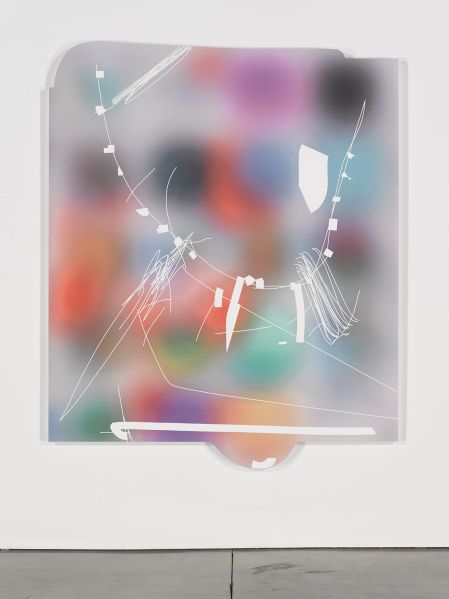 In Chelsea and in Brooklyn, the painter Jeff Elrod will be at both outposts of Luhring Augustine Gallery with "This Brutal World," the latest in Elrod's explorations of abstract painting, which began with the influence of super-graphics and video game imagery, following those works with what he called "frictionless drawing," created with a computer mouse. Working with Adobe Photoshop and Illustrator, he makes digital drawings that he then affixes to canvas with tape and acrylic paint. In his paintings, Elrod reworks digitized imagery onto canvas with an inkjet printer, exploring the territory between conventional painterly space and the "virtual canvas" of the computer.
Luhring Augustine's Chelsea show will present new paintings that reflect the Dallas-born Elrod's digital and analog processes. In its Brooklyn space, the gallery will show the artist's "blur" paintings from the "Dream Machine," a device created by Brion Gysin and the scientist Ian Sommerville in 1959 (and featured at the New Museum in 2010). The machine uses oscillating light frequencies to stimulate the optical nerves while the viewer's eyes are closed. Elrod turned his original drawings into blurred images ("blur paintings") in the form of colored soft cloud-like shapes.
In the vast halls of Hauser & Wirth on 18th Street in Chelsea, Rashid Johnson depicts crowds of anxious figures in rows on white ceramic tile in "Fly Away." The anxious faces of those figures, in black soap and wax, bear the imprints of Alberto Giacometti, Jean Dubuffet and Jean-Michel Basquiat. Also on white tiles in the galleries is Falling Men, figures upside-down that Johnson composed in the style of blocky geometrically constituted characters in early computer games. The modular stick figures also look like moving targets at shooting ranges and carnivals, casualties of a process that Johnson never makes specific. Every man a target?    
Johnson exploits the massive space at Hauser & Wirth to show his grand Escape Collages, in tropical colors, which call to mind his childhood fascination with palm trees as symbols of an ideal place that was softer and warmer than his native Chicago.
Inspired by the blues ballads of longing and escape sung by Robert Johnson and other greats of the Depression era, "Fly Away" has a performance component, attached to Antoine's Organ, an architectural grid that rises to the ceiling with books, video screens, ceramic vessels and live plants. The installation refers to Rashid Johnson's friend, the musician Antoine Baldwin, also known as Audio BLK, who will perform on the keyboard in the galleries.   
Nearby, at Tanya Bonakdar Gallery, three floors will be dedicated to the legacy of the French scientist Louis Pasteur, an admittedly unlikely figure for an art world tribute. "Slavs and Tatars: Afteur Pasteur" is the work of the Slavs and Tatars collective, based in Berlin. Two gallery floors will be a meditation on purity and impurity in the tradition of the man who gave his name to pasteurization. Implicit in the show is the assumption that if milk can be pure, it can also be sour. As the show's organizers put it, the exhibition "will muse on such varied themes as fermentation, international politics, militarization and sexuality." Analytic and satirical, with the playful visual vocabulary of dada, "Afteur Pasteur" focuses somewhat arbitrarily on Eurasia, the landmass that Slavs and Tatars describes as extending from Berlin to the Great Wall of China.
Downstairs, the basement for the duration of the show is a milk bar, serving ayran, a fermented dairy drink, popular in the Caucasus region and Central Asia, "turning to the processes of pasteurization and souring to underscore the rotten state of current political discourse." That's a mouthful.   
If "Afteur Pasteur" is about the reach of science and empire, the Gagosian Gallery continues to extend its global reach with an exhibition devoted to John Chamberlain's work in mangled automobile metal opening in Geneva and the massive metal structures of Richard Serra on view in London.
In New York, Gagosian will show Sally Mann's photographs of spaces where Cy Twombly works in western Virginia, where both artists were born. Mann's black and white photographs over the years have observed the landscape of that picturesque corner of the world and the people in that landscape who are close to her, often very close. Twombly, a friend and mentor, returns to the region every summer. The show, which in places incorporates the color in Twombly's work, is a look at the places within that place that are special for Twombly, a new kind of intimacy from Mann that some might not have anticipated. It's also a contribution to the long tradition of artists depicting artists' studios.   
Also in photography, "Robert Polidori: Ecophilia/Chronostasis" at Paul Kasmin Gallery looks at landscapes, in this case the landscapes that Polidori calls "dendritic cities," the urban ensembles that expand by sheer chaotic accretion rather than planning. Combining the practices of photography and cartography, Polidori has assembled 22 images into a panoramic mural of a Mumbai street known locally as "60 Feet Road." In another picture, Amrut Nagar, Polidori combines four panels to give us a 180-degree view of a congested urbanized mountainside.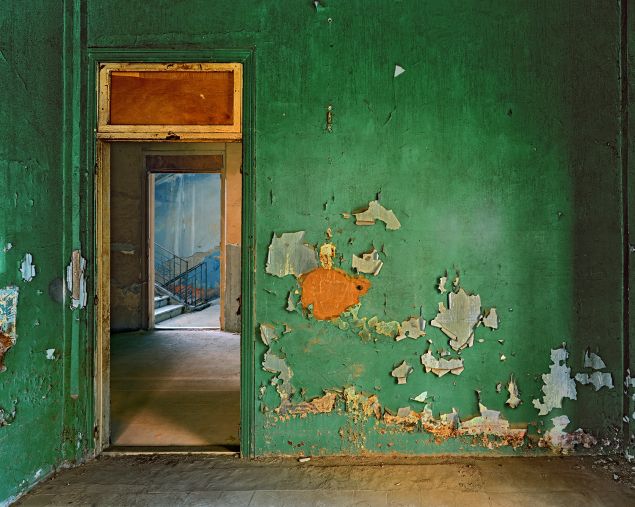 Nick Relph has also observed the textures of the urban landscape, with images of skyscrapers with extra facades or amputated sections.
With his first one-man museum show (at the Aspen Art Museum) now almost two years behind him, Relph promises some new explorations of surface and variation at Gavin Brown's Enterprise on Grand Street. Relph recently designed an album cover with Matthew Cooper for the British band Hot Chip's latest album, Why Make Sense? With every vinyl pressing, the cover's colors came out different. Who expected an algorithm to nudge us into rethinking the notion of uniqueness?
In Brooklyn, you can expect a jolt from "The Present is the Form of All Life; The Time Capsules of Ant Farm and LST," at Pioneer Works in Red Hook. The show takes its title from a line spoken by a robot in Alphaville, Jean-Luc Godard's futuristic film from 1965, and the experimental designs and media art on view are by a group of architects who took the name Ant Farm in the 1960s.
Ant Farm's best known work is Cadillac Ranch, an iconic line of partially submerged Cadillacs painted in glowing colors and implanted in 1974 in a field outside Amarillo, Texas. Chip Lord, Hudson Marquez and Doug Michels were committed to an alternative practice of architecture, which they documented every step of way on videotape. It was the beginning of media art.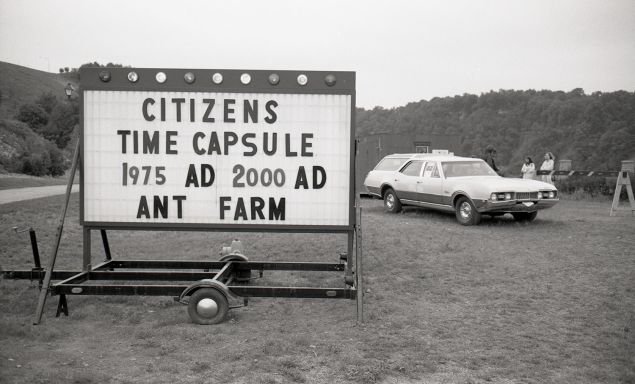 The group, which championed inflatable architecture, also designed a futuristic house outside Houston, House of the Century (1972), which blended elements of a submarines, spaceships, alligators and vintage Fords—in concrete poured over a steel frame. The house became a ruin after it was damaged in a serious flood in 1985.
In its salute to Ant Farm, Pioneer Works will exhibit an inflatable space created by LST, a successor group to Ant Farm formed by some of its members. In that space, visitors can see Ant Farm's time capsules, in which the group assembled and mocked consumer objects that, for better or worse, had come to be seen as symbols of American culture.
In the 1970s, Ant Farm created a "Media Van" designed to travel around the country, creating alternative television with the technology of the time. Now, along with the mythology of that mobile media vehicle, we will witness the rebel group's reconstitution as LST, in digital mode. It should be quite a ride.