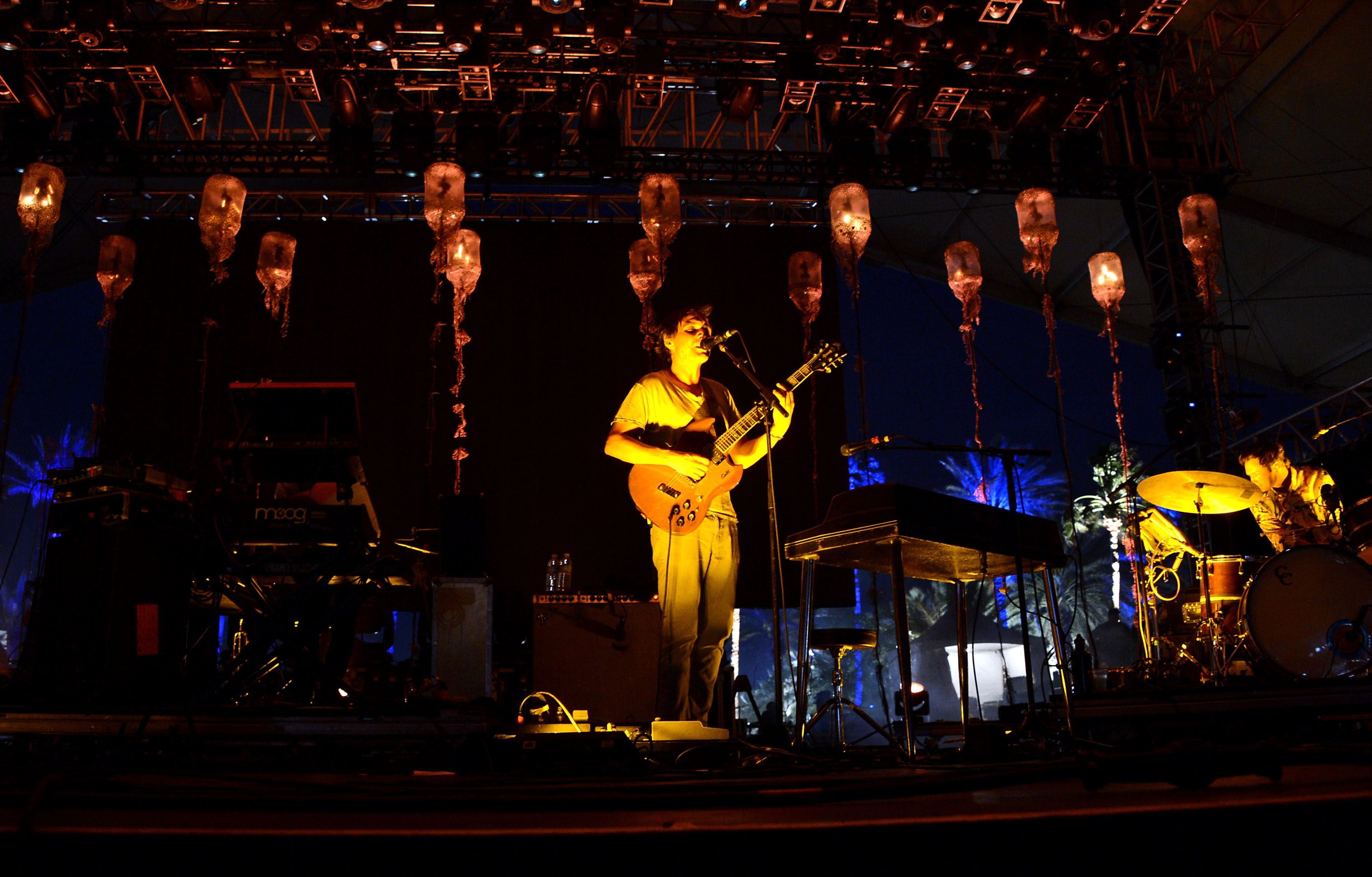 Something strange happens when the 10-year anniversary rolls around of an album that came out while you were in college—you discover what it truly means to "feel old."
I'd had glimmers before, sure. Pop music has grown less and less distinguishable to me with each passing year, while new social networks keep birthing new catchphrases and new Urban Dictionary entries that I don't understand. As cultural consumers, the college-aged lot today seem to equate the "accept everyone" ethos of hyper-PC culture with an "accept everything" mentality about art that doesn't leave them with anything left to question. But maybe I'm just feeling old.
Whatever the case, Grizzly Bear's near-perfect sophomore album, Yellow House, turns 10 this Labor Day, which makes me misty-eyed just thinking about 2006. Their first LP, 2005's Horn of Plenty, was basically an Ed Droste solo record with overdubs from the other memebers that no one had really heard, but a couple of tracks from its subsequent remix album were played on Emerson's radio station, WERS, and we at least knew who Grizzly Bear were.
But when Yellow House was released in early September 2006 on the day after Labor Day, that all changed. For one thing, they had just signed to Warp Records, a British label primarily focused on IDM and electronic releases that was starting to branch out and sign more eclectic acts. Warp had a huge reach, and Newbury Comics record stores across Boston were stocked full of Yellow House.
As an evolution from frontman Droste's largely solo recording process for their debut, Grizzly Bear was finally a full band. If Animal Collective manifested a magical, weird door for a resurgence in psych-folk's popularity, Grizzly Bear walked through that door before calmly destroying it with dulcet harmonies and genre-defying ease. Droste said in interviews that he never even knew who Animal Collective were at the time, and his unfamiliar, outsider approach to realizing these songs ultimately paid off, giving the band a new sonic palette that only became more expansive with future albums.
Brian Wilson never really got to realize his ambitious sonic arrangements from Smile! until years later, but Yellow House showed Grizzly Bear capturing their own distinct take on that sense of orchestrated grandiosity while they were still young and the wounds were still fresh.
Recorded in Droste's mother's yellow house in Cape Cod, Mass., the album's title can also be seen as joking expansion of the prior record's genesis as a bedroom recording—now they were using the whole house.
[youtube https://www.youtube.com/watch?v=Kzmqtd-oj6Y?list=PLRI-Tc2GXJty3N2x1aZylieqtmwBP3VXl]
Yellow House's songs also made more structural use of sonic phrases and repetition than anything else under the "folk" umbrella at the time. While Arcade Fire had broken out of Canada the year prior with Funeral's immediate, ornate orchestral arrangements, Grizzly Bear took their time letting these songs shuffle along.
Opening track "Easier", with its overture of woodwinds and rollicking piano, possesses a timelessly transportive quality that conjures a vintage, borderline Vaudeville sensibility. Considering how Droste invited his new band of Christopher Bear, Daniel Rossen and Chris Taylor into his mother's place to make this album, with its often intimate, etheric portraits of family life, the overall effect is that of a lucid journey through the personal bonds of family and togetherness.
There are moments on Yellow House where that vibe gets voyeuristic. Droste's cro0ns on "Knife" suggest dark lyrical themes similar to those sung by early '60s girl groups like The Crystals, whose popular song about Stockholm Syndrome, "He Hit Me (And It Felt Like A Kiss)" would be recorded by the band during the Yellow House sessions and subsequently released on their Friend EP a year later.
Placed on the record after the more suite-like "Easier" and "Lullabye", "Knife" arrives as a shock to the system with its verse-chorus-verse structure. And as its lush and gorgeous slow-dance rolls on, Droste's lyrics suggest that not everything is as it seems in that yellow house as he steps into the shoes of an abusive manipulator—"I want you to know, when I look in your eyes/With every blow, comes another lie/Do you think it's all right?"
Whatever the origin of these lyrics, there was a palpable intimacy that presented Droste and the band with a challenge as their popularity grew. "I was scared out of my mind as a performer," Droste told Spin in 2009. "I used to look at the floor and try to hide my body with the guitar. Eventually, I was able to look into the crowd. Then I sort of crouched. Then I was able to perform standing up."
Needless to say, Grizzly Bear in 2006 weren't notorious for their stage presence, but they sounded great and got the chance to play in front of the right audiences. Much of this was bolstered by support from their friends—Leslie Feist, still touring off her wonderful 2004 major label debut, Let It Die, brought Grizzly Bear on a summer '06 tour that rolled through Berklee in June, while Brooklyn's TV on the Radio took them on the road that fall, and both opportunities gave this previously unknown band a chance to perform Yellow House in front of thousands of people.
[youtube https://www.youtube.com/watch?v=YKdcyKhM8zU]
I caught the gig they played with TVOTR at Paradise Rock Club that October, and it remains one of the best shows I've ever seen.
Lack of stage presence aside, Grizzly Bear were hungry, and Daniel Rossen expertly filled out the more densely arranged and orchestrated theme of Yellow House with his thick, rolling, reverb-drenched guitar. The forlorn Americana of his best contribution to the record, "Little Brother", has a clapping and stomping shuffle that sticks out particularly. It's another example of a song with that could equally be a personal confession about family or a more meta-explanation of the band's approach—"Pride of my countrymen/My little brother will be born again/Just give us back our quiet corner."
Meanwhile, "Marla" saw Droste enlist Owen Pallett, the awesomely virtuosic violinist, then still recording under the name Final Fantasy, who wrote and performed the most memorable string arrangements on Arcade Fire's Funeral the year prior. Droste got hip to Pallett after Pallett contributed to a remix of Horn of Plenty's "Don't Ask" for that remix album, but on Yellow House, he was intimately involved in the arrangements on what became a key track. In a move mirroring theirs, Droste's Aunt Marla had moved from Boston to New York in the '30s with the hopes of becoming a singer, to no avail. By the end of the '40s she had drunk herself to death. Droste was given some of her demos by one of her siblings and decided to digitize them, reworking his favorite of her songs into "Marla" with Pallet's help.
"She's looking for things before [my great grandfather] goes on a trip to teach at a university," Droste told the blog Said The Gramophone in '06 over instant message. "I believe that's what the song is about. She's running around the house, fetching his things. Funny to think he'd travel with his file/drill and clam shells."
This intimate sense of community extended far beyond the Grizzly Bear themselves back then, too. Headliners TV on the Radio were another Brooklyn band, then touring on their fantastic Interscope debut, Return to Cookie Mountain. That record was a high point in their discography because it sounded warm, with call-and-response vocals, drum-circle vibes and minimal imposition of slick, overproduced mood-killing production. Their sound was miles away from Grizzly Bear, but their love of snowballing sonic themes into movements, and their love of evoking a physical space for your ears to spend time in, was cut from the same cloth.
Some of this might have come from the bands both being based in Brooklyn. Grizzly Bear and TVOTR certainly weren't the only bands to live there in the early 2000s, but they emerged as unwitting figureheads of that trending period when successful independent artists would move to the borough, and they showed a whole new crop of emaciated NYU students that leaving Manhattan was trendy.
[youtube https://www.youtube.com/watch?v=HqVTx8kAG5o]
"I like it, there's friends, but it's not like everyone gathers around and is like 'hey, let's have a jamboree,' " said Droste in a 2006 BrooklynVegan interview. "I don't like that there are so many labels attached to the area, both good and bad. But I do like being around so much great music, it's really exciting. It motivates me."
That excitement was audible in the mood on Yellow House, even at its most morose moments of vintage remembrance. We kids going to school in Boston found common ground in its depiction of New England life and relationships, where just beyond the seemingly Norman Rockwell-esque iconography of a house on Cape Cod or a great aunt collecting shells for someone's trip, something heavier and darker was happening. Just like Marla, many of us Emerson students were drawn to New York, with all of its possibilities and likeminded creative souls. And just like Droste, we didn't care much for labels.
Much has changed here in the last 10 years—the high cost of living no longer makes Brooklyn an ideal place for musicians to discover each other, and a year after this record, Bon Iver would tell his mopey origin story about his self-imposed isolation with For Emma, Forever Ago, effectively blowing up and rendering the "indie" label meaningless by consequence. As of 2014, that yellow house was on the market, too. But despite all of that, Yellow House remains a reminder that communities have the power to inspire, and that reflecting on your personal history always brings new meaning to the present. You can't put a price on that.