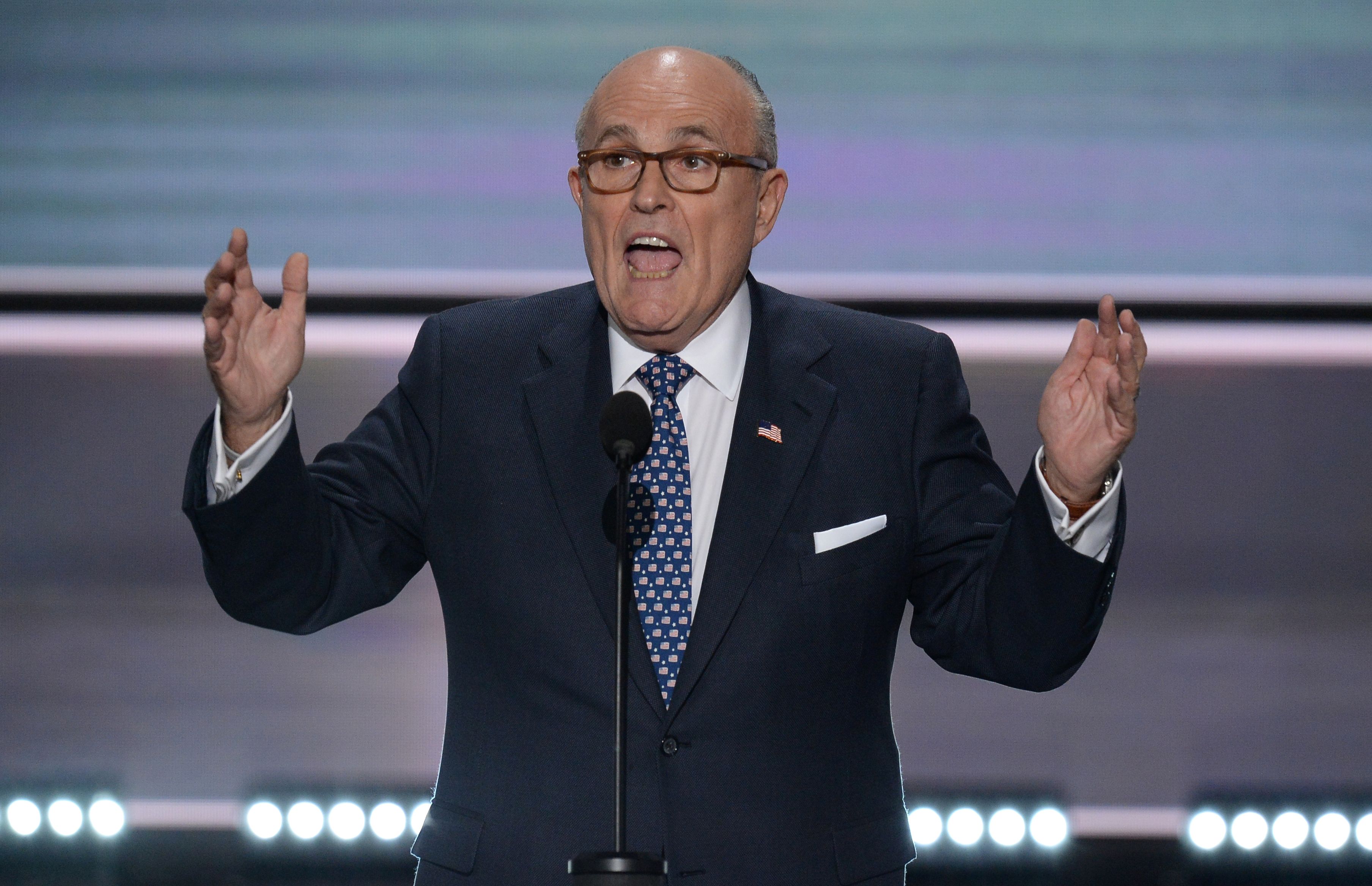 Former Mayor Rudolph Giuliani was invited to a financial services trade group's award dinner last week to speak about leadership—but instead delivered a political speech that strayed so far from that topic the group felt it necessary to apologize to its guests.
On Monday, the Commercial Finance Association sent out an email apologizing for the "unscripted personal opinions" that Giuliani, a prominent supporter and close adviser to Republican presidential nominee Donald Trump, shared with the crowd at their 40 Under 40 dinner at the Waldorf Astoria Hotel.
"At CFA's 40 Under 40 Awards last Thursday night, keynote speaker Rudolph Giuliani veered sharply off course from the leadership message he agreed to deliver and presented unscripted personal opinions which were independent of CFA's political position or core values," Bob Trojan, the group's CEO, wrote in an email sent to attendees and forwarded to the Observer. "While we, the event organizers, made every attempt to direct Mr. Giuliani's remarks ahead of time to focus on leadership, for which he is renowned and has authored a book, there is always the possibility of such a surprise at a live event."
The note continued: "For those of you who were offended by Mr. Giuliani's remarks, please accept my sincere apology."
The apology for Giuliani's speech was sent Monday, just a day before the Commercial Observer reported that Giuliani had been axed as the keynote speaker for a conference held by the International Council of Shopping Centers—following letters from real estate professionals who deemed him divisive for his outspoken support of Trump.
The remarks Giuliani made to the Commercial Finance Association Thursday have not been publicly reported. But an attendee told the Observer the crowd was "shocked" by Giuliani's comments and that some people began complaining about his speech almost immediately after it was over.
"Rudy talked about immigration and made a really, really inappropriate comment about the quote-unquote Mexicans in the kitchen at the Waldorf," the attendee said. "It was bad. You could hear a pin drop. I think he was looking for applause."
A second person in attendance also recalled a remark about Mexicans coming to the country to work illegally in kitchens.
In his apology email, Trojan does not make any specific references to what Giuliani said—but he included an entire paragraph decrying discrimination in an effort to "underscore and clarify CFA's beliefs and political approach."
"CFA abhors discrimination of any kind whether it is focused on race, age or gender. We are a nonpartisan organization with relationships spanning both sides of the aisle, which is vital to ensure that our positions are understood no matter which party is in office. These beliefs and approaches will never change," the email reads. "You participated in our 40 Under 40 Awards because you support CFA's effort to attract and retain the next generation of talent by illuminating and celebrating their achievements. You want to encourage young people, regardless of ethnicity, age, gender or religious belief to embrace our industry."
The attendee who related the kitchen remark said Giuliani seemed to be a poor choice to speak at the event for young financial professionals—the speech was not at all tailored to the audience, and focused on issues like immigration and terrorism rather than Giuliani's leadership of New York City.
"We got old school Rudy," the attendee said, "and Trump, Trump, Trump."
Giuliani has courted controversy recently in his role as Trump's attack dog. After Monday night's debate between Trump and Democratic nominee Hillary Clinton, Giuliani said that if he were the candidate, he wouldn't agree to the next two debates unless the moderator backed off. The former mayor, who ended a marriage amid an affair and informed his then-wife of the split via a press conference, also said if he were debating, he would have brought up former President Bill Clinton's affair with Monica Lewinsky. He went on to call Clinton "too stupid" to be president.
And over the summer he was met with harsh criticism for his comments about Black Lives Matter protesters, calling the group "inherently racist." Earlier, he took heat for saying President Barack Obama "doesn't love America"—and that the president (who Trump for years insisted was not born in the United States) "wasn't brought up the way you were brought up and I was brought up."
Disclosure: Donald Trump is the father-in-law of Jared Kushner, publisher of Observer Media.