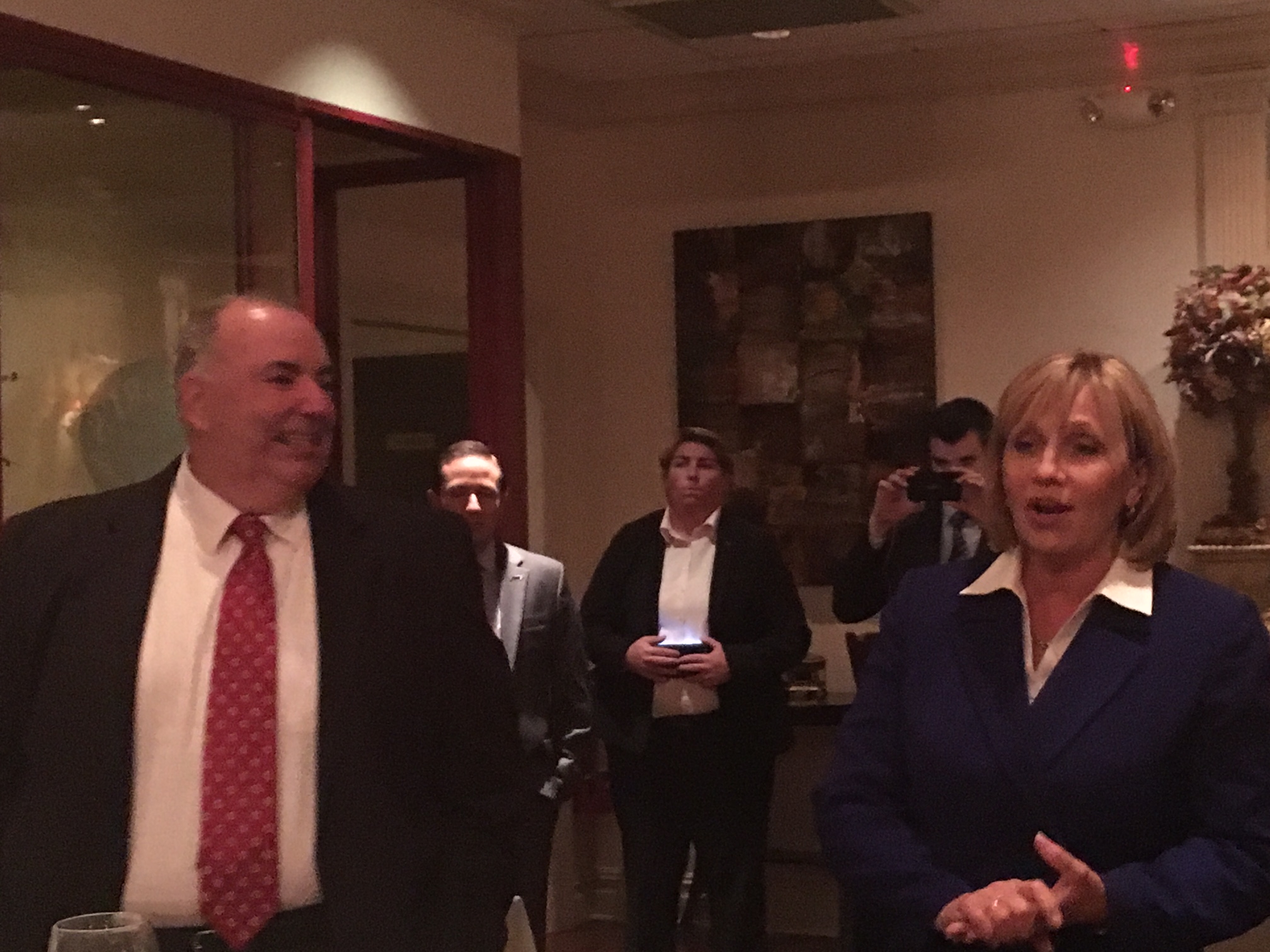 NEW MILFORD – Bergen County Republicans crowded the New Bridge Inn on Thursday evening to kick off the battle for legislative district 38. While that election won't be held until 2017 and there are no candidates currently announced, district 38 Republican Chairman Jim Arakelian said he is ready to begin building the momentum needed to score a Republican victory over incumbent Democrats Assemblyman Joe Lagana, Assemblyman Tim Eustace and state Senator Bob Gordon.
While the event drew the likes of Bergen County Republican Chairman Paul DiGaetano, state Senator Gerald Cardinale, Fair Lawn Mayor John Cosgrove, Freeholder Maura DeNicola, Assemblyman Bob Auth and former Freeholder John Mitchell, among others, the special guest for the evening was Lieutenant Governor Kim Guadagno.
"This is a great turnout for 38 in an off year," Guadagno said.
The lieutenant governor also told the crowd that district 38 was a critical win for next year's election.
"We know that Bergen County is the place where elections are won and lost," Guadagno said. "We know that this year we have the opportunity to come together under a single chairman [Paul DiGaetano] who worked very hard to be elected and is now working very very hard to make sure all of you get elected. Don't tell me you can't win in the 38th because in 2013, the Christie/Guadagno administration won in the 38th so it can be done. It has to be done because we need to send more good Republicans to help other good Republicans turn the state around."
While the lieutenant governor has made no official announcement regarding whether or not she will seek the governorship in 2017, her remarks did allude to a possible run in that race. She said that "if the time comes, when the time comes" she will make the decision known. In her remarks, Guadagno discussed her record working alongside New Jersey Governor Chris Christie. Guadagno said that one of the hallmarks of the administration throughout the years has been his ability to respond to trying situations "without ego" or delay. In order to support that statement, Guadagno cited the response she and the governor had on Thursday morning when a train accident in Hoboken left one dead and injured over 100 more.
"What I saw today was an amazing act of courage by everyone on every level but also a testament to how many years we have all worked together, both New York and New Jersey and, frankly, the governor's cabinet to make sure when emergencies hit we act quickly," Guadagno said. "If nothing, this morning was a tragedy in many different ways, but if you had to find something good about it you found true leadership in what we brought to the table… Quite frankly I was in on all of it so I am going to take a teeny bit of credit."
The legislative district 38 kickoff also featured a presentation of two awards that Arakelian said will become annual. One award, the district 38 leadership award, was presented to former Bergen County Executive Pat Schuber. The other award, the rookie of the year award, was presented to Hasbrouck Heights Mayor Jack Delorenzo.
In 2015, legislative district 38 assembly racewas considered one of the most competitive races in the state. However, when an offensive book written by candidate Anthony Cappola came to light, Republicans were left with no clear path to victory. In 2017, Arakelian said he hopes to bring competitiveness back to the district and that he hopes to get Republicans elected.