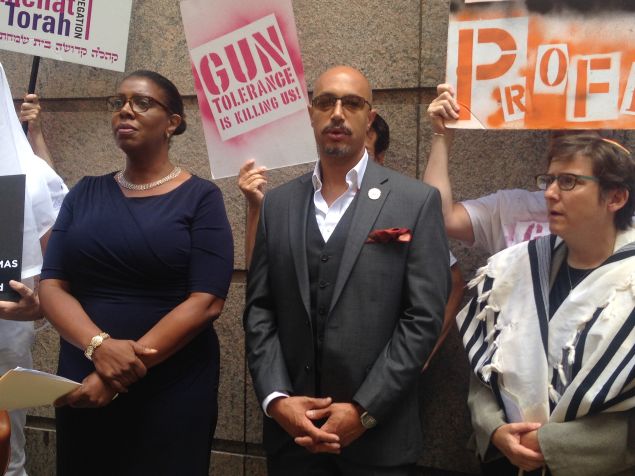 Kirsten John Foy of the National Action Network and Public Advocate Letitia James blasted the National Rifle Association's "stronghold" on Congress at a protest against a firearms manufacturer with ties to the pro-weapons lobbying group today.
Gays Against Guns—a group that describes itself as seeking to end gun violence through reforms like universal background checks and a reinstatement of the assault weapons ban—organized a protest consisting of LGBT groups, anti-gun advocates and religious leaders to protest today's scheduled appearance by Smith & Wesson at an investor conference at the Omni Berkshire Place Hotel in Manhattan. LGBT groups have increasingly taken on the issue of gun violence in the wake of the the mass shooting at Pulse, a gay nightclub in Orlando, in June.
Smith & Wesson, the group said, is a member of the NRA's Golden Ring of Freedom, indicating that it has donated at least $1 million to the group.
The group claims that in a September conference call with stock analysts, James Debney, Smith & Wesson's CEO, called the company's first quarter, which ran from May 1 to July 21, "busy and exciting times for our company" and that the company was looking forward to the "busy buying season coming up." 
But the group noted that during that same quarter, 49 people were shot and killed at Pulse in Orlando, five police officers were shot and killed in Dallas and three police officers were shot and killed in Baton Rouge. They also noted that Smith & Wesson weapons were used in the 2015 killings of 14 people in San Bernardino, Calif. 
"These kinds of murders are the best thing in the world for companies like Smith & Wesson. These kinds of murders and the NRA hype people up to go buy guns when these sorts of slaughters occur and that's what led to his increase in profits," Jay Walker, of Gays Against Guns, said.
Foy, who previously served in the administration of then-public-advocate-now-mayor Bill de Blasio, blasted "Congress and every other elected official that has rolled over and played dead while our children are really dying." He called for a "no fly, no buy" list—banning people on the federal terror watch-list from buying firearms—and universal background checks and an assault weapons ban.
He also condemned the prominence of the Second Amendment over the First Amendment, saying the former has been treated by America as a "commandment from God."
"We're here to say that the stronghold that the NRA has on Congress has a direct impact on the very lives of our children," Foy said. "And Congress, who have abdicated their responsibility to lead, to lead on gun violence, to lead on hate and to leaden discrimination. They've abdicated that responsibility and they've gone home."
James urged people to stop banking with TD Bank, which she said has loaned $300 million to Smith & Wesson and called on the Securities and Exchange Commission to investigate the possibility that the company "was hiding the inherent risk associated with their products to investors." 
Mocking the theme of the conference—"best ideas"—she rattled off a list of ideas which garnered cheers of "Yea!" at each suggestion, which included investing in affordable housing, universal pre-K, higher education, schools, bridges, roads, human infrastructure to "disinvest from guns."
"Congress has been hijacked by special interests. They've been bought and sold," James said. "And it's now up to all of us, all of us in every city, in every state, it's now time for America to take back Congress and demand action and save the lives of children. Too many have died."
When asked by the Observer to name elected officials who have failed to act on sensible gun legislation, they both put the blame squarely on House Speaker Paul Ryan and Senate Majority Leader Mitch McConnell. Foy said they are both responsible but started by targeting Ryan.
"He's the one that says it's OK for Congress to work the least amount of days in this history while we have maximized the number of deaths on our streets," Foy said. "In my opinion, the buck stops with him. He's obstructing the president from getting legislation passed." 
James echoed similar sentiments, noting that the two "set the agenda."
"They set the agenda for the United States Congress and the fact is they're setting an agenda of inaction," she said. "Inaction is just unacceptable."
Leah Gunn Barrett of New Yorkers Against Gun Violence encouraged voters to support representatives who will work against the gun lobby and noted that companies Smith & Wesson do not have to be "responsible corporate citizens" given the legal immunity granted to them by Congress in 2005. 
"They pushed for this immunity because they didn't want to be sued by cities like New York City, LA, Chicago, the rest of the country who see guns flooding into their communities as a nuisance, as a cause of widespread death, destruction and destruction of communities, which is really what's happening across our country," Barrett said. "And it's not just the big cities, it's across the United States and we've seen that time and again."
Smith & Wesson did not respond to a request for comment.