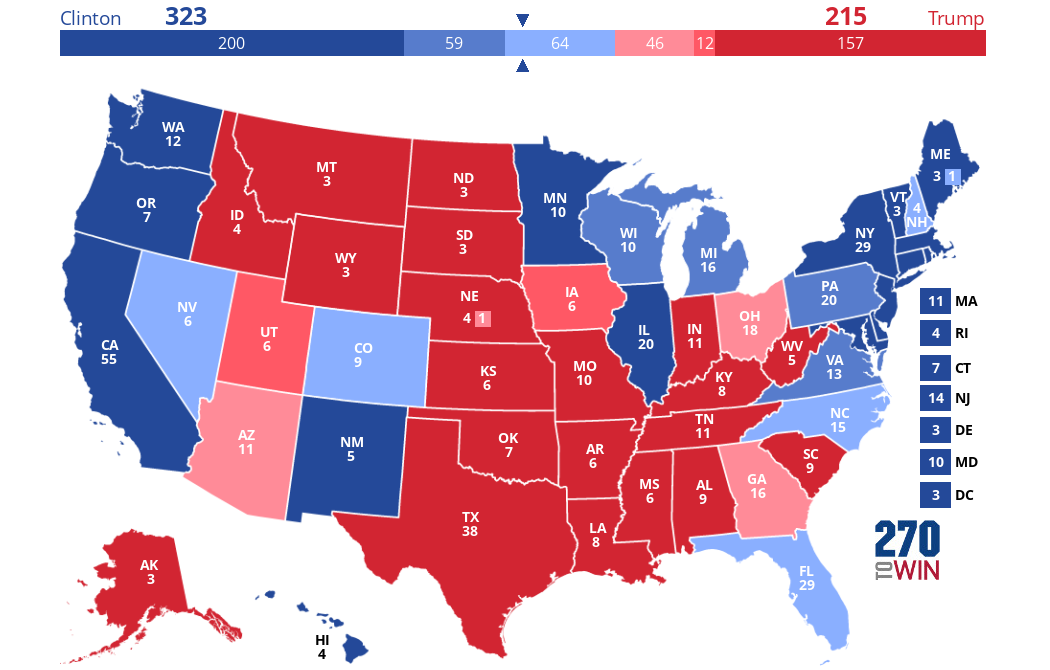 Click the map to create your own at 270toWin.com
With the passing of the traditional Labor Day kickoff to the home stretch of the fall campaign, The Party Crasher now projects that Clinton is safely ahead in nearly enough states to win the election in two months.
While the projected electoral vote totals have remained the same (348 for Clinton and 190 for her Republican opponent, Donald Trump), the number of electors now viewed as safe for Clinton have risen from 207 on June 20 to 262 today. This total does not include the remaining locales, with 86 more electors, where Clinton appears to be ahead. With 270 electors required to win, some sort of massive setback between now and November 8 would be necessary to deny Clinton the White House.
The Party Crasher has arrived at this conclusion by using a general rule of thumb: Any state in which one candidate or the other currently has an average lead at Real Clear Politics of about eight percentage points (in a four-way race including Libertarian Gary Johnson and the Greens' Jill Stein) can be considered safely in that candidate's column. There are a handful of exceptions, which will be discussed below. But first, let's take a look at the states whose ratings have changed since the initial map was published in June.
Most notably for Clinton, five states with a total of 56 electoral votes have moved into the "Safe Democratic" category since June: Pennsylvania (20 electors); Virginia (13); Minnesota (10); Colorado (9); and New Hampshire (4). In every one of these states except Minnesota, where there is little in the way of recent reputable polling, her average lead is at least eight points, except for Pennsylvania, but The Party Crasher expects that the Democratic leads in Philadelphia and Pittsburgh will be too large to overcome. Minnesota—which has not voted Republican for president since 1972—is also being moved into the "Safe Democratic" category at this time.
Every one of these states except Virginia had been characterized as "Likely Democratic" in June; Virginia, at that time, was considered "Leaning Democratic," but polling in the Old Dominion has broken heavily in Clinton's favor, and her average lead there is now nearly eight points, largely due to an outlier that has her leading only by one point.
There has also been movement in Clinton's direction in some places that must be decidedly disturbing to Republicans. Trump's average lead in Missouri is around three points, moving the Show Me State from "Likely Republican" to "Leaning Republican." And perhaps to the horror of the GOP, two recent polls in South Carolina, one of the staunchest red states in America, have shown Trump's lead at two and four points, moving the Palmetto State from "Safe Republican" to "Leaning Republican."
Trump has improved his position in a handful of locales, some of which he was already expected to win. With Trump holding leads of 11 points in the most recent polls in Arkansas and Indiana, those two states move from "Likely Republican" to "Safe Republican." Arkansas was always a long shot at best to be competitive, and it appears that the Clintons' historical ties are not going to make any dent toward counteracting the Diamond State's recent rightward lurch. With these changes and the movement of South Carolina out of the "Safe Republican" category, Trump looks like a safe bet to win 141 electoral votes, up from 133 in the June 20 forecast, and he's favored to win 49 more.
The Party Crasher has also moved Nevada from "Likely Democratic" to "Leaning Democratic" due to Clinton's 2.3-point average lead in the state's recent polling. Initially, this columnist considered Nevada even a better bet than Colorado to stay Democratic in 2016 due to its large Latino population; however, Nevada also has a much higher percentage of white voters without college degrees than Colorado, and this factor appears to be keeping Trump's hand in at the table in the Silver State.
Additionally, the single electoral vote in Maine's 2nd Congressional District has moved from "Safe Democratic" to "Likely Democratic" on the strength of a poll by the Portland Press-Herald in late June showing Trump ahead by a single point. While The Party Crasher looks at the history of this district and expects it ultimately will end up in the blue column, as it has in every election since 1988, this columnist has learned not to completely discount the Press-Herald's polling, which accurately forecast the election of U.S. Rep. Bruce Poliquin in 2014.
All other ratings remain the same, though some explanation is required regarding Michigan, Texas, Montana and the 2nd Congressional District of Nebraska.
Michigan remains characterized as "Safe Democratic," even though Clinton's recent polling leads have been smaller than eight points. Michigan's historical pattern in recent decades has almost always shown significant movement in the Democratic direction in the closing months of a campaign.
Texas remains characterized as "Safe Republican," despite a recent poll showing Trump ahead by only six points. Given the Lone Star State's 40-year history of voting strongly Republican, The Party Crasher would have to see more polling before moving the state in a more Democratic direction.
There is a dearth of polling in Montana and in Nebraska's 2nd District, and so the prior ratings—"Likely Republican" for Montana and "Leaning Democratic" for the Congressional district centered on Omaha—remain in place. The Party Crasher notes that Montana nearly went to Barack Obama in 2008 and that Democrats often win statewide elections for governor and senator in Big Sky Country and, therefore, is not ready to characterize it as safe for Trump at this time. The 2nd District of Nebraska did go to Obama in 2008, and if this election goes decisively to Clinton (as this forecaster expects), such an outcome is very possible again, though it is also worth noting that redistricting after 2010 did make this district more Republican.
Beyond these projections, The Party Crasher also considers it highly likely that Clinton, if she does indeed become president, will have a more Democratic Congress to work with in 2017 than President Obama has had since 2015. This columnist projects, at this time, that Democrats are poised to make a net gain of 13 seats in the U.S. House of Representatives, reducing the Republican advantage from 247-188 to 234-201, and that Democrats also will gain five seats in the U.S. Senate to erase a 54-46 deficit and take control of the chamber, 51-49. Race-by-race ratings, which will be updated each Sunday between now and the election, can be found at ClistonBrown.com
Disclosure: Donald Trump is the father-in-law of Jared Kushner, the publisher of Observer Media.
Cliston Brown is a communications executive and political analyst in the San Francisco Bay Area who previously served as director of communications to a longtime Democratic Representative in Washington, D.C. Follow him on Twitter (@ClistonBrown) and visit his website at ClistonBrown.com