In April, real estate-loving Johnson & Johnson heiress Elizabeth "Libet" Johnson decided it was time she part ways with the Vanderbilt Mansion.
There had been rumors that she was ready to say goodbye to the five-story townhouse for years, but the red brick-and-limestone home didn't officially appear on the market until this spring, when Johnson put a hefty $55 million price tag on 16 East 69th Street. Shockingly enough, it doesn't appear that anyone has yet been able to scoop up the pricy ne0-Georgian-style home, but it seems that Johnson has absolutely no desire to reside within the confines of the 12,111-square-foot space—so much so that she just listed it as a $95,000 a month rental.
The seven-bedroom, eleven-bathroom, 33-foot-wide townhouse is unquestionably luxurious, with a renovation carried out by Peter Marino. There's the black-and-white marble entry floor, the massive staircase, and five wood-burning fireplaces. There are formal dining and living rooms, and of course there's both a chef's kitchen and a service kitchen, according to the listing shared by Brown Harris Stevens broker John Burger and Sotheb''s International Realty broker Serena Boardman.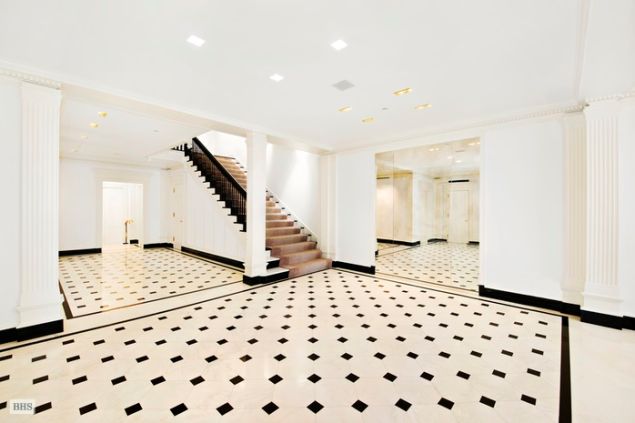 The master suite boasts two marble bathrooms and two custom-fitted dressing rooms, because one is obviously not enough. There's a soundproof seruched oak library (perhaps complete silence is of the utmost importance when lounging in one's library), and on the higher floors are a gym, sauna, steam room and even a hair salon. Because leaving home for beauty needs is very passé.
Once one has finished with all the spa treatments possible, it's time to repair to the finished basement—a Colin Cowie-designed nightclub space, with a full bar. All very practical additions.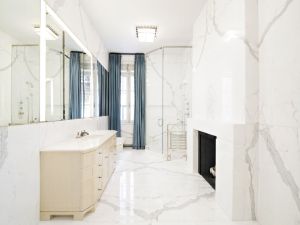 Perhaps past owners give some insight into who might feel at home in the townhouse next—after all, the manse was once owned by Cornelius Vanderbilt's wife Gloria Wynne Vanderbilt (the name stuck, even though they only lived there a few years), and Johnson purchased the home from Beauty.com founder Roger Barnett and his wife, fellow heiress Sloan Lindemann Barnett. There must be a sauna-loving, club-going heir with a thing for beauty salons out there somewhere, just waiting to unlock the doors to their dream home.