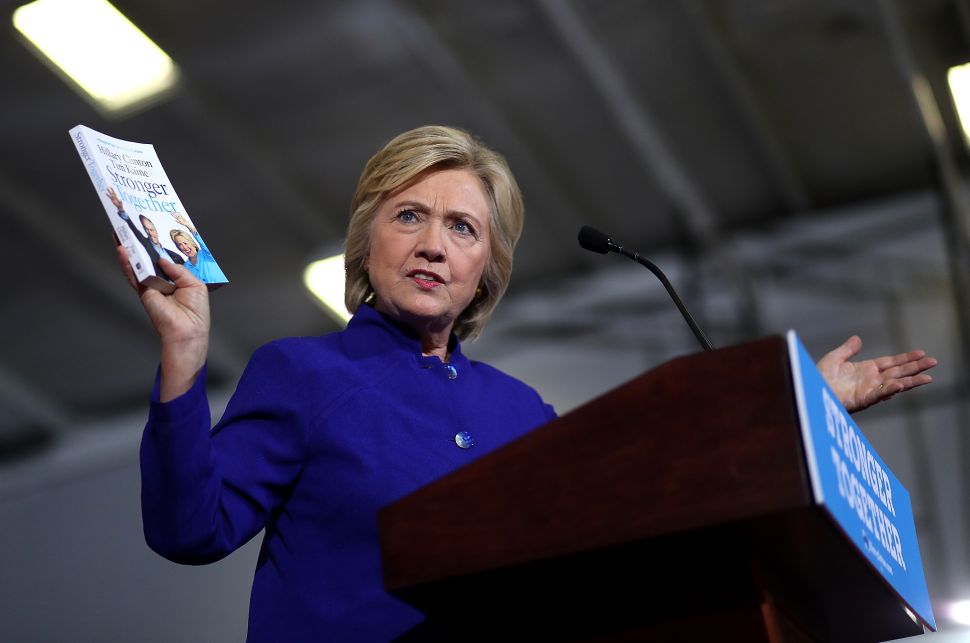 Democratic presidential nominee Hillary Clinton is scolding voters again. Previously, she called "half" of GOP nominee Donald Trump's supporters a "basket of deplorables" that were "irredeemable." Now, in a new video making the rounds on social media, Clinton angrily explains why she isn't running away with the election.
Clinton appeared in a video conference for the Laborers' International Union of North America, which was holding a gathering in Las Vegas. A clip of the segment is making the media rounds.
In the clip, Clinton stops talking about policy and becomes visibly agitated as she asks, "Now, having said all this, 'Why aren't I 50 points ahead?' you might ask."
The answer, according to Clinton, is predictably not that she's a terrible candidate who is historically disliked (second only to Trump) and has numerous scandals and questions of trustworthiness and transparency following her around. No, the answer is that her supporters aren't doing enough to help her. Oh, and Trump supporters need some sort of "intervention," like they're on drugs.
"Well, the choice for working families has never been clearer. I need your help to get Donald Trump's record out to everybody. Nobody should be fooled."
In a portion of the video conference not being circulated, Clinton allegedly told her union backers to "stage an intervention" for anyone they know who is voting for Trump, according to The Washington Post.
"Try to talk some sense into them. Lay out the facts. The facts are on our side, about what I've done versus what he's done," Clinton said. "Remember, friends don't let friends vote for Trump."
Appearing visibly irritated and hostile toward the question many have been asking (especially her supporters in the media) about why she isn't running away with the election will do Clinton no favors.
For weeks, bad news and bad polls have plagued the Clinton campaign, while Trump largely remained unscathed (that has changed recently with his birther comments, his son Donald Jr.'s tweet about skittles and refugees and a report that he used money from his charity to settle legal issues).
Polls now appear to be bouncing back for Clinton. A new NBC News/Wall Street Journal poll, for example, showed Clinton up six points on Trump. The sober data analysis website FiveThirtyEight, however, cautions against judging this as a Clinton rebound.
"In only three of the 16 polls [released in the past three days] has the race shifted in Clinton's direction," FiveThirtyEight's Harry Enten wrote. "It's moved toward Trump in 10. Indeed, the average poll has moved 2.8 percentage points toward Trump."
Weeks of bad polls have brought Clinton's chance of winning the general election down to 59 percent with FiveThirtyEight's polls-only forecast, and 58 percent with their polls-plus model. Obviously, that's still a good chance of winning the election. But this, Enten wrote, doesn't mean that Trump will continue on an upward trajectory next week, but that Clinton supporters shouldn't get excited about a rebound just yet.
And videos where she appears angry at supporters and voters for her not doing better in the polls won't help.
Disclosure: Donald Trump is the father-in-law of Jared Kushner, the publisher of Observer Media.