Hinge, the dating app that connects people based on shared Facebook friends, has declared that a dating apocalypse is upon us–and according to their data, they might be right. They found that many people on Tinder are already in relationships, and that the majority of dating app users don't actually end up meeting in real life. So, they've relaunched in beta, and they are releasing even more depressing data about dating.
Hinge has undergone a few minor changes since its inception in 2011, but this is the biggest revamp to date. The current version of the app launched in February 2013 and in November 2015, timed matches appeared, meaning matches expire in a matter of days. While the expiration timer was supposed to lead to more people meeting up instead of simply chatting, it led to lots of silent, disappearing matches, instead. Now, Hinge is undergoing a major makeover. Select users were asked to try a beta version of the app, and it looks and feels different than its previous incarnation.
The new version of Hinge is supposedly "for everyone who's over the games…if you're ready to be treated like a person, not a playing card." It tells more of a story, and the pictures are larger and clearer, like Bumble. The profiles are more detailed, like OkCupid.
"Our decision to make a change was inspired by the Vanity Fair story Tinder and the Dawn of the Dating Apocalypse by Nancy Jo Sales. The mission at Hinge has always been to create relationships — but somewhere along the way we started contributing to superficial swipe culture. When we asked, our community agreed: Hinge was the most relationship-oriented of the free apps, but it just wasn't different enough. So we set out to build something better," Hinge spokesperson Jean-Marie McGrath told the Observer.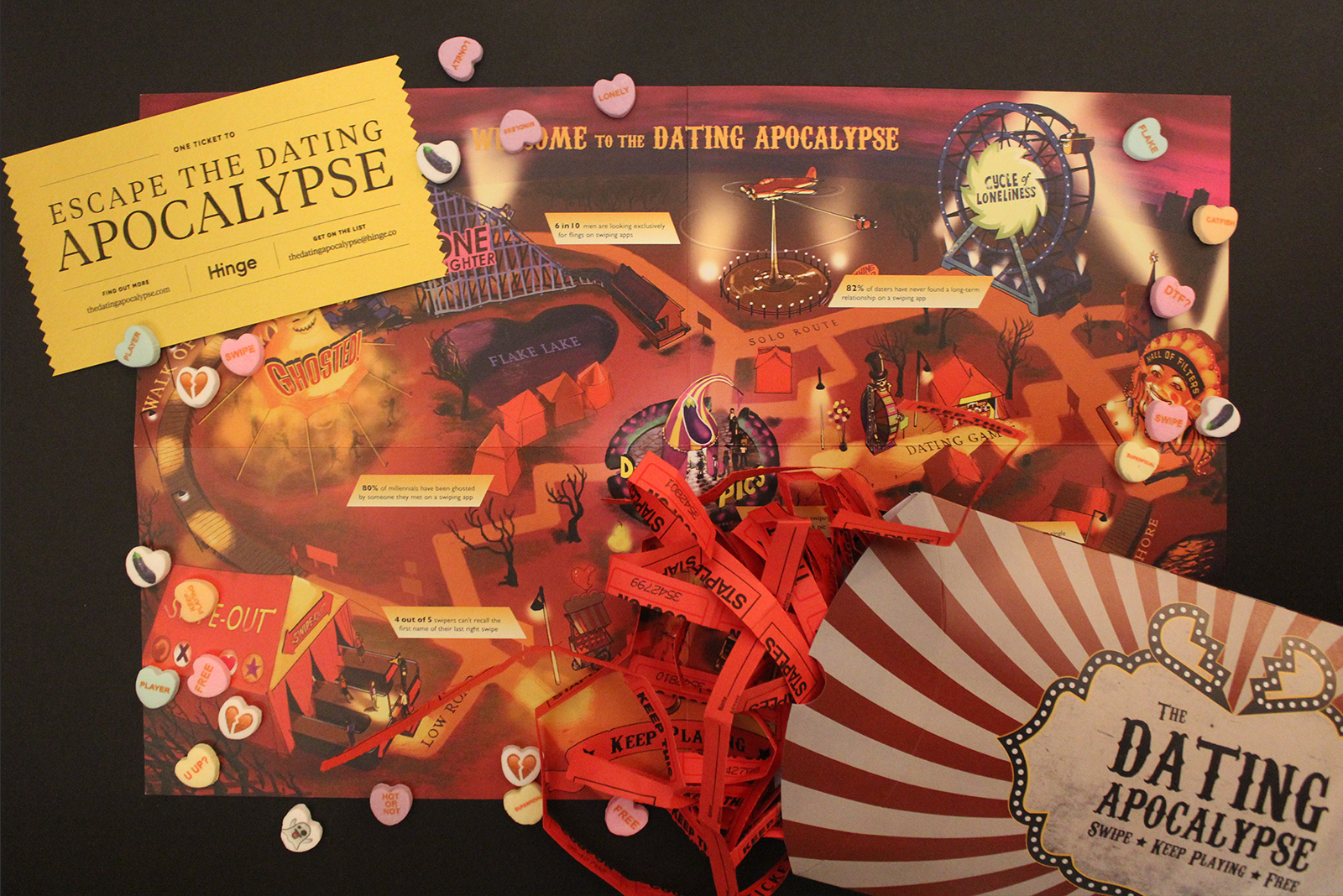 Hinge rolled out a new website to share the data they compiled. Editors received a dating apocalypse map (to avoid pending doom), with stops including "the one nighter," "ghosted," "dick pics" and "catch-a-catfish." It was chock full of information about the apps–for example, did you know 42 percent of Tinder users are not single and 82 percent of daters have never found a long-term relationship on a swiping app? There goes your dream of telling your grandkids you met on Tinder. It was accompanied by Sweetheart candies with modern messages, including "u up" and an eggplant emoji.
Hinge has a reputation for being one of the better dating apps, allowing users to match based on mutual friends, so they at least have something in common. And hopefully, the revamp will lead to more actual conversations and dates. It's possible other apps will follow, especially once people realize that they're endlessly swiping, with no likelihood of actually meeting up.