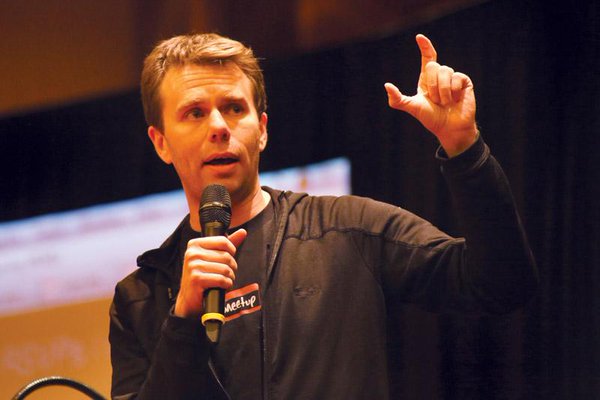 When Scott Heiferman watched two planes crash into the World Trade Center on September 11, 2001, he ran up to the roof of his apartment building at Broadway and Houston Streets to survey the damage, and was soon joined by his neighbors.
Subscribe to Observer's Daily Newsletter
He hadn't spoken to many of these next-door strangers before, but on that day Heiferman found comfort in their communal mourning. This feeling persisted following the attacks, when he attended a vigil for the dead in Union Square and volunteered with the Red Cross at Ground Zero.
"I never thought I was interested in community," Heiferman told the Observer in a phone interview. "But that experience led me to the basic questions of 'What brings people together? What gets them to talk to each other? How do people form powerful groups that can do good things?'"
To answer those vexing questions, Heiferman founded Meetup in 2002. The social networking site, which helps users plan in-person group meetings centered on a common interest, now has over 25 million members who are part of 250,000 different groups.
"They use the internet to get off the internet," Heiferman said. "These people are doing what they want to do in life, whether that's working out or changing jobs."
Despite the site's recent success, its beginnings were much more humble—Meetup's first headquarters was a 300 square foot office at Spring and Lafayette Streets, which employed 10 people (the company now has about 160 staff who work out of a 24,000 square foot office spread over three floors of an office building a few blocks away).
Heiferman said the site, which launched eight months after 9/11, got off the ground so quickly because the terrorist attacks coincided with the tech bubble bursting.
"We were a 9/11 baby, but we were also right in the wake of the dot-com bust," he said. "A lot of talented, unemployed people did great work in a short time."
Meetup gained wider attention during the 2004 presidential election—Howard Dean supporters self-organized through Meetup to help his campaign grow, making him the first presidential candidate to mobilize through a major internet presence.
The site's focus on friends and groups made it in many ways the first modern social network (MySpace and Facebook were not widely used until the mid-2000s). But Heiferman shrugged off any suggestion that Meetup was ahead of the curve.
"Who gives a shit if you innovated? All that matters is that you're helping people," he said.
"We're hiring people now who were eight or nine years old on 9/11. It just doesn't mean as much to them."- Scott Heiferman
Gathering around the social media campfire after tragedies is now a common practice thanks to services such as Facebook Safety Check, which launched in 2014 (and was inspired by the 2011 earthquake and tsunami in Tokyo).
While Heiferman said Meetup isn't specifically designed to help people reeling from disasters, he expressed hope that it could aid in the healing process.
"The point of Meetup wasn't for people to create fast vigils in parks after tragedies," he said. "But the dream is that there's a web of small communities in every city that provide a social safety net for people."
Meetup hosts between 15,000 and 20,000 community groups in New York City alone, so Heiferman said that if another large scale tragedy occurred in the city many people would be able to connect directly instead of gathering in disparate groups on roofs.
"They would check in with each other and help each other, and find their needs met through community," he said. "That's the quiet, vital power of groups that provide for people and give support."
Heiferman has mentioned Meetup's 9/11 connection in internal memos over the years, but he admitted that the site doesn't acknowledge the tragedy in any specific way, mostly because many staffers are too young to remember it.
"We're hiring people now who were eight or nine years old on 9/11," he said. "It just doesn't mean as much to them."
Given his personal connection, however, Heiferman said that he will never forget the 2,996 people killed in the attacks 15 years ago.
"Now that it's a bygone history I'm starting to feel a duty to those who were lost to keep the flame alive," he said.