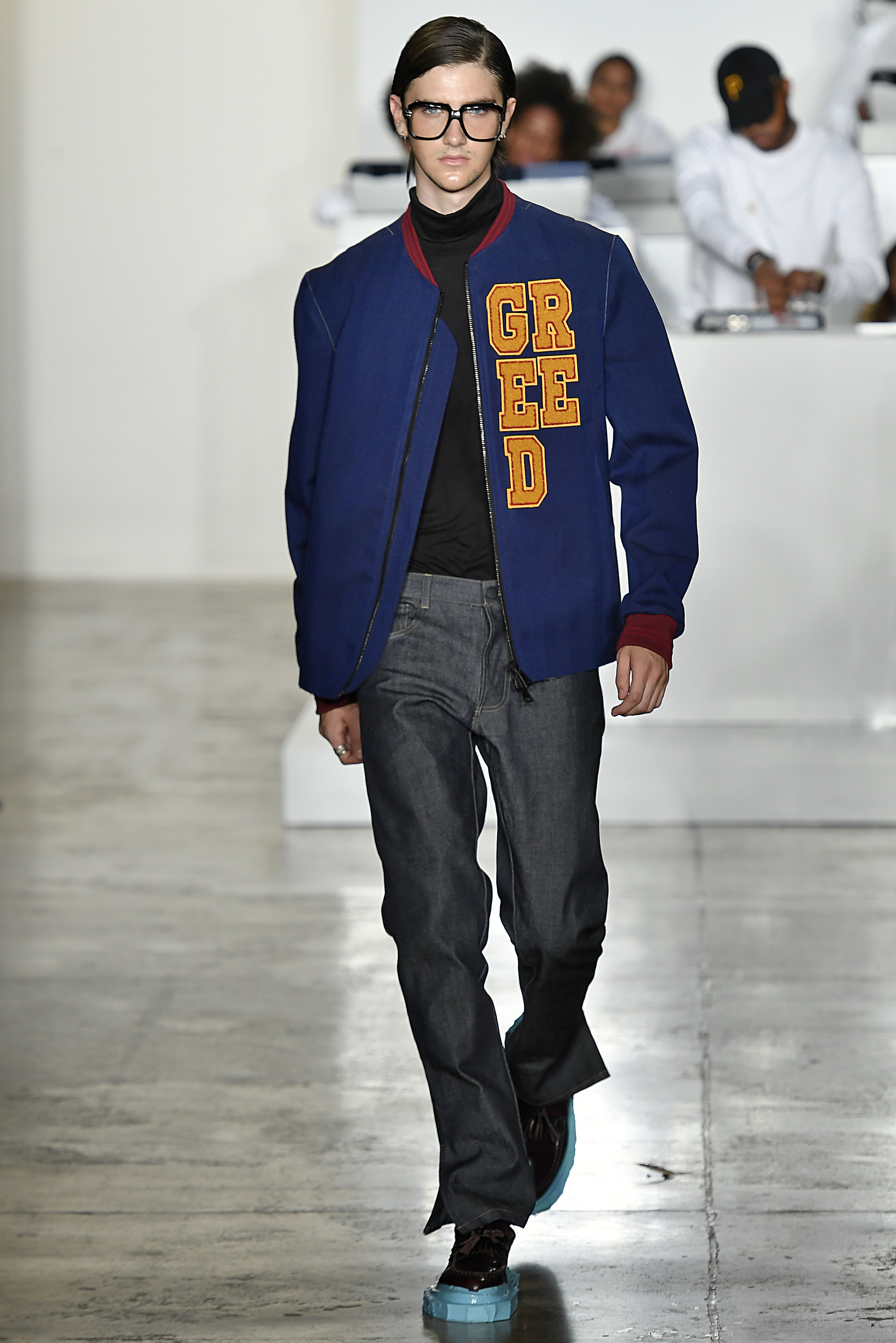 Pyer Moss designer Kerby Jean-Raymond has a history of using the runway as a form of activism, so it makes perfect sense that his Pyer Moss show at Milk Studios included a politically fueled collection with a live performance by spoken word artist Cyrus Aaron.
Last season, Jean-Raymond enlisted Erykah Badu to style a collection with a theme rooted deeply in mental health issues and depression. The designer also had a model hold a picket sign at the end that read "My demons won today, I'm sorry."
This time around, the show was set to the tune of live cash registers and choir-like singing, while the spoken word artist made statements about economic issues experienced by minorities and young creatives, causing the audience (which included rapper Rick Ross) to nod enthusiastically and laugh at times.
Before the show, we chatted with Jean-Raymond about the concept of his "Bernie vs. Bernie" show, economic issues faced by designers and more.
Tell us about how your concept of Bernie vs. Bernie came about?
The collection at first was called "Money Problems," and it's a description of my last six months just dealing with different issues. The collection is a culmination of a bunch of different ideas and it all revolves around economics as it pertains to me and as it pertains to the brand, but also as it pertains to young people and all the things we're dealing with—graduating from college and not being able to get jobs, society's obsession with wealth, the presidential election and everything like that. It's all these idea about money and finance rolled into this one cohesive art piece.
It's very personal to me, because in the last few months I've been dealing with all these issues of how to stay afloat and remain an independent business—and how to just keep building this brand and not to succumb to the stuff that happens to every other designer at the three-year mark. Bernie versus Bernie for me, is these two extremes of capitalism. It's Bernie Sanders, the ultimate socialist, and Bernie Madoff, the ultimate capitalist. It's us as designers and us as idealists who want to live in the society where money doesn't really matter. We're constantly having to go head-to-head with the Bernie Madoffs of the world who just want more and more money. In the past three years as a designer, I can't tell you how many charlatans I've dealt with, who are trying to use us and manipulative us. It's a jab at all of them, but at the same time, it's very therapeutic to get it all off my chest.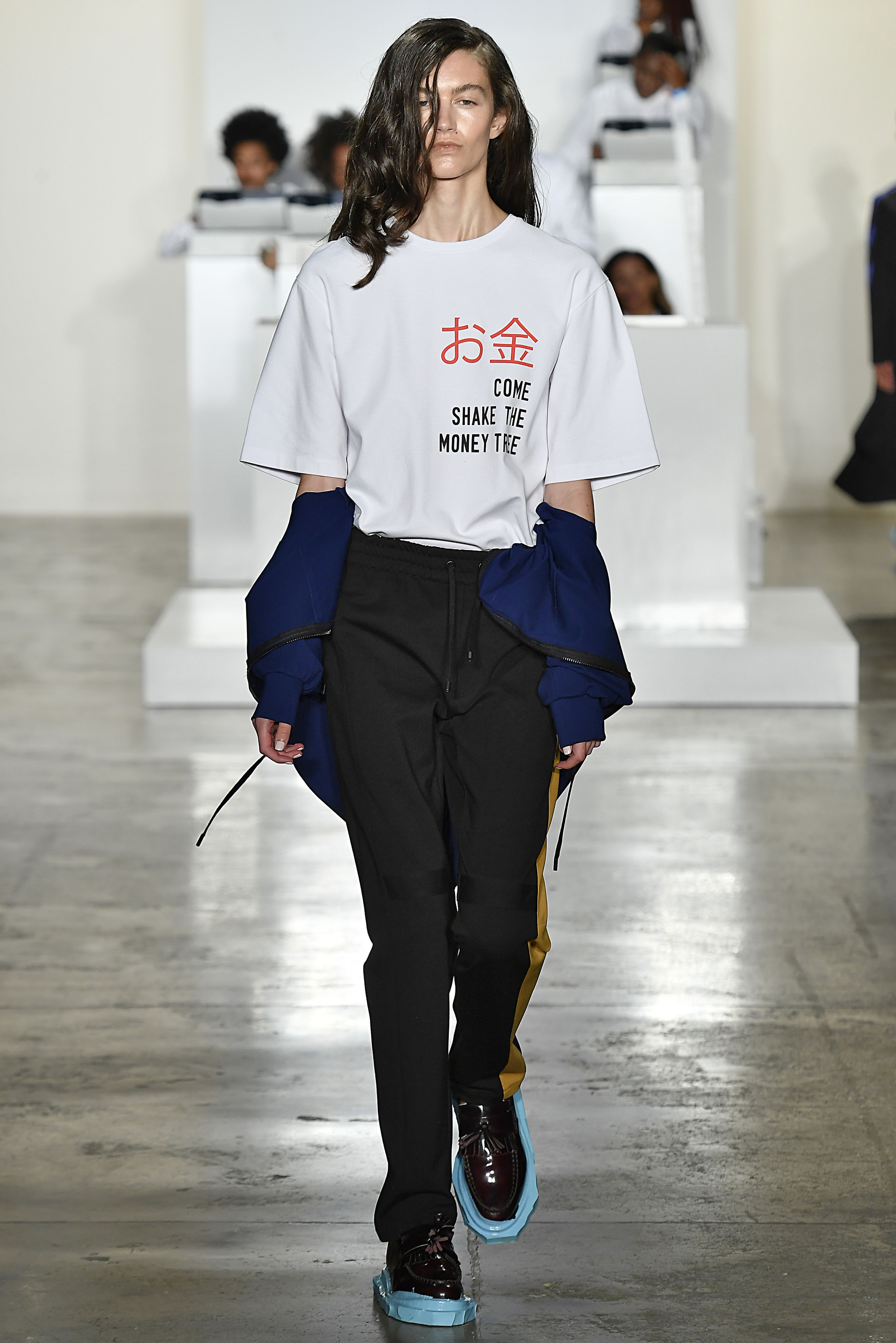 You usually have a performance aspect of your shows. What do you have going on this season?
We're doing live percussion and we're building the sound live on the spot using elements that can be tied back to finance. Cash registers, cashiers, till machines and keys that represent the mundane, blue collar lifestyle. We're just making into beautiful music.
Why is using the runway as a platform for activism important to you as a designer?
Systemically, there hasn't been an oppression more overt and long lasting than economic oppression against black people and minorities in this country. If you look back at Tulsa, Oklahoma and slavery and Jim Crow laws and all the things that kind of stopped us against economic advancement, I think it's very prevalent today. Even as a business owner with a decent credit score, I haven't been able to secure a loan in the whole 13 years that I've been doing this. They'll offer you a predatory loan or come back and say you need collateral, but if you're a first generation immigrant or you don't have a history of ancestry of wealth, where are you going to get this collateral from? A lot of us who are creative and have all these great ideas just don't have the money to do it. What you end up doing is getting to bed with these people who do have money and lineage of wealth.
Aside from the slogan tees and sweaters, how do the clothes in the collection reflect your political vision?
What I've done is taken the stereotypical guy, who's like this Wall Street douchebag and taken his uniform and deconstructed it. What he wears to go play squash at the Hilton racquet club to what he wears to work to Martha's Vineyard and the Hamptons–it's inverted.